This is a story about the history of Maverick's, and the surfers who ride the giant waves. Maverick's Untamed focuses on how the wave was discovered, and features contributions from some of the world's greatest surfers sharing their experiences surfing Maverick's and what they do when they're not riding one of the world's biggest waves. Surfers including Kelly Slater, Greg Long, Jeff Clark, Tom Curren, Grant "Twiggy" Baker, Peter Mel, Matt Ambrose, Ryan Seelbach and Grant Washburn provide detailed insights into one of the biggest waves in the world, and what these surfers do when they're not busy chasing some of the ocean's most powerful waves.
Around the beginning of the 1960s, a trio of surfers from Northern California noticed an unusually large wave that was peaking just outside of Pillar Point, a jut of land on the coast of a tiny beach town located just north of Half Moon Bay, California called Princeton-by-the-Sea. The surfers were Alex Matienzo, Jim Thompson, and Dick Notmeyer, and they decided to paddle out and attempt to surf this particularly large wave.
The surfers were not alone.
With them was a dog. A White German Shepherd named Maverick to be precise, who belonged to Matienzo's roommate and came along with the surfers this day.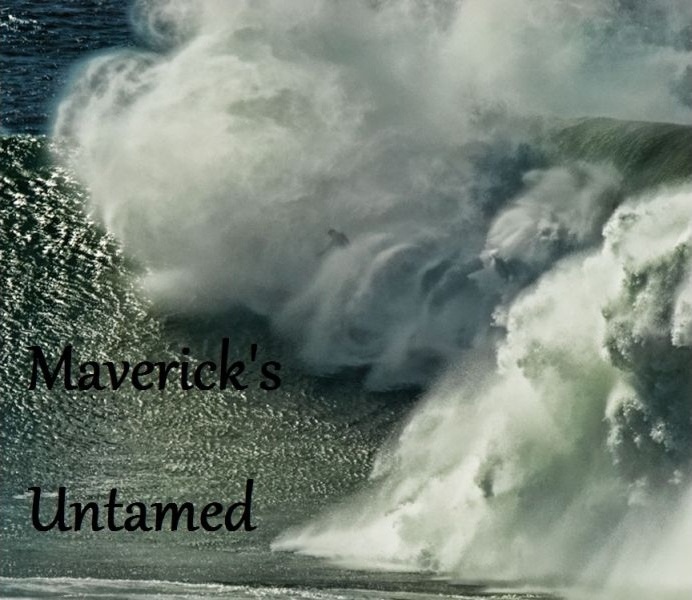 ©Ed Grant grantsgraphics.com
When the surfers started their paddle out to this yet unnamed wave of enormity in the frigid ocean off the Northern California coast (sans wetsuits since they had not been developed yet) Maverick decided to join in on the fun. The dog paddled out into the water in an attempt to join the surfers. The conditions were barely suitable for an advanced surfer, let alone a dog, so Matienzo decided to bring Maverick back to shore to avoid any injuries to the dog. Maverick was tied to a car bumper, and the three surfers set out again to explore this monstrosity that was breaking approximately a quarter of a mile from shore.
The trio didn't have much success that day as conditions just on the inside were well overhead, and they decided not to surf the double to triple overhead waves that were breaking even further out. So they came back in, and for the next 15 years or so the biggest wave to break on the Pacific Coast went unridden.
Matienzo, Thompson and Notmeyer did leave a mark though. They named the break Maverick's Point (hence why there is an apostrophe in the name), after the dog who bravely attempted to join the men and surf one of the biggest and heaviest waves in the world. The name evolved to just being called Maverick's, and while people avoided surfing the giant wave for many years, the local community kept the name and would continue to talk about this beast of a wave that existed less than a mile away.
And for the next 15 years, Maverick's broke in solitude. It wasn't until a young 17-year-old Half Moon Bay local named Jeff Clark decided to brave the elements that a surfer would attempt to ride Maverick's for the first time.
"My family moved to Half Moon Bay in 1966, built a house right on the beach. I started surfing and one of the guys gave me a board, and it was just a beater. But I started riding it, started getting better. Actually made my first board with a little help from a guy from Hawaii that worked with Surfline Hawaii with Jack Shipley, later became Lightning Bolt. And those guys. But this guy helped me build a board in a garage and I started surfing the jetty," said Clark. "Once I figured out how to stand up and make a drop on a closeout, I needed a wall, so I started walking down the beach to the jetty. And I soon outgrew the jetty, looking for more power, and we started surfing this place on the other side of the point north of Maverick's, the Cove. And it's a nice left, just an easy paddle out, and it'll hold 10, 12, 15-foot bases. And so I kind of cut my teeth on bigger surf there. The forecasting back then, in 1970, wasn't the best. So when I started surfing Maverick's, I'd be out there in a line-up. It'd be 6 feet. And then, suddenly there was a big set. Then I'd be thinking, 'Oh, my God, this is a huge set.' And you're getting run over. A new swell would hit and you wouldn't even know it until you were in the water getting run over."
This was how Jeff Clark not only grew up as a local in the area, but how he was introduced to Maverick's. It wasn't until 1975 however when Clark finally decided to charge Maverick's for the first time. "It's 1975, I'm a senior in high school, and we'd surfed Ross's as big as it gets and we'd gone around and sat on the cliffs and watched Maverick's break," said Clark. "And this one day Brian and I got up there and it's plate glass, and Ross's is closing out. And Ross's is named after old man Ross who was a mad surfer in the early days. But we're sitting up there on the cliff and we can see Maverick's going off in the distance out around the point. I go, 'Brian, man, it looks like it's a really consistent, even swell. Let's go around there and watch it and paddle out.' He didn't even want to walk around the point. He goes, 'No way, man. It's no good, I'm not going. No way.' And I go, 'Well, just keep an eye on me while I paddle out.' And he goes, 'All right, man. I'll stay here on the cliff.'
"So I made the paddle out, around the north side, hammering through," continued Clark. "I guess I wasn't calculating as I was paddling out the first time. I just wanted it so bad, I just jumped in the water and paddled straight across a suck-out closeout on the reef, and finally punched outside and got out to where I was in deep water. Paddled out to the peak, and once I was out I was sizing up a peak. I knew how to do that really well. Then I set up my triangulations. I was looking back at the cliff, looking for a landmark to get my position really well. And I have to say the first set that rolled through I was a little too far inside and I started scratching around the north side, around the left, as hard as I could. And this thing is breaking on the bowl, and I am just getting up and over the corners on these lefts. And looking into those things, I have to say they're kind of intimidating. You're looking at a left that looks kind of like pipeline but you're way out in the middle of the ocean. And it's a lot of water."
To most, intimidating would be a vast understatement when looking down the falls of a large Maverick's wave. And in 1975, most surfboards were not suited for a wave the size and strength of Maverick's. "The board I had at that point was a board I got in like '73, '74. It was a 7-foot, 3-inch single fin, 3 ½-inches thick. That's what we had. That was the state-of-the-art surfboard in 1975 for Northern California. We always got things about two years later than everybody else. And so I paddled out there on this big, thick thing, and I weighed probably 160 pounds. But I surfed every single day and was just wiry and quick. I could catch anything on my 7'3'', 3 ½-inch thick surfboard."
And for the next 15 years, Clark surfed Maverick's alone. Despite repeated attempts to share his experiences with others, it wasn't until 1990 when others started to want to see for themselves what Clark was talking about. What they witnessed was a revolution in surfing. "A lot of them didn't believe me. They just didn't believe me," said Clark. "I had a guy that surfed in the '78 pro trials in Hawaii. I've seen him on waves that were 30, 40-feet tall, guy named Steve Nichols. I go, 'Man, you've got to come surf this with me.' 'Oh, yeah, yeah. Yeah, yeah,' was his response. And later on he comes up to me. He goes, 'I guess you know this is my punishment. I just didn't believe you that it was that good.' So he outlived his time in his life when he really would go for a wave that big. And trying to get people to go out there in the '70s, I mean Half Moon Bay in the '70s, think about where you were in 1975, how big the town is wherever you're at in 1975. It's light years of difference between then and now. I mean the VHS was something new, right? All we had was VHS video cameras and Super 8 film still. And to the technology now. I mean did we even have cellphones in 1975? I don't think so.
"It was 1990. It really blew up. The guys from Santa Cruz that had been going to Hawaii, all of a sudden after the Eddie Aikau in '90, you have Richard Smith bringing home his Waimea gun because his brother Big Bird is going, 'Rich, bring a three year Waimea gun.' And Rich is going, 'What? Are you kidding? No way.' 'Rich, bring your 9'6''.' Rich brings it over and manages to come up in the spring of that year and get Maverick's on pretty close to a 20-foot day. He was completely blown away," continued Clark. "I remember saying, 'Hey, Rich, how big is that? Pretty close to 20 feet?' At that time no one would admit that there was a 20-foot wave in California. Because surfing north of Santa Cruz or even Todos Santos hadn't quite been discovered yet. These waves that could rival Waimea just weren't on the map yet. And now we bring this Goliath to the table and nobody wants to say it's 20-foot when in fact it's every bit of 20-foot. It's 52 degrees, and it's a mean wave."
A local surfer by the name of Matt Ambrose was one of the first surfers to see for themselves what Clark was talking about. Ambrose grew up surfing in a small beach town called Pacifica, located approximately 10 miles north of Princeton-by-the-Sea, and knew the area quite well. Yet Ambrose had little idea that a wave of that size was right in his backyard.
"I started surfing at Mav's because we had exhausted all the other big waves in NorCal and we were told by a local guy named Dick Keating that there was a big wave at Half Moon Bay. I talked to (Jeff) Clark and he said that there was a north point. The road that led out there used to be closed, so we couldn't access it easily," said Ambrose, who is approximately 15 years younger than Clark. "The older guys used to be able to drive out there and see that it's basically a point break out there. The road they drove on was closed off when I was able to drive. If you see it from the other side, the road that was accessible to Ross's, it looked like a crazy closeout left that didn't have the look of a good wave. When I heard that there was a right, I couldn't believe it. I saw it instantly and went to get a surfboard.
"You get completely mauled on your way out at other surf breaks in the area like Ocean Beach," continued Ambrose. "This place had an easy channel. And we had to travel to Hawaii constantly, and who the fuck wants to go out there? Outside of glitz and glamour, who wants to surf in Hawaii? It's crowded, the waves really aren't that good, and to have a world class big wave right here just blew me away. There was nothing else at that level around here."
And thus started the influence of Maverick's to the surfing industry. Yet the wave drew in a very mixed crowd of surfers. While some Maverick's chargers surfed as their profession, others like Ambrose continue to do it purely for the passion, with little glory outside of success at competitions. "I've been doing a lot of hardwood, old school linoleum, stuff called marmoleum. Learned that shit from Shawn Rhodes who I surfed with in the '80s and '90s," said Ambrose. "I used to shape surfboards, when that business crashed I went back to flooring. I run a business called Ambrose flooring."
Soon after the word got out about Maverick's, a large amount of surfers began exploring the colossal Northern California wave. Two in particular are part of a large group of surfers who live approximately 20 miles north in the city of San Francisco. Grant Washburn and Ryan Seelbach have been fixtures at Maverick's since the early '90s and still surf and compete there today.
"I moved West after college in 1990, and first heard about Maverick's shortly after settling at Ocean Beach," said Washburn. "Doc Renneker was my neighbor, and after cutting my big wave teeth out front for a season, he insisted I join him at the new spot the following January - that was 1992."
Like Ambrose, Washburn cut his chops at Ocean Beach (OB) before progressing to the mighty waves at Maverick's. "My preparation was basically getting slammed at OB for 18 months. That first season no one knew about Maverick's, so the more extreme guys would just go after the biggest swells in the middle of OB," said Washburn. "We would basically just try to get out, and then try to get as close as possible to the epicenter of the juice focusing around the middle. It is pretty much Maverick's size without a channel, so that's about as good a place to prepare as anywhere in the world. I loved being able watch the action from my place, suit up in my living room, and rinse off in my shower. For a guy that grew up hours from surf and starved for more power, it was heaven."
Seelbach started surfing at Maverick's some years after Washburn. "In the mid 90's I watched Nacho Lopez surf Mav's from the cliff and saw him wipeout so bad that I knew I didn't want it," said Seelbach. "Three years later two close friends called me to say Mav's was going off and they were picking me up in one hour to surf it. I raced over to SF Surf Shop and bought a Michel Junod that he shaped for himself, rode once at Mav's and gave it to SF Surf Shop just a few days later. Apparently Michel had a Nacho situation that scared him straight.
"So, with no prep or planning I went down with the new board, and caught three waves in one hour, met Jeff Clark and Jay Moriarty and was super stoked! Feeling confident and in charge I moved farther over to the bowl, spun around and snagged a bomb that doubled up enough to have my board become airborne on the drop," continued Seelbach. "I landed it, but couldn't stick it, fell back and went over the falls into a dark deep place that was far deeper than I had ever been. I came up gasping and dazed to see Frankie Quirarte's hand outstretched from a ski. With my board snapped and another wave bearing down, I grabbed on and he dragged me to shore. My first thoughts were, 'OK, I lived and I handled a Nacho style wipeout.' Would I go back? Yes, but with some mental and physical preparation. I was not ready for that situation!"
Similar to Ambrose, Washburn and Seelbach have professional careers that have little or nothing to do with surfing. Washburn is a film and video producer, coordinator, writer, director and surf documentarian, having worked on the film Riding Giants, which documented the early days of Maverick's and is currently doing production work on the upcoming film Of Men and Mavericks, which focuses on the late Jay Moriarity and his mentor Frosty Hesson, played by actor Gerard Butler. Seelbach works as a federal employee for the Presidio Trust in San Francisco managing the environmental remediation program.
This isn't to say that all the surfers who charge at Maverick's have day jobs. Kelly Slater, without question the greatest surfer ever, made an appearance at Maverick's on March 3rd, 2000 to compete in Quiksilver's Men Who Ride Mountains contest. This was the second contest ever held at Maverick's.
Slater has a hazy memory of the event due to ailing from an illness. "I honestly don't remember because two days before the event, I was in bed for 24 hours. Couldn't eat. I had a 24-hour flu bug, it was really bad. So I couldn't eat, I was dehydrated, couldn't drink anything because I was throwing up. And so for 24 hours literally I stayed in bed, didn't leave," said Slater, who proved to everyone that he can conquer the big beasts as well as he can surf smaller waves by finishing the contest in second place. "I woke up the day prior to the event. I had a little toast and avocado and could drink some fruit juice. Then I flew in and got there late that night. Al Merrick and I flew up, got there late, got about four, maybe five hours of sleep. I was messed up. Then I get down to the beach and it was like 40-foot faces that morning. That was a big swell. Short interval, giant swell, and all I had was a couple of Odwalla drinks that morning.
"My first wave of the day was a 20-footer. I made the drop, got a late drop, came around and thought, 'I got this thing.' Straightened out, and then the wave just rolled me. I was under water for so long. I thought, 'God, I'm going to drown right now.' I was out of it. I really thought I was going down for the count that time. It felt like I took about 30 strokes to get to the surface. I finally came up, and I was like, 'OK, I'm not falling again today.' I didn't fall once more the whole day."
Slater made it to the finals of the contest, and proceeded to accidentally ride an early wave all the way to the end with full intention of calling it a day when he was told that there was still 40 minutes left in the heat.
"I ride in to the beach, and I had a 5/4/3 wetsuit with a built-in hood," said Slater. "And I went in, I took the suit off, pulled it down to my waist, and maybe I even took it off. And then somebody goes, 'You're in the final, the jet ski's waiting by the beach. You gotta go back out.' And I was like, 'Oh that sucks.'"
One of the very rare surfers that Slater considers an idol is Tom Curren, another legendary surfer whose day job is riding waves. Curren surfed Maverick's in 1993. "It wasn't a big day," said Curren. "Fun though. I wish I had a better quiver. I'm working on it though. I hope to paddle out there again."
To read the rest of this story, visit USA Today's action sports website BNQT.com.