An open letter to the miserable person who slipped this message under my sister's door in a hotel in Colorado.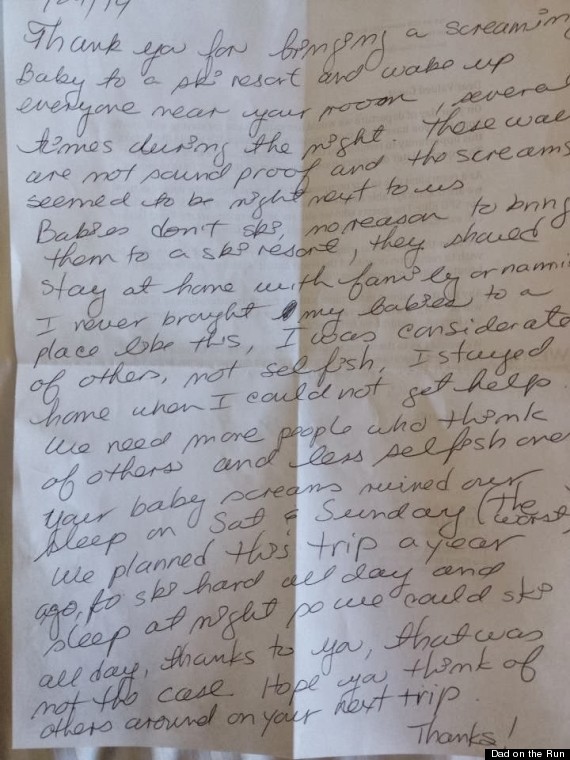 Dear Parent of Infinite Wisdom,
First of all, I only write this in order to reassure my sister and brother-in-law that they are not doing anything wrong. You are undoubtedly a nasty person regardless of the situation you find yourself in and how others are treating you, so on the off-chance you even see this I hold little hope it will affect your outlook on life. Is it fair for me to judge you by one nastygram? At least as fair as your judgment of someone based on what you can hear through a wall, I suppose.
In your haste to pass judgment on others and whitewash your own memory of what parenting is like, you have forgotten to check yourself for the very inconsideration and selfishness you abhor. You decided to lash out at others who were unaware of your plight or discomfort, at least until you left a cowardly letter after the fact, at which point any opportunity they might have had to try to alleviate your unfortunate situation had passed. Perhaps, if you had yelled back or pounded on the headboard, then the thinness of the walls would have been more evident to the struggling parents. Then again, such an act of directness would have identified you as the petty selfish person you are. Personally, I think you knew that, which is why instead, you decided to lay your opinion out anonymously and with no consideration of what was happening within the room or who the people are you were addressing. You knew all you needed to know: "Someone is doing something I don't like! I should cry about it." Sound familiar? The baby was cutting teeth, what is your excuse?
Here are a few of the things you didn't know.
My brother-in-law helps more people before you get out of bed and have your morning coffee than you have likely helped in your entire life. He operates on brains and misses out on an awful lot of time with his wife and child so that he can use his knowledge and skill to help adults and children alike (even the selfish ones) with a second chance. He saves lives. This week he is in Colorado for a conference where he can learn to better treat you if you happen to fall from a snow-lift, get thrown from your high horse, faceplant into a tree while skiing down the black diamond trail or have the misfortune to trip over your own self-righteousness and fall down the stairs head first. Personally, I don't blame him for wanting to take his family with him to a convention rather than missing out on another week full of memories so that he can be the best surgeon. It's a great job, a rewarding job, but not one without sacrifices.
My niece usually sleeps pretty well, and is not known for screaming in the middle of the night. If she were constantly having this issue both parents would be in a mental institution and you wouldn't have been disturbed. Newsflash: a night in the room with a screaming toddler is even harder than being next door and not something parents willingly plan for on holiday. From the far side of the wall, one cannot see the parents scrambling, attempting to feed the baby, rock the baby, shush the baby, walk around, rack their brains for a way to make the crying stop for their sake, for their neighbor's sake and not least of all for the helpless child's sake.
As for my sister, she is a kind and considerate parent, a dependable friend and an amazing wife. She is a first-time mother with a law degree who decided that spending time with and raising her daughter are the top priorities in her life. As a stay-home mother, I'm sure she jumped at the chance to get out of the house. What stay-home parent wouldn't? Sure, it is true, she's still learning the ropes. Can you remember what that was like? Do you remember thinking you knew your child's routines only to learn at an inopportune time that you don't really know much of anything? This usually occurs on the rare evening out with the whole family, or on a crowded airplane or when rooming next to the Prince or Princess of Passive Aggressiveness on the side of a mountain in Colorado. On those occasions, when your child transformed into a yelling, crying, sobbing ball of heartache you might recall your ears burning and your face flushing red with embarrassment. You may remember the hopeful feeling that there would not be a person like you around. Someone willing to belittle you rather than offer support, someone willing to call you a bad parent and a selfish person because you have somehow conspired to ruin their day, their meal or their trip.
Well, guess what, perfect parent?! Your kids ruined things for other people too. As a matter of fact, you ruined more than one evening for others when you were a little tyrant yourself. The same is true for every adult walking the planet, unless their parents kept them tranquilized or frozen in carbonite until graduation. Maybe you didn't know, but it happened. That is the way of the world; this is not a hermetically sealed, adults-only dystopia where nothing unexpected occurs to anyone. If you want to guarantee a trip with those parameters (and since you obviously planned for this years in advance), then plan a little better and rent a freaking cabin or bring a set of earplugs.
If it's not a child, it will be a dog; if it's not a dog, it will be a group of drunken fraternity members, or a construction crew, or a leaky faucet. Maybe loud lovers, the TV in the next room, or a neighbor who leaves their radio clock on all night that will disturb your slumber. It's always something, isn't it? I know the feeling. It sucks, but these things happen. Sometimes they are due to inconsideration and more often due to accident or happenstance. The question is not if but when something will taint our dreams of the perfect vacation, dinner or plane ride. I teach my children we can't control the actions of others, but we can control our own reactions. We can choose every day whether to let life's little inconveniences make us miserable, or to smile and carry on. Better still, we can decide to try to make the world a better place -- to lend a hand instead of pointing a finger.
You, on the other hand, choose to spew hatred and judgment on others even when it will bring no change to your own situation. You didn't say anything when the young parents could have done something, choosing instead to leave a parting note to let them know what terrible people they are. Be honest, the note was not for the good of the world, it was for retribution. It was your way of doling out karma. I hope you are proud of yourself.
I am sorry for you. I'm sorry for your children. Pat yourself on the back for never having your child wake another human (yeah, right) all you want, but when it comes to measuring the value of another person or the extremes of their selflessness (or selfishness) most of us would prefer to take a larger view and maybe learn something about the situation and its participants before we cast our stones.
I know little about you; maybe you were just cranky and writing without thinking. Maybe you are too stupid to relieve yourself with some Tylenol PM or earplugs or by calling the front desk to ask about options before spending a second night in wretched misery within the Seventh Circle of Hell. Maybe you are a really great person who helps others with every spare minute not spent on holiday at a ski resort or judging other people's parenting based on cries in the night. Then again, maybe you are just an a**hole.
Good day,
Dad On The Run
P.S. Lil' sis. Keep doing what you are doing. Your child is a part of this world and just as much entitled to it as the next person. Those who wish to have a child-free experience have plenty of adults-only options for vacation accommodations. Love you.
This piece originally appeared on Dad on the Run.
Also on HuffPost:
Seven Things You Didn't Know About Babies
A study published in the journal Infant Behavior & Development revealed that the standard "You Must Have Been a Beautiful Baby" has little to do with reality. When 253 college students were asked to rank photos of the same individuals as infants and young adults (without being told who was who), there was no relationship between how cute the students found the babies and how attractive they found the grown-ups.

No, really, it's true. It doesn't matter how many times you've heard the shout "Mine!" -- research shows babies can sense fairness at 15 months. During one study at the University of Washington, 47 babies observed videos of an experimenter distributing milk and crackers to two people. When one recipient received more food than the other, the babies paid more attention. That means they had expected a fair distribution. The researchers also found that babies who did notice unfairness were more likely to share their own toys.

OK, so they're not exactly psychic. But a recent study from the University of Missouri found that babies just 10 months old are starting to follow the thought processes of others. Yuyan Luo, an associate professor of developmental psychology who conducted the study, tells The Huffington Post, "Babies, like adults, when they see something for the first time -- when something is surprising -- they look for a long time. It shows [they recognize] something is inconsistent." It's called the "violation of expectation," she explained. When babies are surprised by something or notice something unexpected has happened, they tend to gaze at that thing longer. In Luo's research, babies watched actors consistently choose object A (such as a block or a cylinder) over object B. When an actor then switched to object B, the babies stared for about five to six seconds longer, meaning they recognized the change in preference.

Don't judge a book by its cover. Treat all people the same. We're all equals. These are sentiments parents strive to teach their kids from a very young age. And they should. Starting, like, immediately. Researchers at the University of Sheffield in the United Kingdom found that babies at three months begin showing a preference for the faces of people of their own race. But not all hope for equality is lost. The same study showed that babies who are exposed to people of all different races are less likely to develop bias at such an early age.

Researchers from Brigham Young University found that five-month-old babies can identify an upbeat song as being different from a series of sad, slow songs. In other words, they are happy. They know it. They will clap their hands. Or stare longer, as the case may be. The experimenters showed babies an emotionless face while music played. When they played a new sad song, the babies looked away. When the music pepped up, the babies stared for three to four seconds longer.

Babies have a sense of morality at six months old, say Yale researchers. During the Yale study, babies watched a puppet show in which a wooden shape with eyes tried to climb a hill over and over again. Sometimes a second puppet helped him up the hill, and other times a third puppet pushed him down. After watching the act several times, the babies were presented with both puppets. They showed a clear preference for the good characters over the bad ones by reaching to play with the good puppet.

Dr. Janet Werker of the University of British Columbia, who studies how babies perceive language, found that if a mother spoke two languages while pregnant, her infant could recognize the difference between the two. And they don't even have to be spoken out loud. Werker's research found that infants four to six months old can visually discriminate two languages when watching muted videos of someone speaking both.
Follow Dad On The Run on Twitter: www.twitter.com/DadOnRun