The Breeders came to town in August 2008. It was a long, hot summer in which I have gone through a physical trauma. I recovered and felt better, both physically and emotionally, than I had in years.
The Breeders came to play in Tel Aviv that summer. They were always my favorite band, ever since Kim Deal, the fabled Pixies' bass player, formed it as her own band in the early '90s and created a deep, emotive, brooding sound that echoed things that were dark and scary as they were sweet and beautiful.
I had last seen the Breeders play 14 years prior at Lollapalooza in the U.S.. When I heard they were coming to play in Tel Aviv, I bought tickets to both their shows, two nights in a row. I had my mother babysit Tal, who was 20 months old at the time.
Just before the show started, I was sitting on the floor with other people near the stage and waiting. A young woman, dressed like what she must have thought was a '70s punk rocker, stood very close and leaned against me. I tapped her knee very gently and asked her to move an inch away so she wouldn't be pushing her boot into my back. When she declined to do so, I stood up and took stock.
She was tall, but I was taller. She was young, but I wasn't old. She had goth makeup and spiky hair, twenty years too late to be cutting edge or for real. Her attitude smelled as faux as her wardrobe. I took a deep breath and said, 'I asked you to move about an inch back. Now please move a FOOT back.' And with that, I just leaned very slowly and purposefully towards her, until she had to move away. "Hey, hey, no hitting, no hitting," she muttered.
As she moved away, she pushed hard into two girls who were leaning against the stage, as if to better her position to see the upcoming show. They half turned and gave her a joint nudge, and she turned tail and disappeared into the back of the crowd, ridding us of her rather annoying presence.
Oh my god, there I was, a middle-aged mom, doing the mosh-pit thing in a rock concert, a decade and a half after my days as a rock critic for Tel Aviv Time magazine. It felt good.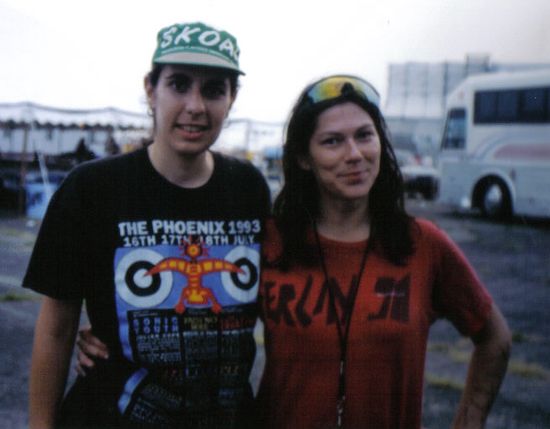 My days as a rock journalist: with Kim Deal of The Breeders, Aug. 1994
The first show was fantastic. The Breeders played music from their latest album, Mountain Battles, and some older songs. I could see the thrill and excitement of the band members; how they enjoyed the embrace of the amazingly warm local audience. It was hot and sweaty, and Kim sang as sweetly as ever. Kelley, her twin sister, complained about the Israeli summer and about the Dead Sea. I went home feeling like I was 25 years old again.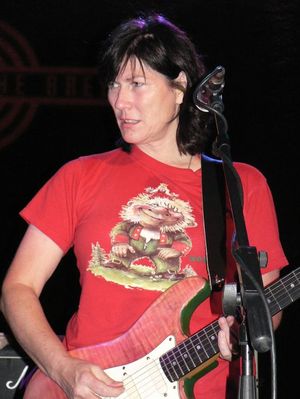 Kelley Deal in Tel Aviv, Aug. 2008. Photo: Dafna Maor
I felt like those people who have a sort of an epiphany. They climb a mountain and come down changed. They surf the waves and feel the glory of nature. If something as beautiful as the music I heard that night exists, the world must be a good place, full of promise waiting to be fulfilled.
It is. But it isn't. About one month after the show the financial crisis of 2008 unfolded, transforming my work into something out of this world (more about that later). A month later, my son Tal was diagnosed.
The concert gave me a fantastic memory to take along with me, a feeling I couldn't forget, of excitement and sweetness. It was a night of joy. But it didn't change my life; it just made it better for a few hours, maybe even days. And that's how life works.
SUBSCRIBE TO & FOLLOW PARENTS
HuffPost Parents offers a daily dose of personal stories, helpful advice and comedic takes on what it's like to raise kids today. Learn more