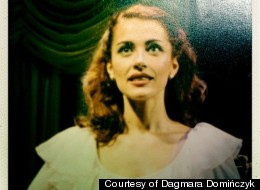 The first pretty was a quest, a scavenger hunt that proved fruitless. The second pretty was a phoenix, rising from the ashes. It came years later, when I didn't need it anymore. I gave it a pat on the head, and set it free.
I was eleven years old when I penned my first love letter. In it, I implored the object of my affection, Robert, to look within his 12- (possibly 13-) year-old self to give me another chance. Robert had told me he liked me one morning and later that afternoon he took it back. I decided that perhaps I could persuade him to change his mind a third time, by listing my attributes, in case it wasn't clear. "Why don't you like me? I'm really very nice. And I'm not that ugly, Robert."
Of course I never gave him the letter. I must have given up. Most likely I knew that I was bullshitting, not only Robert, but myself. I saved face the only way I knew how at 11 -- by running away.
Speaking of face. Mine, at the time, was "bombarded with zits." I wore glasses. I had a pre-pubescent paunch. I bit my nails till they bled. I had buck teeth. I didn't think I was pretty, but falling in love, after diving for coins with Robert at our community pool, gave me a boost of self-confidence. "I look prettier every day if I do say so myself. Maybe because I love Robert and I'm trying to make him love me."
My sister Marika was the pretty one, always had been. She was olive skinned, thin as a twig, with bright green eyes and a giant ego. I was smart. I was sensitive. I got good grades and I never talked back. But Marika was tough, voice like gravel at 7 years old, attitude to boot and, most importantly, she was pretty. It was the only currency that really mattered in our neighborhood. And she was rolling in it.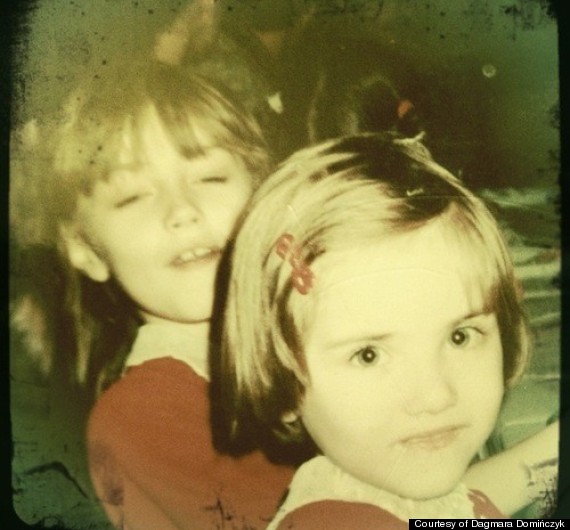 When Robert-from-the-pool set his sights on me, something changed. There is nothing else written about our dalliance in my diary. I don't know how many days it lasted, or what we talked about, or if we talked at all. Just the side note about coin diving and that him and his brother Nino were "so nice." Apparently, Robert smiled at me a lot. It was enough. It was enough for me to fall madly in love and subsequently, to have my soul crushed when he changed his mind.
I was eleven, and I was ugly. I felt ugly. It was crippling on some days and a mere afterthought on others. Most of the time, I didn't let it get the best of me. I bought Stridex to help with the pimples. I forged on. My parents didn't tell me I was beautiful, or pretty. Polish parents are, for the most part, stingy with the compliments. If I brought home an A- my father asked me why the minus. It was that kind of upbringing. My mother was too busy cleaning apartments -- ours and other people's -- to sit me down and give me a pep talk. Whining about my looks was a decidedly American sentiment and one I kept to myself.
Years later, however, my mother entered me in the Miss Polonia of Greenpoint beauty contest. I was 15. Pudgy, badly permed and still battling the buck teeth, I was in another ugly duckling phase of my life, which I feared, at that point, was not a phase at all but a life long sentence. I was seething when I found out about the pageant.
There were eight or nine tall and skinny girls prancing around in high heels and taffeta gowns that night. I wore a loose knee length black dress with a polka dot bandeau across my chest. Shiny black pantyhose. Bright red lipstick. Suave Volumizing Mousse that made my perm crispy to the touch. It wasn't good.
For the talent portion on the evening I recited a poem I had written. It was five lines long and rhymed. I recited it in both Polish and English.
And I won.
I fucking won.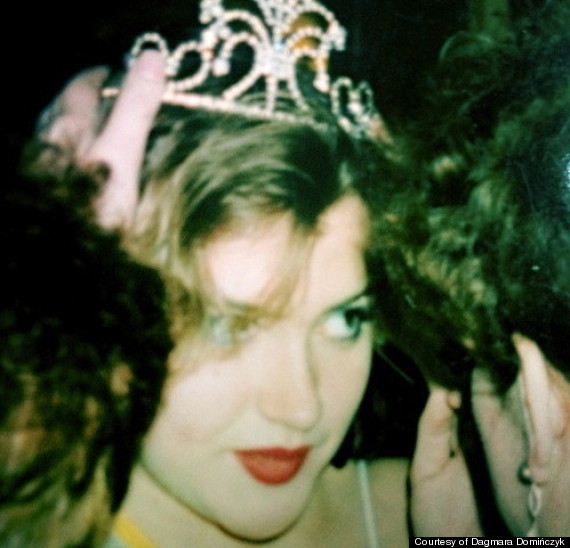 My mother was flabbergasted. I was too. They gave me a crown. And gift certificates for 30 dollars to places like the Socrates Diner on Manhattan Avenue. My picture appeared in the Daily News. Later, I sat on a float during the Pulaski Day Parade and waved to the crowd. Something began happening. Pretty hadn't won the crown. Something better had.
I continued to struggle with my distorted self-image. I popped Dexetrim like candy. I gave anorexia/bulimia the good old college try, whittled myself down to 114 pounds on one cup of rice a day. But the cheekbones I attained were highlighted in the Pittsburgh Post-Gazette review of The Philadelphia Story, which I starred in senior year. I had cheekbones to die for.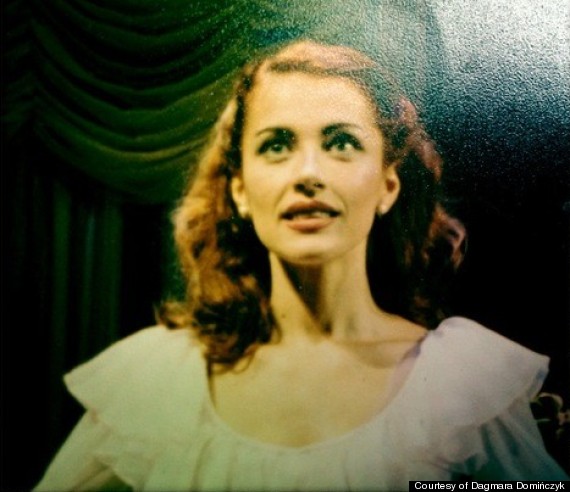 But I also had seizures and blackouts and decaying enamel from all the purging. I look at that picture now and I don't see pretty. I see scary. I see scared. I see someone clinging to an idea of what pretty was.
Today the word pretty doesn't mean much to me. I don't hang my happiness on "pretty." I'm more than pretty. I'm tougher than pretty, wiser than pretty, sexier. On good days I have enough confidence to tweet snappy comebacks about how my husband does me fine, muffin top and all. On bad days, I curl up and cry about my waistline. And then I get up.
Do we always yearn to be pretty? Do men struggle with self image the way women do? Do their eyes water at the sight of receding hairlines and sagging bellies? Or do they just shrug and say fuck it and move on...
I used to play this game with myself, walking down the street. Every woman I passed I surveyed in the blink of an eye and calculated what I would trade with her -- my hair for her breasts. My ankles for her calves. My hands for her nose. Every woman I walk passed had something better than me, and I wanted it so bad.
I silently bartered for pretty, and it never occurred to me that maybe someone walking past me wished they had mine.
This post was originally published on Dagmara Domińczyk's Tumblr, This Old Dag.
RELATED ON HUFFPOST WOMEN:
Meet Our Body Image Heroes
The Golden-Globe winner told HuffPost Live how her father shaped her perspective on beauty: Beauty was very much on my mind. I had a father that would -- we would look up at billboards and he would say, "That's one version of beauty. You're another version of beauty. And she's a version of beauty. And that girl? She's another version of beauty." He always said that beauty came from within, and as much as you're younger and you're [sarcastically] like, "Yeah, beauty comes from within" -- no, beauty does come from within. I've met some of the most beautiful people, and sadly their heart is just not smiling, and that destroys it all. And then other people that aesthetically aren't considered as beautiful are the most gorgeous people I've ever seen in my life.

After the media focused on her alleged weight gain in September 2012, Gaga hit back at critics by baring her body in photographs, sharing her struggles with an eating disorder, and inviting her fans to join her in a "body revolution."

Adele says she tries not to worry about her body image and doesn't want to be a "skinny minnie." "The first thing to do is be happy with yourself and appreciate your body -- only then should you try to change things about yourself."

The actress took to Twitter to say, "I'm not trying to be hot. I'm just trying to be a good actress and entertain people."

In a powerful 2012 piece for Jezebel, the comedian responded to people who criticized her appearance: I grew up hard and am still hard and I don't care. I did not choose this face or this body and I have learned to live with it and love it and celebrate it and adorn it with tremendous drawings from the greatest artists in the world and I feel good and powerful like a nation that has never been free and now after many hard won victories is finally fucking free. I am beautiful and I am finally fucking free.

After the March 2012 frenzy around Judd's "puffy face," the actress fought back in The Daily Beast, calling the media out for making women's bodies "a source of speculation, ridicule, and invalidation, as if they belong to others."

The "Orange Is The New Black" actress wrote a powerful essay for Glamour about her struggles with self-esteem and journey to body love. She's now dedicated to making sure all body types are seen on-screen: "Ideally, I want to see all beauties, all shapes, all sizes, all skin tones, all backgrounds represented in my profession. Now that I am blessed to be that reflection I was once looking for, I'm making a promise to speak out for that little girl that I used to be."

Tate's essay about body image and motherhood not only broke the Internet; it has sparked a movement of "moms who stay in the picture."

The fitness blogger and personal trainer posted a poignant video in response to online commenters' criticism of her physique. "In this video, you will experience what it feels like to be constantly bombarded with outrageous negativity," Ho wrote in a blog post introducing the video. "You will see what it looks like to have your self-esteem stripped away. You will read real comments left by real people. You will see me struggle with my own appearance."

The "Precious" actress had the most incredible comeback to cruel comments about her weight.

On her informed, thoughtful blog "The Beheld," Autumn writes about beauty, body image, appearance and her two -- that's right, two -- mirror fasts.

Gruys went on a year-long mirror fast during which she did not study her reflection in mirrors or other reflective surfaces, or look at photographs of herself.

"I am always in support of someone who is willing and comfortable in their own skin enough to embrace it," the singer said in a recent interview.

At the 2012 New Yorker Festival, the magazine's TV critic, Emily Nussbaum, asked Lena Dunham, producer, creator and star of the hit HBO show "Girls," why Dunham is naked in so many scenes. Dunham responded, "I realized that what was missing in movies for me was the presence of bodies I understood." She said she plans to live until she is 105 and show her thighs every day.

Chung responded to critics who suggested that her slight frame made her a bad role model for young women, saying: "Just because I exist in this shape doesn't mean that I'm, like, advocating it."

The NYU student started the amazing Body Love Blog, where she posted this picture of herself and wrote an open letter to those who feel entitled to shame others for the size or look of their bodies.

This 5-foot-tall, 200-pound singer spoke openly about her weight to The Advocate, saying, "I feel sorry ... for people who've had skinny privilege and then have it taken away from them. I have had a lifetime to adjust to seeing how people treat women who aren't their idea of beautiful and therefore aren't their idea of useful, and I had to find ways to become useful to myself."

In 2013 interview with Parade, Kaling said that she was tired of being discussing her appearance: "I always get asked, 'Where do you get your confidence?' I think people are well meaning, but it's pretty insulting. Because what it means to me is, 'You, Mindy Kaling, have all the trappings of a very marginalized person. You're not skinny, you're not white, you're a woman. Why on earth would you feel like you're worth anything?'"
Follow Dagmara Domińczyk on Twitter: www.twitter.com/DagDom17