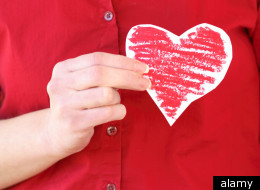 I love my wife Nicole. We were high school sweethearts, have been married for 12 years, and she's given me seven beautiful children. Nicole is my rock, and she's been there for me through good times and bad -- two Super Bowl championships, moving to different cities when I was traded, supporting my decision to retire from the NFL and become a commentator for ESPN, taking care of the kids. So when Valentine's Day rolls around, I consider it my absolute duty to show her how much I love and appreciate her. But how can you possibly show the woman in your life just how much you love her? It feels like there's no gift or card that can capture how you feel. Over the years, I've learned what works in my marriage -- and I hope my tips can help some of you guys out there who are trying to make that special lady feel like a queen today and every day.
1. IT DOESN'T HAVE TO BE OVER THE TOP
In 2009, I came up with what I thought was the greatest Valentine's Day surprise of all time. I had noticed in the last few weeks Nicole had been admiring a certain automobile -- the new Bentley. I could tell she had her eye on it, and it was definitely much sexier than the mom-mobile she had been driving for the last few years. Any time we saw one, her eyes would just light up. So Nicole and I were in Miami for a long weekend with some friends, and I staged the whole thing... As we left lunch at a restaurant, a gorgeous black Bentley drives up and parks near us. The driver gets out, and of course Nicole goes up to the car to check it out. "You like it?" the driver asked. "Yeah!" she said. He tossed her the keys and said "It's yours." She looked at me and couldn't believe it. I felt like the husband of the year. Fast-forward a few months, and Nicole sold the Bentley after only driving it a few times! I wanted it to be this special, luxurious gift for her, something that would make her feel glamorous, but in the end it was just impractical -- a grand gesture that was sort of silly when you think about it.
2. THINK ABOUT THE LITTLE THINGS
The funniest part is, I gave my wife a BENTLEY, but if you ask her what her favorite Valentine's Day gifts have been through the years, she would probably say the time I took care of the kids all day so she could meet her girlfriends for lunch, have a glass of wine, and go get her hair and nails done. She considers that being spoiled -- not some crazy expensive car. Just some special time carved out for her, or just the two of us sharing a meal -- something that shows I really thought about her and her needs, even if it's not the most romantic thing in the world. I've found that when I make the effort to take that burden off of her and help her make time for herself, she thinks that's sexy.
3. GET PHYSICAL
After retiring from the NFL, I set a goal for myself to lose weight (100 lbs.!) and get healthy. Nicole just gave birth to our seventh child, so fitness is a focus for her, too. Sometimes we'll exercise together, which is great because we're doing something good for ourselves and spending quality time with each other. Once those endorphins are flowing, we both feel happier, more confident and more attractive.
4. BE A ROLE MODEL
For all you fathers out there, remember that you're setting an example for your kids. With seven kids, that's always on my mind -- I want them to be the best they can be at everything. The way you and your wife treat each other is setting the standard for how they view relationships. And days like Valentine's Day offer the chance to get the kids involved, too -- have them help you cook mom breakfast in bed, or make their own Valentine cards for her to tell her how special she is.
5. REMEMBER THE OTHER 364 DAYS OF THE YEAR
Valentine's Day is only one day a year, guys. Your lady still needs to be appreciated every other day of the year. I try to find ways to make Nicole feel special on a regular basis -- whether it's hanging with the kids so she can have some "me time," or our weekly date night on Fridays when we leave the kids at home and have a civilized dinner like grownups or catch a movie. When you get married and have kids (especially seven kids!), it's so important to carve out time for each other, turn off the cell phone and blackberry, and focus on each other. The benefits will come back to you tenfold, and you'll both be your best, most vibrant selves.
So good luck, gentlemen. Go spoil your ladies. And remember, the perfect Valentine's Day is just a simple gesture away... But the keys to a new Bentley never hurt!