The mayor of Scotland's largest city, Lord Provost Sadie Docherty, stated today that Glasgow would not sever ties with its twin city in Russia over the country's anti-gay stance.
The response came after hundreds of members of Glasgow's LGBT community and its supporters signed a petition demanding that the mayor cut the city's ties with its Russian sister city Rostov-on-Don, due to the country's recent law banning so-called "homosexual propaganda."
Russia's anti-gay stance has come under strong worldwide critique for violating basic freedoms and various international treaties on human rights.
In an email sent to me, the mayor insisted that it would be incorrect for Glasgow to break off relations with its Russian twin city.
The mayor also said she will be on an official visit to Russia this coming September.
Mrs Docherty stated:
Our cities have been twinned for 27 years. That includes a period of the Cold War. ...

The way to influence policy is to remain within our partnership.

It is not practical for cities, countries or states to dissolve long-standing and beneficial relationships because one party does not agree with another's stance on a particular issue.

I have written to the Mayor of Rostov-on-Don and made my position clear on the country's anti-gay legislation.

What message would breaking up our partnership give gay people in Russia?

We would effectively be abandoning them.

As Lord Provost and First Citizen of Glasgow my job is to promote Glasgow at home and abroad and, on occasion, raise human rights issues.

It is not a grown up position to simply opt out of these arrangements.

Exerting influence from within is the way forward. That is the right thing to do.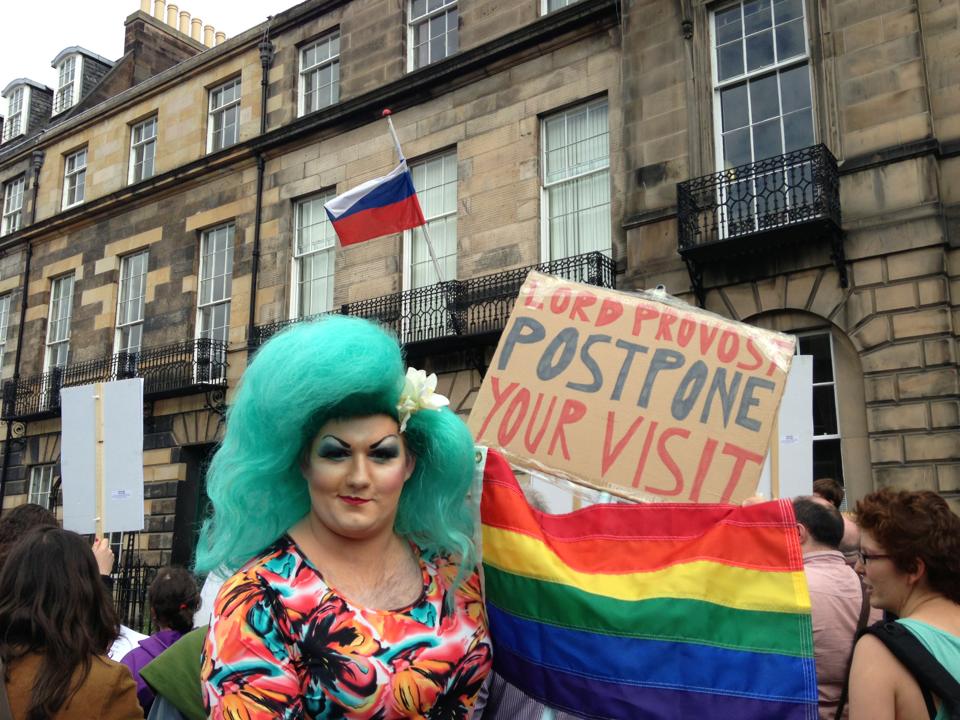 Nancy Clench, a Glasgow-based drag artist and the author of the petition, said in response:
I am extremely disappointed in the mayor's condescending statement, and her confirmation she would be making a trip to Rostov-on-Don in September.

Ending the twinning agreement must remain an option for the people of Glasgow, but at a first stage the postponement of the trip is vital.

What message is Glasgow showing LGBT people in this country and in Russia?
Clench also was told that the Lord Provost will be unable to meet her during Glasgow Pride tomorrow. She responded by saying:
I'm disappointed that the Lord Provost has refused to meet with me tomorrow, on a day when the LGBT community comes together in Glasgow.

It would have been the perfect opportunity for her to have affirmed her commitment to the community and discuss issues in Russia with myself and other activists.
Along with the Equality Network, a Scottish LGBT advocacy group, Clench took part Friday in a demonstration outside the consulate of the Russian Federation in Edinburgh, the capital of Scotland, protesting against the Russian law, and to show LGBT Russians that they are not alone and have international support.
Alastair Smith, Chief Executive of Pride Glasgow, told me that he is extremely concerned about violence and intimidation against LGBT people in Russia:
"We know that recent legislation not only does nothing to protect young people but in fact puts them in danger."
He went on to say that during Pride Glasgow on Saturday, "there will be speeches from the stage which mention the situation and remind our Russian friends that they are not alone."