Jordanian-born Norma Khouri gained international attention when her 2003 memoir Forbidden Love recalled how her best friend Dahlia, a Muslim, was murdered for her chaste relationship with a Christian soldier. The book drew attention to the phenomenon of honor killings in places like the Middle East, Africa and even Europe and made Khouri, who was living in Australia at the time, an international figure.
It's too bad the book was actually a work of shoddy fiction.
Khouri wasn't even living in Amman during the mid 1990s during the period when the book takes place, and neither Dahlia nor star-crossed love ever existed. Khouri had been living in Chicago since she was three and has been investigated for fraud by the FBI. Furthermore, she had been married with two children, but didn't bother to mention her spouse or her offspring during her press tours.
Khouri's fabrications are so obvious, it's a wonder that they weren't found when the book was in manuscript form. Any reader looking at a map of Jordan while reading the book would have discovered that she incorrectly names the countries bordering the nation and describes a river flowing nowhere near its actual path.
While Khouri's mendacity is uncontestable, Australian filmmaker Anna Broinowski thankfully has more on her mind than simply debunking her subject in Forbidden Lie$. That would have been too easy and would have made for tedious viewing.
Instead, Broinowski follows both her subject and her detractors in an attempt to find out why she's lying and why she got away with it for over a year. Broinowski even follows Khouri through Jordan in an attempt to prove that while the author had changed the circumstances of Dahlia's death, both she and the crime were real.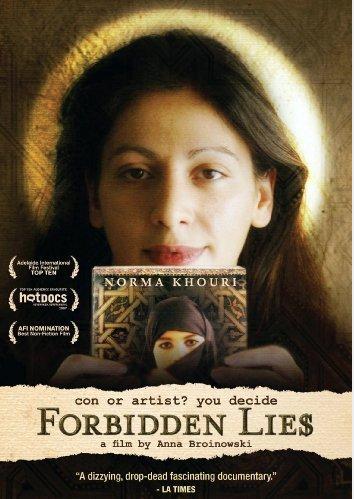 In the process, Broinowski reveals that more was at stake than simple white lies. The director includes interviews with a Jordanian journalist named Rana Husseini, who has been covering honor killings for years. Husseini rightly complains that the book stoked Islamophobia and inadvertently harmed the efforts she and others have made to stop these senseless murders. The book's soapy tone trivialized an urgent issue that has plagued both Christian and Muslim communities. Further, while the book's cover claims royalties were sent to organizations that prevented honor killings, none of these existing groups in Jordan have apparently received a penny or a dinar.
What makes Forbidden Lie$ engrossing is that Broinowski has gained a remarkable level of cooperation from both Khouri and her detractors. On the DVD, Khouri even joins Broinowski on the commentary track. As a result, the film raises some disturbing questions. Why had dozens of western media outlets allowed her to peddle her falsehoods for so long and how can Random House easily brush off the book and its author after spending considerable resources publishing and promoting?
In one jaw-dropping sequence, Khouri even shot footage of herself attempting to bait Broinowski with a false lead. For the most part, though, Khuouri has an almost admirable tenacity by sticking to her stories even as she digs herself into an even deeper hole.
Forbidden Lie$ is also slickly photographed and visually intriguing. Broinowski uses CGI trickery and process shots to make reality seem even more elusive. She appears to be warning her audience not to take any story, not even her own, at face value.
SUBSCRIBE TO & FOLLOW ENTERTAINMENT
HuffPost Entertainment is your one-stop shop for celebrity news, hilarious late-night bits, industry and awards coverage and more — sent right to your inbox six days a week. Learn more