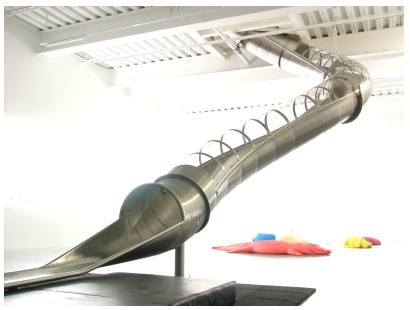 I'm a lucky guy. I've wanted a reason to break out of my cramped, unkempt studio and check out Carsten Höller: Experience, the new exhibit at the New Museum that provides a comprehensive survey of the German-born artist known for his immersive, sensory-confounding -- and sometimes adrenaline-pumping -- installations, and fortunately the museum was happy to invite me in to get a look at the show.
Carsten Holler is certainly deserving of the attention. Having left a career in science in the early 90's, Höller has translated his clinical background into works that range from the grandly whimsical -- the lobby of the New Museum boasts a garden of oversized mushrooms that Lewis Carroll would have felt right at home in -- to the powerfully immersive. "Viewers" rarely remain passive observers in the artist's efforts: Included in the exhibit are such works as Experience Corridor, a series of rooms containing strange, sensory experiments (most curious: The Pinocchio Effect, in which strategic application of a medical vibrator convinces one that one's nose is growing); Giant Psycho Tank, a sensory deprivation pool; Mirror Carousel, in which the glistening replication of a stock, amusement park thrill-ride is paradoxically trimmed to a serene pace; and -- the big draw for this exhibition -- Untitled (Slide), a corkscrewing tube that briskly transports daring visitors from the museum's fourth floor down to the second, landing them into the visual bombardment of a pulsing, Höller light installation.
The works have a singularly unique way of cutting through intellectual concerns to provoke pure, emotional responses -- interesting for pieces that frequently present themselves as the products of an especially fanciful laboratory. I wanted to find out more about Höller's motivations, so in addition to getting some interesting pics of the exhibit, I also spoke with associate curator Gary Carrion-Murayari. Click on the player to hear the discussion, and check out the slide show below that.
CARSTEN HÖLLER: EXPERIENCE

Interview with New Museum Associate Curator Gary Carrion-Murayari
Slide Show
Carsten H%uFFFDller: Experience at New Museum
Carsten Höller's Untitled (Slide) lands New Museum visitors into the visual cacophony of his Double Light Corner (2011) installation.

New Museum staffers took a particular pride in the fact that the still-relatively-new Sejima/Nishizawa-designed building had to be broken into to install the three-story slide. Other cities that have hosted Höller slides include Berlin, Milan, and London.

Said New Museum Associate Curator Gary Carrion-Murayari about Höller's slides: "He likes to talk about them as these kinds of utopian transportation devices, ways that urban situations could be improved or transformed by the use of slides connecting different buildings."

Carrion-Murayari: "We know what the experience of a slide is, what kind of thrill it can provide. But the way [Untitled (Slide)] brings you through the museum and the kind of loss of stability you have is something we don't expect in a space of culture and reflection." I brought a pocket camcorder with me on a run through the piece, and recorded my own experience.

Sharing space with the entry point to Höller's Untitled (Slide) is Mirror Carousel, a functioning ride modeled after a Zamperla Flying Carousel. Contrary to the expected, high-velocity thrills, though, this version moves with glacial slowness.

Museum visitors can just step up to the slow-moving ride and take a seat. "It sucks the entertainment away and becomes a much more psychological experience," said Carrion-Murayari.

The highly-polished surface of Mirror Carousel provides both riders and spectators with constantly shifting perspectives of the experience.

New Museum Associate Curator Gary Carrion-Murayari: "You're thinking about amusement parks and your memories of those spaces... It's a very surreal distortion of time that it provides, something just seems wrong."

I had the chance to try out Mirror Carousel before the gallery opened. The experience was... curious.

In One Minute of Doubt, two video monitors play a sixty second video loop featuring a moment of automotive impasse. Carrion-Murayari: "There is this sense that transportation is about the physical journey and the psychological journey."

At once looking like an elaborate piece of lab equipment and a proposed redesign for the imposing Brussels landmark, the Atomium, Atomium Slide House shows Höller bringing all his interests to bear on a significant icon of the city where he grew up.

Experience Corridor draws on Höller's background as a scientist to present museum-goers with strange sensory "experiments." "He's no longer interested in collecting data and proving hypotheses," said Carrion-Murayari. "He's interested in taking that knowledge and producing a sense of doubt and uncertainty in the viewer." Clockwise from right: The Forest (2002); The Pinocchio Effect (1999); Love Drug (PEA) (1993/2011).

Höller's fascination with the science of biology shows its influence in many of his works. Clockwise from lower left: Singing Canaries Mobile (2009) contains live, male birds whose chirping peppers the gallery; Giant Psycho Tank (1999) offers guests the opportunity to float in a sensory deprivation tank; Animal Group presents accurate replications of living creatures sculpted in polyurethane.

Set at the back of the New Museum's first-floor entrance, the forest of giant mushrooms reflects Höller's interest in psychotropic experiences and puts visitors on-notice that what awaits them on the floors above will stimulate, provoke, and challenge all senses.