THE BLOG
Cinefantastique Podcast: Eli Roth & Daniel Stamm on The Last Exorcism; Review of Piranha 3D
It's a day of interviews and reviews at the Cinefantastique Podcast. First, a chat with director Daniel Stamm and producer Eli Roth on their new, demon-possession-in-the-bible-belt thriller, The Last Exorcism, opening on Friday, August 27. Then an in-depth discussion of Piranha 3D, Alexandre Aja's ultra-gory remake of the 1978 cult classic directed by Joe Dante. Find out if the thrills merit your enduring yet another ninety minutes of crappy, computer-processed 3D, or if you should just throw in the towel and see Vampires Suck instead. Plus the usual round-up of news, events, and home video releases.
IN THIS EPISODE:
1. News
2. Guess What's in 3D Now
3. Opening in Theaters
4. Interview: Eli Roth and Daniel Stamm on The Last Exorcism
4. Discussion: Piranha 3D
5. New on Home Video
6. New at cfqmag.com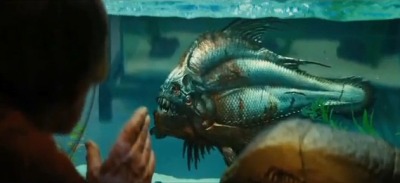 Check out previous episodes of the CFQ Podcast
v1n27 - Scott Pilgrim vs. the World
v1n26 - 50th Anniversary Special: Black Sunday
v1n25 - Cats and Dogs: The Revenge of Kitty Galore
For the latest news on horror, fantasy, and science fiction film and television, visit Cinefantastique online.
MORE:
Sex
,
Emotional Intelligence
,
Satire
,
Death
,
Gore
,
Off Beat
,
Cinefantastique Podcast
,
Eli Roth
,
Christopher Lloyd
,
The Last Exorcism
,
Piranha 3d
,
Daniel Stamm
,
Cinefantastique
,
Indie
,
Comedy
,
Controversy
,
Suspense
,
Fantasy
,
Drama
,
Horror
,
Violence
,
Explosions
This Blogger's Books and Other Items from...