THE BLOG
Cinefantastique Podcast: Let Me In
Can a disturbed young boy find true love with the vampire next door? Can Los Alamos, New Mexico afford more than one police officer? Can an American remake of a brilliant Swedish film be worth watching on its own merits? Dan Persons, Lawrence French, and Steve Biodrowski answer these and other questions as they examine Let Me In, written and directed by Matt Reeves (Cloverfield) based on Let the Right One In (2008). Also: an interview with actress Danielle Harris on starring in Hatchet II and a fond farewell to late actress Gloria Stuart, who appeared in the classic horror movies The Invisible Man and The Old Dark House.
IN THIS EPISODE:
1. News
2. Guess What's in 3D Now?
3. Opening in Theaters
4. Interview: Danielle Harris on Hatchet II
5. Discussion: Let Me In
6. New on Home Video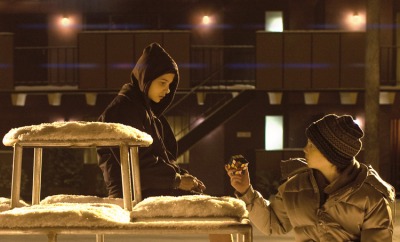 Check out previous episodes of the CFQ Podcast
v1n33 - Never Let Me Go
v1n32 - Devil
v1n31 - Resident Evil: Afterlife 3D
For the latest news on horror, fantasy, and science fiction film and television, visit Cinefantastique online.
MORE:
Sex
,
Art
,
Love
,
Emotional Intelligence
,
Murder
,
Death
,
Gore
,
Off Beat
,
Chloe Moretz
,
Acting Legend
,
Cinefantastique Podcast
,
Richard Jenkins
,
Let Me In
,
Kodi Smit Mcphee
,
Danielle Harris
,
Hatchet II
,
Indie
,
Fantasy
,
Controversy
,
Drama
,
Horror
,
Violence
,
Cinefantastique
This Blogger's Books and Other Items from...