THE BLOG
Cinefantastique Post-Mortem: Special Stream-of-Consciousness Episode, Featuring The Tempest
Having survived the rocky shoals of The Chronicles of Narnia: The Voyage of the Dawn Treader, Steve Biodrowski, Lawrence French, and Dan Persons decide to kick it freestyle (as the kids all say -- the kids do all say that, don't they?) in a wide-ranging, nay, recklessly random episode of The Cinefantastique Post-Mortem Podcast. Covered in the discussion are Larry's impressions of Julie Taymor's daring adaptation of The Tempest, Dan's reactions to Bill Plympton's impertinent animated short The Cow Who Wanted to Be a Hamburger, and Steve's serene confidence amidst his critical brethren. Plus vag-monsters, John Lasseter, the Community Christmas special, competing George C. Scott impressions, and the waning tyranny of THX Certification.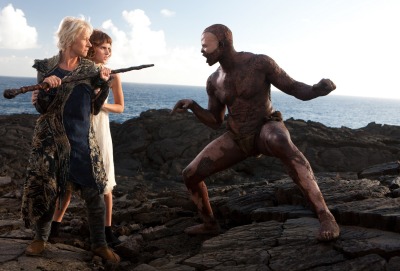 MORE:
Sex
,
Art
,
Love
,
Justice
,
Emotional Intelligence
,
Death
,
Community
,
British
,
Julie Taymor
,
Off Beat
,
Acting Legend
,
John Lasseter
,
The Tempest
,
Bill Plympton
,
Jeffrey Lyons
,
The Cow Who Wanted To Be A Hamburger
,
THX Certification
,
Drama
,
Controversy
,
Repression
,
Romance
,
Fantasy
,
Comedy
,
Success
This Blogger's Books and Other Items from...