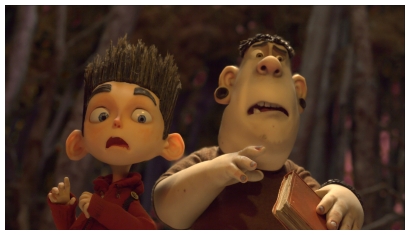 A young boy gifted with the ability to see ghosts has to rise to the challenge when his small New England town is cursed by the spirit of a vengeful witch in ParaNorman, the latest 3D stop-motion animated effort from Oregon's Laika Studios. With an onslaught of mouldering zombies, voluble spirits, and malevolent storm fronts, plus a production that pushes the artistic boundaries of stop-motion in terms of scope and character performance, the film has no shortage of ambition. But is that enough? Cinefantastique Online's Steve Biodrowski and Lawrence French differ wildly with me on this point, and we discuss our divergent impressions in this episode. Plus: My capsules of the energetic Hong Kong fantasy/actioner Painted Skin: The Resurrection, and the indie science fiction romantic comedy Codependent Lesbian Space Alien Seeks Same.
Click the player button to hear the show, or right-click the title to download.
This Blogger's Books and Other Items from...
SUBSCRIBE AND FOLLOW
Get top stories and blog posts emailed to me each day. Newsletters may offer personalized content or advertisements.
Learn more