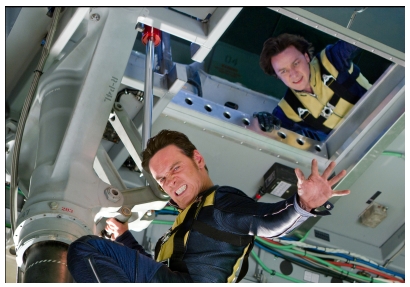 It isn't particularly well known, but mutants were with Washington when he crossed the Delaware, with Einstein when he developed the theory of relativity, and with Sarah Palin while she was waiting for Russia to raise its head above Alaska. Most specifically, they were directly engaged in the Cuban Missile Crisis -- the world-changing historical event that is the backdrop for the first meeting of the psychic Professor X a.k.a. Charles Xavier (James McAvoy) and the magnetically-charged Erik Lehnsherr, otherwise known as Magneto (Michael Fassbender). Come join special guest Orenthal V. Hawkins as he sits in with Steve Biodrowski, Lawrence French, and Dan Persons to discuss X-Men: First Class, the latest installment of the Marvel film franchise that uses comic book action to address some potent social issues. Does this chapter live up to the standard established by Bryan Singer? Is the first team-up of mutants -- which includes Beast (Nicholas Hoult), Banshee (Caleb Landry Jones), and Darwin (Edi Gathegi) -- as impressive as the more famous ensemble of the previous films? And is Moria MacTaggert's (Rose Byrne) choice of lingerie government-issued, or does Victoria's Secret sell bullet-proof brassieres? Listen to the show and find out!
This Blogger's Books and Other Items from...
SUBSCRIBE AND FOLLOW
Get top stories and blog posts emailed to me each day. Newsletters may offer personalized content or advertisements.
Learn more