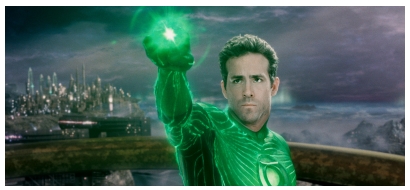 Somebody notify Kermit: Being green just got a little easier. That's what happens when the all-powerful will of the universe taps test pilot Hal Jordan (Ryan Reynolds) to be its latest defender, and a dying alien bequeaths him a ring that turns him into the Green Lantern, a mighty force for good with a bitchin' emerald wardrobe and the ability conjure anything that can be imagined into reality. The new film is Hollywood's latest attempt to take the comic book movie back to its purer roots, when heroes were heroes, bad guys were malevolent, and the galaxy had the colorful vividness of a two-page splash. Does Green Lantern earn its stripes as simple summer fun? Do Reynolds and Blake Lively (playing Jordan's boss, wingman, and love interest Carol Ferris) make an appealing screen couple (even as the kids are going, "Yick")? And what the hell's going on with Peter Sarsgaard's forehead? Listen in as Cinefantastique Online's Steve Biodrowski, Lawrence French, and Dan Persons discuss these and many more issues.
Get a deeper insight into indie and genre film at mightymoviepodcast.com
This Blogger's Books and Other Items from...
FOLLOW HUFFPOST