THE BLOG
Mighty Movie Podcast Interview: The Exploding Girl and Tales from the Script
So actress Zoe Kazan slips into the room, gives director Bradley Rust Gray a hug, and lingers a minute to answer a couple of questions. Quite unanticipated, obviously. Very welcome, actually. And pretty much fitting for the film being discussed, The Exploding Girl, which itself has a low-key, idiosyncratic structure and a spare, spontaneous feel. With that spur-of-the-moment spirit at work in the production, is it any wonder that the film's creators have carried the attitude to their interview sessions? What plays out on the screen doesn't always translate to the street, but in this case, I'm glad it did.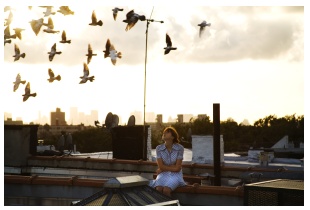 We're doubling up on the interviews in this episode. First is a conversation with director Peter Hanson about his new documentary, Tales from the Script, in which a powerhouse collection of screenwriters -- including Frank Darabont, Shane Black, and Paul Schrader -- take viewers through the somewhat tortured, occasionally triumphant life cycle of those who labor away at the word processor for fame and glory (and occasional big bucks). That'll be followed by my conversation with Brad Gray about The Exploding Girl, a small and quite satisfying story about a young woman (Zoe Kazan) facing the end of one relationship, even as she ponders the start of another.
Two very good films, two interesting discussions. What more could you ask for? Click on the player to hear the show.
More MMP on HuffPost:
Jessica Jacoby and Felix Moeller on Harlan - In the Shadow of Jew Suss
The Art of the Steal Interview
Jessica Hausner on Lourdes

Check out the Mighty Movie Podcast homepage.

MORE:
New York
,
Art
,
Love
,
New York City
,
Film
,
Movies
,
Emotional Intelligence
,
Off Beat
,
Zoe Kazan
,
John Carpenter
,
Paul Schrader
,
Shane Black
,
Frank Darabont
,
Bradley Rust Gray
,
Zak Penn
,
Ron Shelton
,
Gritty
,
Documentary
,
Indie
,
Drama
,
Romance
,
Success
This Blogger's Books and Other Items from...