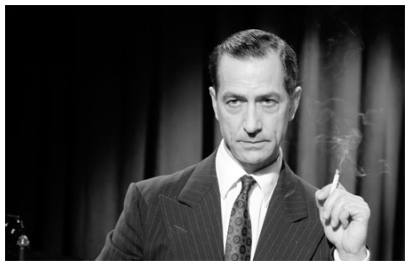 Released at a time when America's faith in journalism was undergoing serious turmoil, George Clooney's drama Good Night, and Good Luck was a stirring reminder of the importance of the institution. Focusing on TV newsman Edward R. Murrow (David Strathairn) and his producer, Fred Friendly (Clooney), and the risks they took in turning their spotlight on the high-profile, and very dangerous, commie-hunting Senator Joseph McCarthy in the '50s, the film's an intense and inspirational tribute to those who take principled stands against tyrants of all types.
As part of their recent Forum Film Festival, the Forum on Law, Culture, & Society at Fordham Law School here in New York held a screening of GOOD NIGHT, and invited Strathairn, who received an Oscar nom for his portrayal, to talk about the film. I got a few minutes to sit down with him before the event, and he was able to clue me in on how the production came together, as well as provide some insight into the life of a socially-conscious actor.
This Blogger's Books and Other Items from...
SUBSCRIBE AND FOLLOW
Get top stories and blog posts emailed to me each day. Newsletters may offer personalized content or advertisements.
Learn more