THE BLOG
Mighty Movie Podcast: Kristin Chenoweth on Family Weekend AP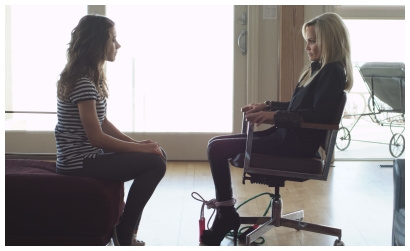 Behold the nuclear family what has outright exploded: Mother (Kristin Chenoweth) and father (Matthew Modine) are so wrapped up in their own agendas that they don't have time to tend to anything else; the kids, rudderless, are left to their own devices to cope. Time to hit the pause button, get everybody together for a few days of bonding and healing. Oh, and better gag and tie Mom and Dad down to their chairs, 'cause that's the only way they're gonna hold still enough for this to do any good.
In Family Weekend, Kristin Chenoweth plays one of the victims of a therapeutic kidnapping gone comedically haywire. We got to talk with her about the role and the challenges of performing while immobilized. Click on the player button to hear the interview, or right-click the title to download.
Mighty Movie Podcast: Kristin Chenoweth on Family Weekend
This Blogger's Books and Other Items from...