Turns out director Joe Johnston wasn't satisfied with the same ol' same ol' to explain why Benicio Del Toro is waxing all hairy and toothy in The Wolfman. Nope, no simple stroll-on-the-moors, random-wolf-bite, go-wild-at-moonrise for Toro's Lawrence Talbot. Instead, a family curse has been thrown into the mix, all the better to generate a piquant sense of doom even before Larry manifests an irrepressible urge to howl.
The curse that trips its way through the branches of a family tree is a great means to get to an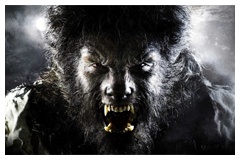 audience's gut. We are, after all, consigned to what we're handed by our forebears, and whether such inheritances stem from genetics or upbringing, most of us have a vested interest in seeing if a protagonist can escape his/her own destiny. Pushing into the background our own concerns over those pentagram-shaped birthmarks on our hips, we started checking out all the ways that filmmakers have managed to bequeath their characters the gifts that keep on giving (and that rank as a bit more dire than thinning hairlines or thickening bellies).
Here, then, we offer up Family Be Damned: Top 10 Cursed Movie Characters. Warning: You might want to consider DNA screening afterward.

SUBSCRIBE TO & FOLLOW ENTERTAINMENT
THE spot for your favorite fan theories and the best Netflix recs. Learn more