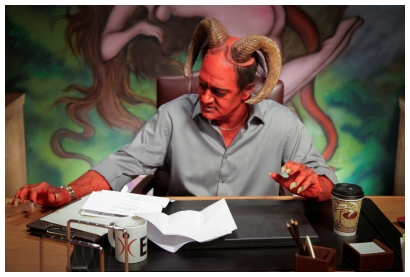 Shooting a workplace comedy set in Hell may be challenging, tedious work, but at least you get to traumatize the hotel staff. That's only one of the lessons to be gleaned from the cast of Your Pretty Face is Going to Hell, a new Adult Swim comedy that takes the white-collar satire of Office Space and adds a piquant whiff of brimstone to the proceedings. Joining me for an interview that's part Inside the Actor's Studio, part MMA cage match are comic actors Henry Zebrowski and Craig Rowin, and Satan himself, Matt Servitto. Pour yourself a nice, brimming mug of goat's blood and click on the player button to hear the interview, or right-click the title to download.
This Blogger's Books and Other Items from...
SUBSCRIBE AND FOLLOW
Get top stories and blog posts emailed to me each day. Newsletters may offer personalized content or advertisements.
Learn more