THE BLOG
The Chronic Rift Spotlight: Mary Lynn Rajskub & Cast Mates on Dirty Work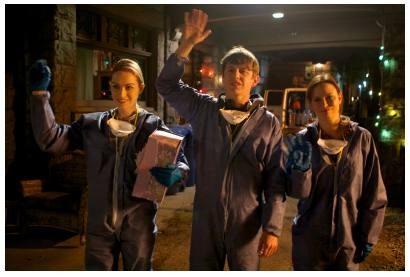 Hey, how about following along with a crime scene cleanup crew as they tidy up the site of a grisly murder and find a few unexpected surprises? Sounds like fun! Or creepy. Or disturbing. And it's even more so with the dark-comic, Web video series, Dirty Work , where not only do the adventures of stars Mary Lynn Rajksub, Jamie Clayton, and Frank Harris play out on your screen, but also, thanks to the immersive RIDES system developed by producer Fourth Wall Studios, via text messages and calls received on your smartphone, and through video tangents that allow you to pause the main action to get a deeper glimpse into the lives of the protagonists.
Rajskub and team were at last month's New York Comic Con 2012 to discuss the project, and the Rift was there to catch the conversation. Well, most if it, since I, your intrepid journalist, was a little less intrepid than normal and managed to miss the first few minutes of the chat. The rest of it makes up for the glitch, though, so click the player button (or right-click the link to download) and enjoy!
The Chronic Rift Spotlight: Mary Lynn Rajskub & Cast Mates on Dirty Work
This Blogger's Books and Other Items from...