THE BLOG
The Cinefantastique Review: The Chronicles of Narnia: The Voyage of the Dawn Treader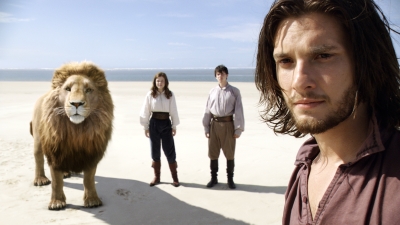 For the second week in a row, Steve Biodrowski, Lawrence French, and Dan Persons immerse themselves in a magical, 3D kingdom for this episode of The Cinefantastique Review. This time, though, instead of Disney whimsy, it's C.S. Lewis faith-tinged adventure, as they join siblings Lucy and Edmund Pevensie (Susan and Peter appear to be away on assignment) and thorn-in-the-side cousin Eustace, plus King Caspian (king!) for the newest chapter of The Chronicles of Narnia: The Voyage of the Dawn Treader. Can the forces of darkness be vanquished by only a pair of Narnia royalty, where four were needed before? Does the film profit or lose by running a half-hour less than its predecessors? And is it any coincidence that Edmund's greatest fear is a monster whose features resemble a certain female orifice that many teen boys find intimidating? These and many other questions will be discussed in this week's episode. Plus, the usual round-up of news, events, and home video releases.
Check out previous episodes of the CFQ Podcast
For the latest news on horror, fantasy, and science fiction film and television, visit Cinefantastique online.
MORE:
Love
,
Emotional Intelligence
,
Death
,
War
,
British
,
Liam Neeson
,
C.s. Lewis
,
Acting Legend
,
Cinefantastique Podcast
,
The Chronicles Of Narnia
,
Ben Barnes
,
The Cinefantastique Review
,
Fantasy
,
Michael Apted
,
The Chronicles Of Narnia The Voyage Of The Dawn Treader
,
Controversy
,
Success
,
Explosions
,
Drama
,
Action Adventure
,
Faith
,
Violence
,
Cinefantastique
This Blogger's Books and Other Items from...