On the same morning that Ford posted an $8.7 billion loss, today's Quinnipiac polls shows a McCain resurgence in several key battleground states, particularly Michigan. The gains are not surprising. As Ford and GM continue their reported flirtation with bankruptcy, now more than ever, Democratic Gov. Jennifer Granholm is taking flak from Michigan blue collar workers, and the backlash appears to be working to McCain's advantage. It may also increase speculation over McCain's choosing Mitt Romney as VP .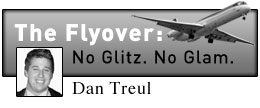 According to Peter Brown, assistant director of the Quinnipiac University Polling Institute in Connecticut, "McCain sees recently Democratic Michigan as his top takeaway target." Brown notes that Obama's support amongst independents in the state is beginning to erode. According to the Detroit Free Press, "Independents may make up as much as a third of the electorate in Michigan."
Today's poll has McCain narrowing Obama's lead to just four points, down from six in the same poll on June 26. And a July 14 poll by Rasmussen showed Obama leading by eight points. Michigan, which has gone Democratic in every presidential election since 1988, is seen as a key battleground in 2008. Victory for either candidate, however, is contingent upon winning over the state's discontented blue collar voters.
Despite the state being all but abandoned by the DNC throughout the primary season, Michigan remains Obama's to lose. Yet the state's economic woes are pressing heavily on Gov. Granholm who, fairly or not, is seen by many traditionally Democratic blue collar voters as responsible on some level. Workers are outraged over the decline of the state's auto industry and the mass exodus of manufacturing jobs out of state and overseas.
If McCain picks Mitt Romney, son of former Michigan Gov. George Romney, as his running mate, Obama will almost certainly be forced to devote significant resources to maintain a close race in the state. Romney won a critical victory in Michigan in the Republican primary, besting McCain by 9 points with 39 percent of the vote. If given the VP nod, Romney could help the ticket overcome what many in Michigan still perceive as McCain's insensitive treatment of the state's economic issues.
"There are some jobs that aren't coming back to Michigan," said McCain in the course of the primary fight. An article by Jonathan Weisman of the Washington Post, observed that "Michigan Republicans apparently heard the Ariz. Senator's 'Straight Talk' as 'Gloom.'"
Despite fleeing his native state for a gubernatorial run in Massachusetts, there is a sense here that Romney is fundamentally invested in the plight of Michigan workers. After McCain's "gloomy" comments, Romney declared himself the only GOP candidate "that's got the automobile industry in my blood veins."
A 39 percent primary victory isn't exactly a lock, but a Romney slot on the ticket would certainly force a showdown in Michigan.