In all the excitement over Obama's primary victory, many Michigan Democrats seem to have dropped their outrage over their state party's bungled primary. But in the light of this weekend's strangely satisfying and dare I say passionate political makeup by Obama and Clinton, Michigan Democratic Party Chair Mark Brewer seems to heaping insult on top of injury. His continued refusal to publicly endorse his party's chosen candidate is conspicuous. Just five days ago, the northern Michigan newspaper the Leelanau Enterprise quoted Brewer as saying the following at a Leelanau Democrats fundraiser:
"It does look like the battles are over and the party will unite behind Barack Obama."
The deadpan political rhetoric is, of course, expressive, especially given that Hillary Clinton has been making a fairly passionate case for party unity for the last week. "We have to make it a priority in our lives to elect Barack Obama," she has said.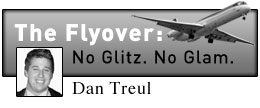 yet Brewer, who in the spring fended off calls for an unprecedented primary election do-over that would likely have favored Obama, remains uncommitted. Even the most fiercely loyal Michigan Clinton supporters -- such as Gov. Jennifer Granholm -- have fallen quickly in line behind Obama, a fact that may have influenced Obama's decision to stage such high-profile endorsements as Edwards' and Gore's in the battleground state.
In a performance that should make the final cut on Gov. Granholm's Greatest Hits compilation, she shouted over Obama supporters who were booing Clinton's name at Detroit's Joe Louis Arena, removing her navy blue pump and raising it above her head:
"These high heels have carried a lot of weight for first-women everywhere. But I'm proud to say that I'm supporting Barack Obama to be the next president of the United States."
Granholm told the capacity crowd she was "mad as hell" about the last eight years of Bush government. "Since George Bush became president," she said, "Michigan has lost 400,000 manufacturing jobs. We are not here to complain. We're no whiners; we're doers in Michigan. And we're not here just to be mad. We're here tonight to get even."
Mark Brewer is less fired up. His take: "It does look like the [primary] battles are over."
Fortunately for concerned Democrats, Brewer's indecisiveness likely has less to do with party disunity than it does with his organization's incompetence in handling the Michigan primary. These days, it's probably best that Brewer keeps his head down.
The question is no longer about when holdouts like Brewer will offer their endorsement, but whether or not Obama should even take it.