Sure, a bottle of wine will do when you're heading to a potluck. But, what about the less casual events with fancy hostesses? If you're stumped, I have a hostess gift rescue plan for you.
Just eat it.
Artisanal and infused oils are a simple and luxurious way to greet your gourmand hostess. Black truffle oil is a savory, chic and no-fail way to say hello.
Talk about it.
Share your passion for something exotic in the form of a coffee table book. Conde Nast's A Room With a View is a gorgeous way to share a love of travel.
Keep it clean.
A collection of well packaged soaps will make its way to her guest baths, guaranteed. The colorful Lafco New York Claus Porto Assorted Pastille Soaps are the perfect accent.
Make it green.
Eco friendly gifts are more stylish than ever. I'm loving the Archipelago Botanicals Signature Soy Wax Candle's packaging and scents .
Put a lid on it.
Surprise your hostess with the mostess with a chic cheese dome to display her fabulous fromages. Everything seems even more precious under a glass dome, yet they aren't too pricey; like this one from Macy's that's only $36.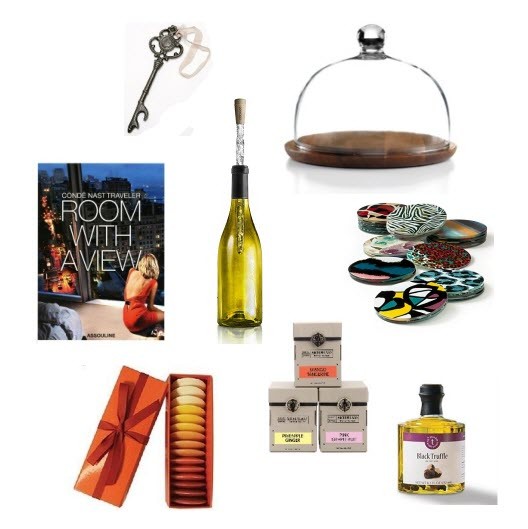 Maintain its cool.
Wine is essential at a gathering, but maintaining the optimal temperature is not so easy for the busy hostess. The Corkcicle keeps whites and reds at their respective ideal temperatures and looks great, too.
Give it color.
Color abounds this season in everything from fashion to home décor, so give your hostess a splash of something bright. A set of 4 coasters from designer DVF are a runway worthy gift.
Open it up.
Entertainers love conversation pieces and are prone to losing bar tools. A unique bottle opener will get used and appreciated, like this antique skeleton key opener.
Follow Dana Holmes on Twitter: www.twitter.com/metromomclub