It may be a little controversial, but I don't believe parents should give their kids an allowance. Whilst I fully support children having and managing their own money, it is the ritual entitlement that is, in my view negative.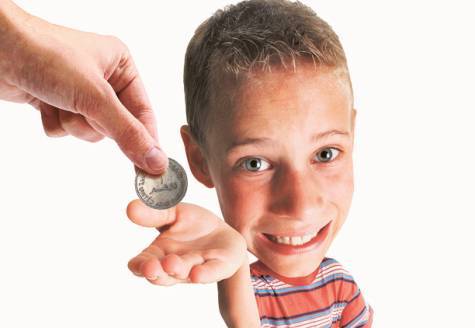 Let's start with young children, an allowance can often be felt as a sign of parental approval, or acceptance, in other words love. For me this is the first issue. In a family, older siblings may receive more money and so does that equate to greater love? Perhaps so, in the eyes of a younger child. How about the school friend who receives more or less? Are they more loved? Equating money with love or approval is not a healthy attitude to install in a child's psyche, yet is this what is being unconsciously programmed by many unaware parents?
Problem number two is money being seen as an entitlement. Research has found that the financial significance of giving an allowance does not become fully understood until children reach their teens, by which time an entitlement mentality has been well and truly formed.
Where else in life do people regularly get money for nothing as a right? The answer is social security or unemployment benefit. Do the majority of parents consciously seek to set their offspring on the path to a life of hand outs and benefits?
In many families older children are asked to contribute to chores and work around the house, whilst the younger ones receive an allowance. It can be difficult to change the money rules as the child gets older and they may resent the fact that they now have to work for money. Combine this with a little teenage rebellion and it's not too difficult to imagine where the numerous money fights with teenagers come from.
Allowing children to take on roles around the home can introduce the concept of exchanging their time and effort for financial reward. It may also lead to conversations about the different types of work that adults do, and the varying amounts of money received for different types of work. This can be a valuable way to raise children's awareness of 'earnings'.
A fourth problem with giving an allowance is that it can embed the idea that money is scarce and controlled by other people. As adults, having a ceiling on our earnings can be demotivating and it's equally true for children. Viewing money in this way reinforces the disempowering belief that the amount you can earn is decided by other people, your boss, welfare, or in this case your parents. A look at the histories of many of today's successful entrepreneurs will show they were encouraged to earn their own money early on.
Our financial blueprints are a collection of deep seated values and beliefs around money, which can hugely influence the work we do and the money we earn. These blueprints are formed in childhood and can be difficult to shift later in life. Your kids may not thank me for saying it but don't pay an allowance; rather negotiate a minimum level of household contribution for which they are compensated, whilst providing the opportunity to earn extra or develop alternative income elsewhere. Giving a child the chance to express their talents, take a risk or two and generate their own income is a great way to develop solid financial foundations that will serve them well for life.
Top 8 Benefits of Financial Education
Budgeting and tracking your expenses will give you a firm grasp on how much money is coming in and where it's going out. This can help you cut wasteful spending and free up more of your income.

Over 75 percent of Americans don't have enough in savings to cover their bills for six months, and 25 percent have no savings at all. Becoming a smart saver will help you create a strong savings plan to be ready for an emergency or rainy day. Source: Federal Reserve, US Census Bureau, Internal Revenue Service

Most of us have 401(k) retirement or similar defined contribution plans, but don't quite understand how to properly take advantage of all they can offer. By becoming financially savvy, you will be able to take control of your 401(k)/defined contribution plan and maximize your benefits.

Today there are more ways to get into debt than ever before. Many of us start straight out of school with student loans, credit card debt and more. Financial education programs can teach you how to spot debt pitfalls and ways to get out from under any amount of debt.

Over 40 percent of Americans are not saving for retirement, but it's not too late. You can figure out the best way to save for retirement and create a plan to reach your goal. A good rule of thumb is to set aside 10 percent of your wages for retirement. Source: Federal Reserve, US Census Bureau, Internal Revenue Service

How would you feel if you didn't have to worry about money issues or retirement? Financial security alleviates one of the most stressful issues in our lives and helps build confidence for the future.

The recipe for success is investing in solid companies and holding on to them for the long haul. Top investor Warren Buffet tells investors how taking a long-term view can benefit your portfolio with Coca-Cola: "If you had invested $40 in Coca-Cola stock in 1919 it would be worth over $10 million today." So don't try to play the market and run the risk of buying high and selling low. Make thoughtful choices and stay calm through short-term market upturns and downturns.

One of the most important things you can teach your children is how to handle their finances wisely. Start them off on the right foot and make them smart savers!
Follow Daniel Britton on Twitter: www.twitter.com/financial_tales
More From Financial Education