Everyday there are new opportunities to outperform Wall Street. There is no need to feel blindsided when a trading account or portfolio plummets on bad news and no need to pile on risk in the hope of making a comeback. While I am not a broker and do not offer investment advice, I spot trends and opportunities and identify risks and am pleased to share my opinions here at no charge. For more details see www.usdollar.us.com.
Every penny counts when times are tough and now is a good time for U.S. investors to look north for market out performance. These two charts help explain why.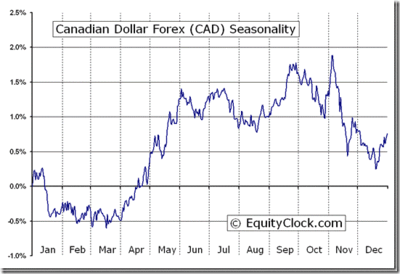 A confluence of events favors a Canadian dollar (CAD) bull run from now until the end of May.
• The Canadian economy is growing twice as fast as the U.S. economy. Fourth quarter G.D.P. rose by 5.0%. The Canadian government stimulus and rising copper, zinc, nickel, crude oil, potash and lumber prices are stoking demand for Canadian products.
• Strength in the Canadian economy and its currency is attracting central banks and hedge funds. The Russian central bank recently declared its intentions to diversify, i.e. partially substitute CAD for the U.S. dollar.
• Technical signs of a peak in the U.S. Dollar Index have appeared during the past weeks. Recent strength in the Index was largely the result of the Greek debt crisis, which will quickly be resolved. The U.S. Dollar Index has a tendency to peak each year near the end of March. Technical confirmation of an intermediate peak in the U.S. Dollar could be the catalyst for a breakout by CAD above 98 U.S. cents, with a target of 103 U.S. cents.
•The Bank of Canada stated that monetary policy will remain accommodative until the end of June but hinted that policy could tighten after wards. This will benefit CAD.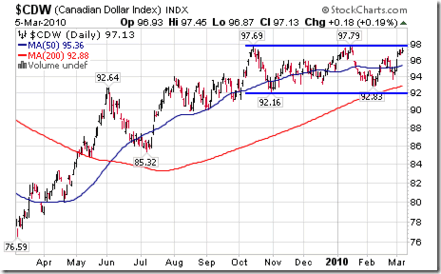 Canadian dollar and Canadian stocks poised to move higher from here.
This is a new series of articles aimed at leveling the financial information playing field. Your questions and suggestions for new topics are welcome.
Disclaimer. Trading carries a high level of risk and is not suitable for all investors. Before deciding to trade you should carefully consider your investment objectives, level of experience and risk appetite. The possibility exists that you could sustain a loss of some or all of your initial investment and therefore you should not invest money that you cannot afford to lose. You should be aware of all the risks associated with trading securities and seek advice from an independent financial advisor if you have any doubts. Daniel Bruno Sanz does not dispense investment advice. His forecasts and opinions are for entertainment purposes only.
Daniel Bruno Sanz teaches technical analysis of stock markets and writes research notes for large money managers. In early 2007 he predicted the Great Recession of 2008-2009. In early 2008 he was the first to use charts on a global financial news program to show that the common currency of the euro zone would reach an all-time high of $1.60 within eight weeks. In 2009 he was one of the top forecasters of oil and gold prices and doubled investors' money within nine months.
FOLLOW HUFFPOST