It's an important first step for Argentina to become a normal country. Argentina needs to get back to the international, voluntary capital markets."
-Martin Redrado, former president of the Central Bank of Argentina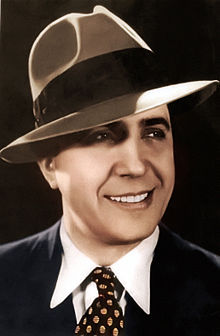 Carlos Gardel (1890-1935) , the father of the Tango
After nearly a decade of depression, recession and resurrection, Argentina wants to retire its remaining unpaid debt at about 50 cents on the dollar and rejoin world financial markets.
It all goes well, Argentine debt and the peso could be a very good investment.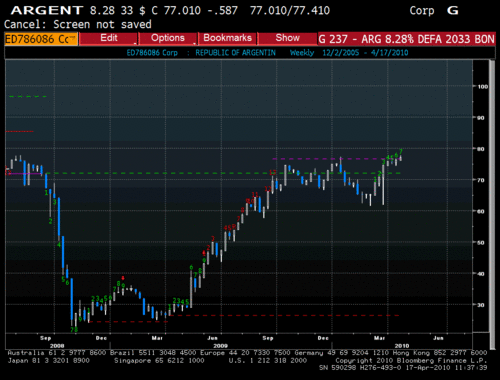 Argentine bonds are poised to advance. See www.usdollar.us.com for chart information.
President Cristina Fernandez de Kirchner said an offer to settle the last $20
billion of defaulted bonds marks a turning point and is a good deal for creditors.

"I thought that if I could get us out of the default, I'd feel I've done something for this country," she said from the Casa Rosada, the pink 19th century palace with white marble staircases dressed in red carpet.
Guards stand just outside in the Plaza de Mayo, frequent site of demonstrations against the 1976-1983 military dictatorship and city square where populist president Juan Peron and his wife Evita addressed supporters in the 1940s and early 50s.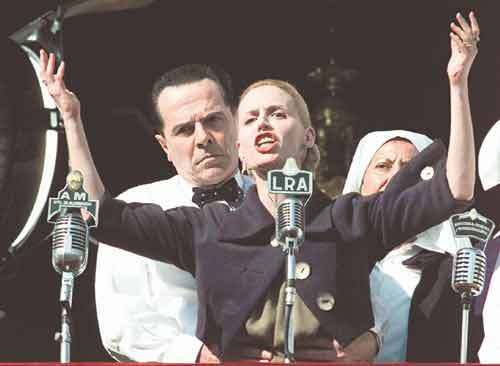 Eva Peron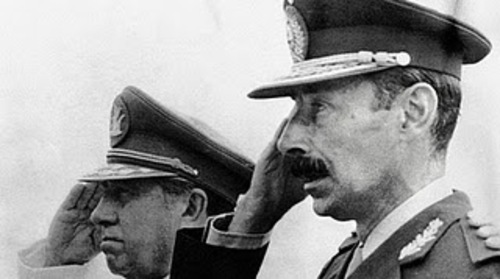 General Pinochet and the Dapper Dictator Videla, 1976. The unsuccesful 1982 war with Briton over the Falkland Islands would prove to be the demise of the dictatorship.
"Argentina is undergoing a transformation in which we are
seen not only as a market, a customer, but as a partner."
- President Fernandez de Kirchner
Retirement of the debt would enable Argentina, South America's second-largest economy after Brazil, to tap global credit markets after a record breaking $95 billion sovereign debt default in 2001. Argentina, like Greece today, followed advice from banks such as Lehman Brothers (now defunct) and incredibly, pegged its currency at one to one with the U.S. dollar. Living standards were artificially propped up and industry became uncompetitive. When the collapse came, the peso lost 75% of its value overnight and savings were wiped out in a stroke. Hunger became widespread. The economy was paralyzed and the government collapsed. The country had five presidents in a span of two weeks ending with Eduardo Duhalde in January, 2002.

Then the economy grew an average of more than 8.5 percent a year from 2003 to 2008 during the commodities boom before slowing to 0.9 percent last year, according to the national statistics institute.
Fernandez tapped $6.6 billion in central bank reserves to pay debt due this year, saying that her government won't sell bonds "at just any interest rate" and ruled out a cut in social spending and in subsidies for the poor.
The government proposed similar terms to its 2005 restructuring, granting securities due in 2033 at a 66.3 percent discount according to Economy Minister Amado Boudou. The proposal excludes past payments on warrants linked to economic growth and pays past due interest
with 8.75 percent bonds due 2017. Argentina also may sell as much as $1 billion of new bonds due 2017, he said.
Boudou appealed to holders not to make a "mistake" and reject the offer. He said the government is "tough but serious" with debt holders. The government expects at least 60
percent of holdouts to accept the offer.
Argentina's borrowing costs fell to the lowest level since 2008 ahead of Boudou's announcement, with the extra yield investors demand to own Argentine bonds instead of U.S. Treasuries narrowing 17 basis points to 6.01 percent, according to JPMorgan Chase & Co. That's the smallest yield gap since June 2008.
In the chart above, the last time world equity markets were at current levels, the peso was 25% more expensive. Assuming the peso has stabilized around 25 US cents, gains of 10-20% can be realized by purchasing six to twelve month peso forwards. Forwards have no exposure to bond risk.
For investment funds that bought defaulted debt at prices as low as 15 cents on the dollar after the 2005 exchange, "it's a no-brainer," Redrado said in an interview before the swap announcement. The government had vowed after that restructuring not to negotiate a new deal with holdout creditors.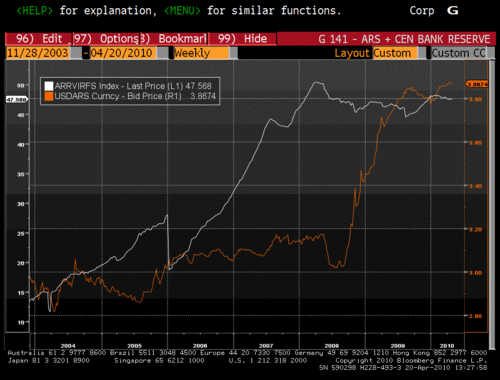 In the chart above, Argentine reserves have grown by about 500% to $50 billion since the Kirchners came to power. The I.M.F. was paid in full. The peso has declined from about three to four to the U.S. dollar and has stabilized.
"There's life after the I.M.F. It's a good life."
- President Nestor Kirchner, 2005
In 2009 Argentina achieved a record trade surplus of $17 billion through import restrictions and a weak peso policy. The economy expanded 0.9 percent, compared with a 0.2 percent contraction in neighboring Brazil and a 1.5 percent decline in Chile.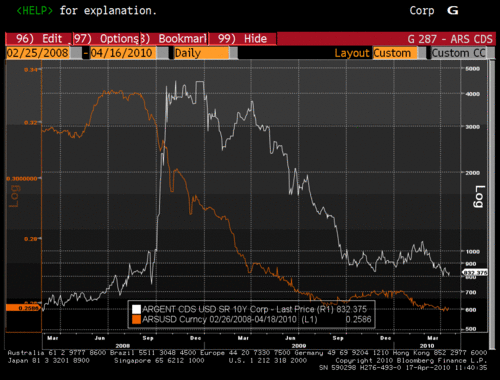 Credit default swaps on Argentine bonds have fallen and stabilized along with the peso.
Argentine dollar bonds yield 6.15 percentage points more than U.S. Treasuries, compared with a spread of 1.77 percentage points for Brazilian debt and 3.75 percentage points for Iraqi bonds. Only Venezuela and Ecuador pay more than Argentina to borrow
in dollars among major developing economies included in
JPMorgan's EMBI+ Index.
The yield on Argentina's 7 percent bonds due 2015 is around 11%.
Since following her husband Nestor as president in 2007, Fernandez nationalized about $24 billion of pension funds and imposed export duties of 45% on soybean producers, prompting strikes, roadblocks and declines in output. Argentina, the world's third-largest shipper of soybeans, counts U.S. companies Cargill Inc. and Bunge Ltd. among its largest exporters.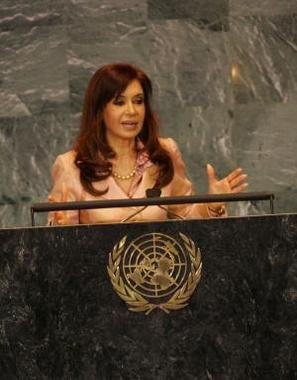 Cristina Fernandez de Kirchner addresses the U.N.
Inflation, calculated at 9.7 % in the 12 months through March by the government, is running at about 25 %, according to Alfonso Prat-Gay, an opposition leader in congress and former central bank president. Amado Boudou defends the official inflation data as an accurate measure that captures a basket of goods consumed by low-income families.
Ford Motor Co, long in financial distress in the United States, announced April 7 it will invest $250 million in Argentina to produce a new vehicle for export.
All charts courtesy of www.usdollar.us.com