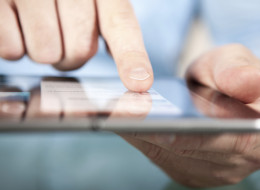 The most popular finance apps on the iTunes or Google Play app stores let you pay your friends, stay on budget, calculate tip and more. For those with the money to play the stock market, there are a variety of apps to turn to for market updates, quotes, charts, watch lists and more. Some come from reliable research providers like Yahoo, Google, Seeking Alpha or CNBC. Major brokerages' apps are worth considering as well -- many offer robust and, most importantly, free resources, even for users who may not actually have money invested with the firm. They're willing to give you a taste of what it's like to be a customer in that hope that you'll go ahead and open an account.
The best app for you will depend on the device you use and, naturally, where you actually invest your money. Although these firms all offer apps that are useful for the general public, clients have access to real-time data, more watch lists and other research features, as well as trading and cash management. For investors just looking to keep an eye on the markets and look up occasional investing ideas, these apps are worth a look.
est Brokerage Industry Apps for Non-Customers
E*TRADE offers a market overview, quotes, charts, news, option chains and a watch list. Beyond those basics, anyone using the app can access an events calendar, educational videos and other tools depending on the device. The iPad app offers a powerful stock comparison tool, while iPhone or Android users can scan bar codes while they're out shopping. If a publicly-traded company makes that product, the app returns the symbol and quote. E*TRADE also makes it easy to find the content you're looking for with a customizable home screen, voice navigation and an Android widget.

Fidelity offers a very sleek app with visually-engaging screens and a strong range of basic research capabilities. Clients and non-clients alike can access quotes, charts and news. The news center stands out for its use of video, while watch lists offer a "Heat Map" mode that color-codes the day's performance for each security. On the iPhone or Android, users have their choice of landing screen from options such as U.S. or world markets, recent quotes, top news, top gainers/losers, etc. The iPad app loads to a fancy global markets overview, and goes on to offer strong analytic tools from providers such as FirstRain, Recognia, Trefis and Zack's.

TD Ameritrade's Mobile app also does a good job providing research basics on a variety of devices. Users can look up quotes, charts and news by searching for a symbol or scanning barcodes similar to E*TRADE's feature. Market research includes an overview, news and calendar. TD Ameritrade also offers a separate app entitled "TD Ameritrade Mobile Trader." Designed for active traders, it offers some strong research capabilities including tons of technical indicators. If that kind of analysis is important to you, though, you probably should be using your own brokerage's app to enjoy real-time data. Average users will find the interface daunting while missing features standard in other apps like news.

Merrill Edge's app is a good choice for Android users. On that OS, the firm offers full-featured charts, news and a device watch list, as well as more detailed data on individual stocks than is available than on the iPhone. And like E*TRADE, Merrill Edge offers an Android widget. Its version comes in two sizes and offers different display options that make it the best such feature among the firms we've researched.

ShareBuilder makes the most sense if you're an iPad user. The firm's iPad app offers advanced charting and option chain capabilities not available to iPhone and Android app users. iPad users can also find investment ideas through a screening tool and heat map display.