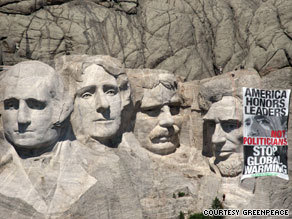 This morning, Greenpeace climbers hung a banner on Mt. Rushmore challenging President Obama to show real leadership on global warming. The banner features an unfinished portrait of the President with the message: "America Honors Leaders Not Politicians: Stop Global Warming." We did this as President Obama meets with other G8 leaders in l'Aquila, Italy to discuss the global warming crisis in the lead-up to UN climate treaty negotiations in Copenhagen this December.
Let's be clear. President Obama has done some great things for the environment, including increasing mileage standards for cars and appointing officials to positions of influence who are serious about tackling the climate crisis. But as important as these steps have been to finally getting the United States moving on global warming, they fall short of what scientists say is needed, and thus undermine the international community's confidence in Obama's leadership on the issue ahead of key UN climate negotiations in Copenhagen this December.
Reducing Emissions Now
Obama's position on short-term pollution reduction targets has softened. The best available science indicates that the United States and the developed world must cut emissions by 25-40 percent below 1990 levels by 2020. But the House energy and climate bill, which the president supports, only aims for a 4 percent drop in that time frame, and there are enough offsets in the bill that the big polluters can buy their way out of meaningful action.
The 2020 goal is so important because scientists warn that global warming has already begun to trigger self-reinforcing feedback loops--such as the release of potent greenhouse gases from melting permafrost in the arctic and increased wildfires in southern latitudes--that threaten to damage the atmosphere beyond the point of no return if not addressed immediately.
In the United States, a new report from some 30 government scientists working across 13 agencies made it clear that global warming is a clear and present danger to the country's public health and economic stability. Already, they say the man-made disaster has forced Americans to cope with torrential downpours, rising sea levels, and blistering summer heat waves. If left unchecked, the impacts would be even more severe by the end of the century.
What Obama Can Do Now
The longer we wait to take real action, the harder it will be to slow and reverse the effects of climate change. Greenpeace is calling on the President to use every tool at his disposal, both within and outside Congress, to strengthen U.S. climate policy with scientific integrity, and to take that policy to Copenhagen in December as evidence the U.S. will do what it takes to solve the climate crisis.
Specifically, Greenpeace is calling on the President to commit to:
-keeping temperatures as far below a 2°C Celsius increase as possible, compared to pre-industrial levels to avert catastrophic climate change;
-peaking global emissions by 2015 and be as close to zero as possible by 2050, compared to 1990 levels;
-reducing emissions in the US at least 40% by 2020, compared to 1990 levels;
-and establishing a funding mechanism that will provide new money, which by 2020 needs to amount to US$106 billion per year, to enable developing countries to mitigate the effects of and adapt to climate change and for forest protection.
These steps may not be politically comfortable but that does not make them any less necessary. They will raise the ire of oil and coal corporations, and those who represent them in Congress. But as the President himself has said, the path to greatness has never been a path for the faint-hearted. For the sake of the future, our generation must follow that path. And we are counting on a leader with the courage to show the way.

FOLLOW HUFFPOST