Rising pop star and recent Duke University graduate Mike Posner has released the cover artwork for his first full-length album, 31 Minutes to Takeoff.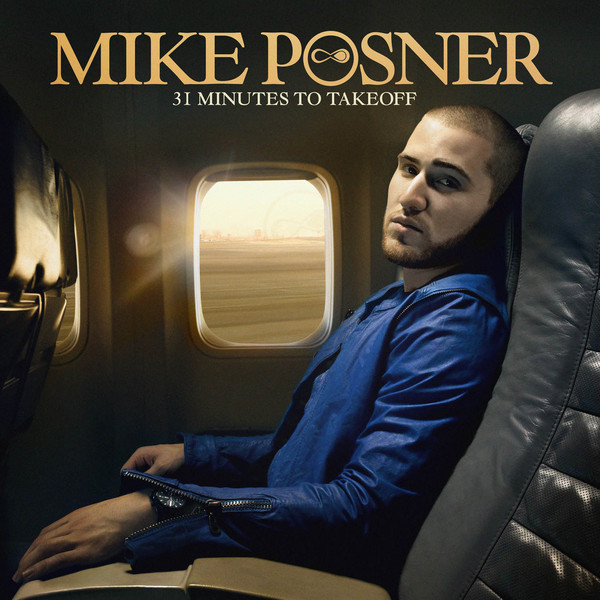 Posner's hit single "Cooler Than Me" is sitting at #7 on the Billboard Top 100 after nine weeks on the chart. It's his first major single since signing with J Records (RCA/Sony) in July 2009. In the past he has released two hit mixtapes, both of which were available for free on iTunes U.
Posner's debut album, in both title and cover art, continues the theme of his career trajectory as a rapid ascent to stardom. His first big mixtape, "A Matter of Time," was recorded from his dorm room at Duke and released in March 2009. Four months later, he had a record deal. "One Foot Out the Door" came out in October 2009 and featured bigger guest acts than before, including Kid Cudi, Bun B, and Posner's friend Big Sean, who blew up around the same time and rapped on three tracks from "A Matter of Time." Sean's own album, Finally Famous, will come out in late 2010 on Kanye West's label, GOOD Music. Posner provides vocals and production on the record.
Posner tweeted a picture of the new album cover at 9pm on July 2nd. His nearly 32,000 Twitter followers and 80,000 Facebooks fans had been waiting for it.
Of the artwork, he said in a July 7th e-mail:
It was important for me to create a cover that would not only capture this moment in my life but also carry meaning in decades to come. This record marks a turning point in my life and in my relationship with my listeners.
Indeed, it may be a turning point in the music, as well. Posner's sound is almost certainly Pop in terms of strict genre, but he's really somewhere between that and hip-hop, blending smooth R&B vocals with technopop beats. Many of his songs revolve around guest rappers, and Posner himself swings back and forth between singing and fast rhyming.
Posner added that he's "ready to blow people's minds" with the new album. In the meantime, he has played songs on Last Call with Carson Daly and Lopez Tonight. He's currently performing as part of Warped Tour, which kicked off June 25th.
Regarding the album's title, Posner has told sources: "Something happens 31 minutes into the record. All I can say is that both the listener and I will be in a higher place when it's over." That almost makes it sound like a concept album, which it isn't. But in the iTunes age, not many people listen to records in order, so Posner may have trouble getting fans to even figure out when they're 31 minutes into it.
Regardless, there's a lot of faith that the album will deliver, and as hype builds, the expectations will only get higher. "I would bet on him for the future and today," Marty Bandier, chief executive of Sony/ATV, said of Posner in a New York Times profile one year ago.
Many fans speculated that likely guests on the new album would include Kid Cudi, Big Sean, Bun B, Saigon, and Clinton Sparks. As it turns out, the album will feature no guest rappers, and very few guests overall. This time around, it's Posner's show.
A member of his team told me by e-mail that the record will sound more like "One Foot Out the Door" than "A Matter of Time," and that "Travis Barker plays drums on a song, Boyz II Men do background harmonies on another." Benny Blanco (of "Tik Tok" and "I Kissed a Girl" fame) is also a confirmed producer on the album.
An official track listing will be released July 20th.
SUBSCRIBE TO & FOLLOW ENTERTAINMENT
THE spot for your favorite fan theories and the best Netflix recs. Learn more