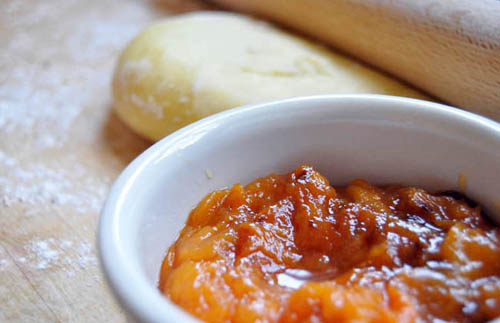 I should take up hobbies that don't involve hot oil on warm summer days. I refer to making doughnuts. I think. Or possibly fruit blogging. I'm not sure.
At any rate, it was clearly too late for that when I was standing over the bubbling oil, having started the doughnuts the night before, when I set out the yeast, flour and water to ferment overnight. Or a few days before that when I checked out The New York Times Dessert Cookbook from the library. Or a few days before that, when we had donut peaches at the farmers market.
I wanted yeast-risen, jelly doughnuts.
First, I made the filling.
To make the filling, I peeled about five peaches. I could tell you how I did this, or I can tell you the way you should do this: Drop the peaches into boiling water for a minute and then plunge them into ice-cold water. The skins should peel off with the help of a sharp knife.
I chopped the peaches and set them in a saucepan with about a quarter cup of sugar. I let this mixture sit for about an hour, allowing the sugar to draw out the juice from the peaches. Then, over medium flame, I cooked the peaches and sugar until they achieved a jammy consistency. (If the 54 vanilla beans -- 54! -- that I ordered from Amazon had come that day instead of the next day, I might have added a few inches of a vanilla bean, which I would have then slit in half lengthwise to expose the seeds.)
You can make the filling a day or two ahead of time.
You can also stop right there. Because at this point you have some kickass peach jam, which will easily hold in your refrigerator for a week or two and would be fantastic on waffles or pancakes, or as a stir-in for plain yogurt -- which of course you also make yourself at home, right? You know, last week I made jam, and bread, and yogurt. And then I turn around and wonder why I never have any freaking time to do anything I'm supposed to do. Maybe because I spend my time making jam and bread and yogurt and doughnuts?
Oh, right. The doughnuts.
This recipe is adapted from the Bing Cherry Doughnut recipe from the restaurant Oceana in New York City, as featured in The New York Times Dessert Cookbook.

I'm really torn when I write out a recipe like this because, on the one hand, most people are accustomed to using volume measurements and may not even have a kitchen scale. That said, I'd much rather use weights for most ingredients when I bake. The volume of flour can vary according to how tightly it's packed in the measuring cup, but the weight is a constant. Also, our system of measurement in this country is absurd. I'd much rather use grams than ounces.
Half of you are nodding in agreement. The other half are nodding off.
What?
Oh, right. The doughnuts.
Ingredients:
4 1/4 cups all-purpose flour
2 packets of active dry yeast (that's about 4 1/2 teaspoons) OR 3 teaspoons instant yeast
1 2/3 cups sugar
1/4 cup milk
6 large egg yolks, lightly beaten
2 teaspoons salt
5 tablespoons unsalted butter, softened
Vegetable oil for frying
Directions:
1. The night before, place 2 cups of flour, half a packet of active dry yeast (or 3/4 teaspoons instant yeast) and 2/3 cup of warm water in a large bowl. Mix until blended and cover with plastic wrap. Let sit overnight, until doubled in volume. If you're not ready to finish the recipe, you can refrigerate the mixture at this point.
2. Set aside 1/3 cup flour. Place the remaining flour in the work bowl of a stand mixer. Add the risen flour mixture, the remaining yeast, milk, egg yolks, 2/3 cup sugar, and butter. Work it together until it forms a sticky mass. (You can also do this by hand: Make a mound of flour with a well in the center. Add the other ingredients to the well and form the dough by working from the outside to the center.) Knead by hand or machine for about 15 minutes, adding more flour if necessary. You want a barely sticky, very elastic dough. Place the dough in a floured bowl and cover. Refrigerate for at least an hour and a half.
3. On a floured surface, roll out the dough to about 1/2 inch thick. Allow to rest for 20 minutes. Place remaining sugar on a plate.
4. In a large wok or pot, heat 2 or 3 inches of oil to about 360 degrees. Using a glass or biscuit-cutter with a floured rim (about 3 1/2 inches in diameter), punch out about 8 rounds. The scraps can be kneaded and then re-rolled. Place the rounds, one or two at a time, in the oil and fry until brown -- about 60 to 90 seconds on each side.
5. Place the cooked doughnuts on paper towels to absorb the excess oil and then roll the still-warm doughnuts in the sugar.
6. Poke the handle of a wooden spoon in the doughnut to create an opening for the filling. Using a pastry bag -- in my kitchen, the pastry bag has a nickname: zip-top bag with a small slice scissored off in the corner (it doesn't roll off the tongue but it works) -- squeeze the peach filling into the hole.
You have peach doughnuts now.
They're great.
But maybe I should have just stopped at the filling.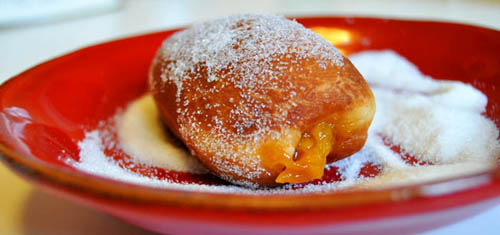 SUBSCRIBE TO & FOLLOW THE MORNING EMAIL
Start your workday the right way with the news that matters most. Learn more