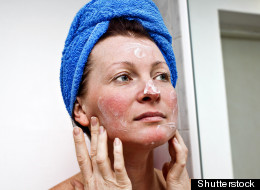 Dara Kennedy, the founder of Ayla, has 5 skin care tips for post 50 women:
1) Many personal care products contain fragrance, sulfates, propylene glycol and triclosan. While the safety of these ingredients has been called into question, they also happen to frequently irritate dry, sensitive skin. Menopausal and pre-menopausal women typically find their skin is much more reactive than it used to be, so avoiding these types of ingredients can help significantly.
2) Ingredients like parabens and phthalates are endocrine disruptors, which this age group probably wants to avoid given the hormonal upheaval they're already experiencing. It's particularly important where body moisturizers are concerned. Here are two simple products -- good for post 50 women -- that can be found pretty easily at health food stores, some drugstores and online shops: Alba Botanica and Barlean's Coconut Oil.
3) Because their cycles are less regular and reliable, pre-menopausal and menopausal women can find that acne (caused by irregularity of their hormone levels) appears seemingly out of nowhere. Many products on the market are designed for younger skin, and the formulas can be very harsh and drying. It's important to find an effective but non-drying, non-irritating acne treatment to avoid causing further dryness and sensitivity.
4) Women often experience flushing during menopause, which can lead to redness and broken capillaries. It can be difficult to find products that address these issues while at the same time taking care of aging skin. Women facing these issues should choose their treatments carefully so they're not layering too many products on their face at once (which, ultimately, could cause more irritation). Since we get a lot of customers who struggle with this, we've found two products that work particularly well: Red Alert Anti-Redness Serum and 37 Extreme Actives.
5) Wrinkles and a loss of firmness are also often experienced by menopausal and pre-menopausal women; these tend to be the result of their shifting levels of estrogen and progesterone. Retinol is often used to address these two skin concerns, but if skin is sensitive and dry, that may not be the best solution. A good alternative would be an oil-based serum that's naturally rich in vitamin A (look for rose hip oil on the ingredient list) and/or a gentle anti-aging serum that features botanical peptides.

Dara Kennedy, founder of Ayla, is a Harvard educated, former beauty industry executive who left the corporate track because she could not stand behind what she saw as a lack of rigorous testing within the industry. This was despite the questionable ingredients they contained, sometimes resulting in sensitivity, rashes and other adverse side effects, not to mention potential long-term health implications. She launched Ayla to offer consumers a well-curated selection of non-toxic, natural and organic skincare products that are efficacious. Dara personally vets each brand sold on the site, which also has a strong education component as each client is matched with a trained guide who will help her navigate selections based on lifestyle and needs.
Earlier on Huff/Post50:
Exercising does more than improve your exterior. Several studies have found an active lifestyle keeps your cells young, according to The New York Times.

These orange veggies are chock full of the phytonutrient alpha-carotene, which lowered the risk of dying from cancer and cardiovascular diseases in a study, according to The Los Angeles Times.

Sun worshippers, take heed: Between two and three million people are diagnosed with skin cancer globally each year, according to the World Health Organization. With May being Skin Cancer Awareness Month, Third Age has tips on how to avoid the "potentially fatal cancer."

A ring-a-ding-ding! Dr. Braverman of The Doctors suggests having sex at least two times a week to help "reboot the brain."

Studies suggest that foods rich in this fatty acid may reduce your risk of Alzheimer's.

Huff/Post50 recently reported on a study that had subjects do moderate exercise and use a computer, which resulted in increased memory function.

Glutathione is a rock-star antioxidant found in the body's cells that "neutralizes harmful free radicals," and keeps cells running smoothly, according to WebMD. To attain these benefits, eat a diet loaded with fruits and vegetables.

While there are conflicting reports on whether or not pets will add years to your life, it is confirmed that pets can ease stress and lower blood pressure, The New York Times reports.

A spoonful of sugar may make the medicine go down, but it also "changes metabolism, raises blood pressure, critically alters the signaling of hormones and causes significant damage to the liver," according to three doctors at the University of California at San Francisco. In a recent issue of Nature, they argued that the health hazards of sugar are similar to those related to drinking too much alcohol.