I was having lunch with a friend at Salty's in Seattle, when Todd, a twenty-something waiter, overheard our conversation about my recent visit to Nike HQ in Beaverton, Oregon. "Have you seen the Kobe Six?" he asked. He seemed excited.
"As a matter of fact, I have," I replied.
Todd's eyes lit up. "I've got the Kobe Five, but the Six is even better." He pointed to his ankle and described a line just below his pants cuff. "See, most guys think you gotta have a high top, but you don't--not with the Kobe Six you don't. See, it's got this structure that gives you all the support you need and keeps the shoe lightweight..."
Todd's description of the Kobe VI, Nike's newest, most innovative basketball shoe, was very similar to what I'd heard from the shoe's designer at Nike just the day before.
The Kobe VI, a collaboration between Nike and Kobe Bryant, star shooting guard for the LA Lakers, wasn't even in stores at the time, but young basketball players like Todd were already jonesing for it and could recite the shoe's design parameters and performance specifications down to a T. "I've got my order in," Todd said, "I even ordered a pair for my two-year-old!"
Now, that kind of knowledge of--and devotion to--a product that's not even on the shelf yet would be unusual for most companies, but not for Nike. Their design and brand is so strong that pre launch enthusiasm is pretty much the norm for everything Nike.
I'd done design work for Nike years before and now I wanted to see how the new cadre of designers carries on the tradition. I wanted to get a look behind the scenes and talk to some of the people responsible for making Nike one of the top two or three brands in the world.
To understand what inspires the folks at Nike Design, you first have to have a sense of the environment in which they work. The Nike World Headquarters in Beaverton, Oregon is nothing short of amazing. It's unlike anything you've ever seen and just about what you'd expect from Nike.
It's 193 acres of grass, water, running tracks, gyms, and buildings with names like Michael Jordan, John McEnroe, Lance Armstrong and Steve Prefontaine. Everything about the Nike campus is related to athletes and athletics. The day I visited there was a Wii basketball tournament going on in the cafeteria, runners were pounding the track in a steady Oregon Mist and banners celebrating the joy of sport lined a promenade.

I was tempted to take in more of the campus but it was time for my appointment with my contact, Erin Patterson, of Nike Global Communications, and the person responsible for setting up interviews with some of the folks behind Nike Design. So I found the Jerry Rice building and went in.
Inside there was a lot of space and light and the athletic theme continued. Entire walls were filled with glass-encased displays depicting the history of Nike and its products. Sport-related posters were everywhere.
Erin met me in the lobby and led me to a conference room, the walls of which were covered with sports-themed murals. There were sketches, photos, shoe components and completed shoes scattered around on the table. Erin introduced me to Tom Luedecke, a Senior Shoe Designer and creator of the Kobe VI.
"The Kobe Six is the latest in the line," Tom explained, "it's the lightest, best-performing basketball shoe yet." Tom walked me through the design process explaining how the unique snakeskin-patterned material was more than just a surface treatment. It turns out that adding the pattern actually makes the shoe more durable.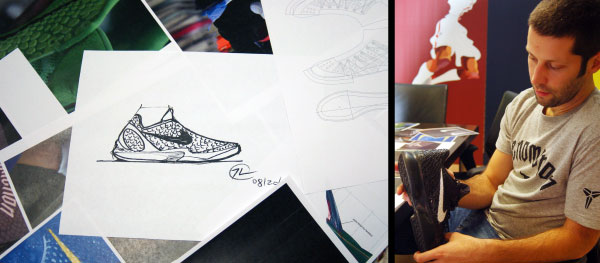 I'm not into basketball, but I was impressed anyway. Still, it really wasn't quite what I was after. Sure, knowing about the shoe is important but this story was to be about more than the product. The Nike brand is one of those phenomena that come along so rarely that it makes you wonder how they're able to maintain the look, the feel and the mind share over the years without missing a beat. There had to be more to it.
"But how does it all come together? Where does your inspiration come from?" I asked Tom.
"From the athlete," he replied without hesitation, "Everything we do is centered around the player. These guys are very enthusiastic about what they do and they're dedicated. Their energy is contagious and it gets transferred into the way I design the shoe."
I have to admit, the shoe, nicknamed Black Mamba, (more about that later) is pretty cool looking and from what I can tell, means business. "Nike is a leading innovator and that's part of what makes Nike, Nike," Tom added. "This shoe wouldn't have been acceptable just a few years ago, it would've been too radical. We had to build up to it."
Tom showed me the whole pedigree of the Kobe line; from the original Kobe all the way up to the Kobe VI. They're all very different; yet, there's a family resemblance. I was curious about how it's possible to achieve such diversity and stay on brand. "Our design leadership is all on the same page," Tom explained. "We're very good at distilling the athletes' input and incorporating their personalities with the Nike personality and brand. We're given a lot of design freedom but we're all coming from the same place: respect for the people who will be playing in the shoe and enthusiasm for the sport."
It was coming together. 'So, it's the designers' close relationship with athletes that make Nike products so successful,' I thought. 'But what about the other half of the equation? How does a basketball shoe, no matter how good, become more than just a piece of sports equipment? How does it grow into a cultural icon among athletes like Todd?'
I was about to find out. My next meeting was with Adam Roth, Global Marketing Director for Nike Basketball.
"Where did the nickname for the Kobe Six, 'Black Mamba' come from?" was my first question for Adam.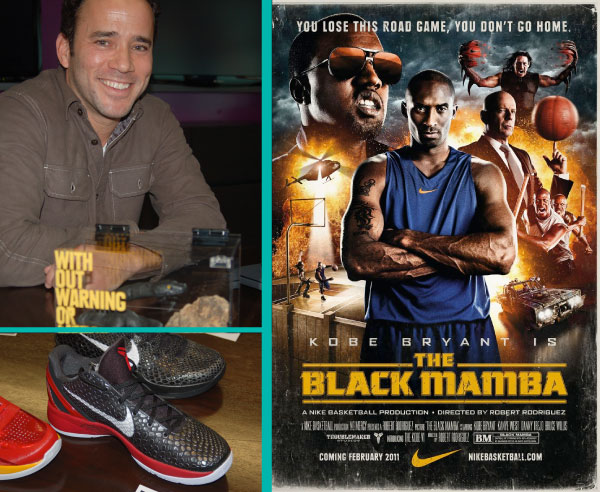 He smiled. "Kobe loves action movies and one of his favorites is Kill Bill Volume Two. There's a scene where Daryl Hannah's character sics a black mamba viper on the character played by David Madsen. Kobe felt the way he plays has a lot in common with that black mamba. You know, fast, aggressive, precise and quick. He says that when he gets out on the court, he unleashes the Black Mamba." Adam shrugged, "It just seemed right and caught on. Now it's a theme we carry all the way through."
It was clear that this was to be a design effort with legs (no pun intended). There is strong continuity and clarity of intent starting with the materials, colors and design of the shoe right through to the packaging, promotion, advertising and marketing. They had taken an idea and pushed it to its limit, then pushed it some more.
"Everything we do is a collaborative effort," Adam told me, "Nike Design is an extension of the athlete's ultimate commitment. Confidence, intensity and passion--maybe even a little swagger--are the hallmarks of our work."
Now I was really impressed. "You guys made a Hollywood film to launch the shoe?" I asked a little incredulously. "Is this a typical Nike launch?"
"It's just the way we do things," Adam said, "At Nike, there's no such thing as typical."
At Nike, there's no such thing as typical. Indeed. And I think that's the nut. It's what has made the Nike brand great all these years. It's the freedom the Nike designers have to exercise their creativity. To take an idea and, unfettered by rules and regulations and formulas, work it from both ends until it becomes something bigger than just a shoe or an ad.
It's why athletes like Todd, our waiter, are so devoted to Nike. It's why they're willing to invest more than just their hard-earned money.
Darby Roach is a designer and a writer and heads up his own marketing agency, Orbit Direct. His most recent book, Your Three Second Window, demystifies the design process by explaining why we like the things we like, how to see and think as a designer, and what each of us can do to introduce harmony into our lives through enhanced aesthetic experiences.
This Blogger's Books and Other Items from...
SUBSCRIBE AND FOLLOW
Get top stories and blog posts emailed to me each day. Newsletters may offer personalized content or advertisements.
Learn more