What do sitcoms, single people and gravity have in common? They have all been mapped.
But with the many weird and wonderful things that people have taken the time to chart geographically, one thing you won't find is a comprehensive map of the state of play in our country -- or in your community. It's time to change that.
Play is serious business -- something crucial to child development -- and yet, it's under attack. (If you don't believe me, read my post on play deprivation and see if you change your mind.) A playspace map is one of many powerful tools we can use to fight back. Here's how:
We can identify outdoor playspaces in our neighborhoods that we may not have found otherwise. Many playgrounds don't appear on city maps and may be underused simply because people don't know they exist.
We can assess the quality of playspaces by including ratings and comments, which help communities determine which playspaces are in need of upgrades or overhauls.
A map can help us evaluate the amenities our neighborhoods' playspaces offer. Does a neighborhood have lots of playgrounds, but no basketball courts? A map can provide guidance for expanding current playspaces.
In mapping playspaces, we can locate "play deserts" -- areas of our country that lack outdoor spaces for kids to play -- and keep public officials better informed about which areas need attention.
Identifying "play deserts" also helps us identify related trends. Are crime rates universally higher in play desert areas? What about childhood obesity? Making these links visually might help convince the American people that play is indeed a cause worth rallying around.
Here are two maps of the Washington, D.C. area, where I live. The first visually represents playspaces. The second, an inverse map, identifies play deserts: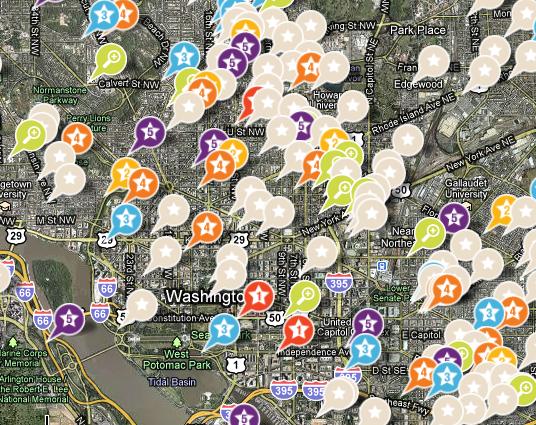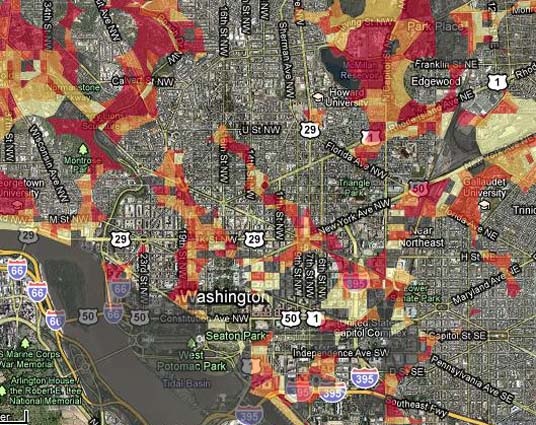 This mapping effort is getting support from another Washington, D.C. resident -- First Lady Michelle Obama. While talking at this week's National PTA Conference about how parents need to be more active with their kids, she said:
"It's also about making sure our communities have safe places for kids to play... and there's this terrific non-profit organization... that's working to do this. Right now they're working to map every single playground in the country so that parents can find the closest one in their neighborhood, and I encourage you to check it out and add the playgrounds in your own community to their list."
Join us! This is a grassroots effort whose success depends on your participation. Follow the First Lady's advice and add your neighborhood playspaces to the KaBOOM! Playspace Finder to help us more accurately depict the state of play in your neighborhood.
SUBSCRIBE TO & FOLLOW MUST READS
The internet's best stories, and interviews with the people who tell them. Learn more