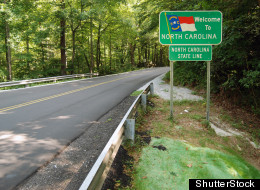 After more than 25 years of living in Montclair, NJ, the urban/suburban community due west of New York City where we raised our two kids, my husband Mike and I are tapped out. We are in our mid-50s and we are ready to find a smaller home in a more temperate climate. And we are looking for a lower cost of living; our tax burden (never mind all our other expenses) has become ridiculous.
We are in the research phase of what we call Operation ReloSouth, the search for a smaller home in a less-expensive area that suits our need to be near a city with good healthcare and our desire to be near water. And we want to remain on the East Coast.
My husband, bless his heart, will exhaust every possibility -- and me -- during this stage of our search. It's not that he's indecisive (nor am I); he's cautious about making a decision -- a life-altering decision -- without having all the facts he can find in front of us. And even though I tease him, we benefit from the time and care he puts into his exhaustive research. If you'd like to get an idea of just how carefully Mike investigates choices and possibilities, even non-life altering ones, click here.
Are you thinking about relocating because the area you live in has gotten exorbitantly expensive like our Northern New Jersey suburb? Are you thinking about living a slower paced but no less-interesting life? Then why not follow along as we explore areas along the East Coast during our Operation ReloSouth? You can always chime in with your reccommendations along the way.
First Stop: North Carolina
This past spring Mike and I spent a whirlwind five days (including two travel days) touring and exploring three planned communities in North Carolina looking for a new home base. We flew US Airways from Liberty International Airport in Newark, NJ to Charlotte, NC, changed planes and flew into Wilmington International Airport, a gem of an airport with no lines and very pleasant people who work there. Cost? Under $300 round trip at the time; our family and friends could afford the fare and visit us if we relocate there. We rented a very inexpensive car via Priceline.com's "name your own price" (Mike is a wizard at bidding on cars and getting us a real deal -- check it out for yourself!); we got our car super fast right on site, plugged in our GPS and headed out of the airport proper.
We tooled out of the airport and down a two-lane road toward our hotel. After about five miles of driving I realized we weren't going to get cut off, nor were we going to get horned, because we didn't accelerate fast enough at a traffic light that had turned green a split second before. I realized that the people I saw driving the cars weren't in white-hot rages and anxious to get to wherever they wanted to go. And they weren't all talking on cell phones either. My shoulders relaxed and I started to look around.
If, like us, you are interested in exploring planned communities (age restricted or otherwise) arrange for a formal talk and tour with a lifestyle consultant associated with the community. From our experience, it will take two to three hours. You are trading the deep discount on your hotel or condo (which you arrange through the community you are planning to visit) and the meal/other vouchers for your time -- you'll learn far more from your lifestyle consultant than you would wandering around by yourself (and wandering is out of the question in the gated communities, unless you plan to break in!) It's the cost of doing business, as Mike would say. If you can get a referral for a specific lifestyle consultant whom you've heard is good, book your tour with that person! We talked with a few different couples looking to relocate and our experience was different than theirs in any number of ways because of the differences in the experience and approach of our lifestyle consultants.
When you tour a planned community,
Bring your camera or use the camera on your cell phone to take photos of what you like and what you don't like.
Talk to people walking by, eating in the club, exercising, hanging at the pool... It helps if you ask the people you meet at the different communities the same questions so you can compare answers across the board.
Take notes. If you are visiting more than a couple of communities during one visit you will not remember the differences between them unless you do write them down. Trust me. It can all blur together.
Would you like to know our thoughts about the first three planned communities we visited? Mike and I are good at ferreting out details and figuring out how things work; you might find our experiences helpful as you look at relocation or retirement living options. Stay tuned for our impressions of
Landfall
in Wilmington, NC;
Brunswick Forest
in Leland, NC; and
St. James Plantation
in Southport, NC.
Have you already explored different areas of the United States with an eye toward retiring there? Are you willing to share your thoughts on the different areas or communities you've explored? Mike and I are interested in what you learned.
Earlier on Huff/Post50:
Hotwire's 5 Most-Booked Vacation Destinations
Destination: Chicago Plan a getaway to: Lake Geneva, Wisconsin Distance: One hour, 45 minutes Choose from a variety of boat tours for a scenic history lesson behind the estates and mansions lining Geneva Lake, or indulge your inner adventurer by taking a zipline tour for breathtaking views and some fun!

Destination: Washington, DC Plan a getaway to: Annapolis, Maryland Distance: 50 minutes Tour the U.S. Naval Academy and catch the midshipmen in noon formation for inspiration. Then get out on the water in America's Sailing Capital. Prone to seasickness? Marvel at the abundance of 18th century brick buildings and tour the Hammond-Harwood House, which boasts the Most Beautiful Doorway in America.

Destination: Toronto Plan a getaway to: Niagra Falls, New York Distance: One hour, 45 minutes Along with taking the famous Maid of the Mist tour, you can visit Niagara Falls State Park, 400 acres of natural beauty. Enjoy the outdoors with a hike, or take the Niagara Scenic Trolley ride.

Destination: Los Angeles Plan a getaway to: Palm Springs, California Distance: Two hours Dust off your clubs, and make your tee time at Tahquitz Creek Golf Resort, which offers two championship courses. Then experience The Living Desert, a wildlife and botanical park.

Destination: New York City Plan a getaway to: Hudson River Valley, New York Distance: 45 minutes Hike the famous Appalachian Trail, visit the Shawangunk Wine Trail in the oldest wine producing region in America or tour Lyndhurst, an 1838 Gothic Revival mansion that offers stunning gardens and views of the river.