Forty years ago, the polluted Cuyahoga River caught fire in Cleveland, launching a wave of national concern about the environment. During the Nixon administration, the Clean Water Act of 1972 was passed, which spurred a decades-long cleanup of the river. Today, according to the New York Times, the Cuyahoga River is much cleaner, and fish are abundant, including small mouth bass.
But poor reputations are hard to repair. Today if you mention Cleveland or Pittsburgh to someone from out-of-state, you are likely to hear a sarcastic crack about sooty steel mills, smelly chemical plants and rivers full of dead fish. Visitors to Cleveland and Pittsburgh today are usually pleasantly surprised to see gleaming skyscrapers, blue skies and clean rivers. 40 years later, Cleveland is still the butt of jokes because of something that happened in 1969.
Which makes the current controversy in West Virginia that much harder to comprehend. Poor little West Virginia now sits at the heart of a national debate about dirty coal-fired electricity and the hideous practice of mountaintop removal coal mining, in which out-of-state coal barons like Massey Energy of Richmond, Virginia clearcut and set fire to the forests, and then blow up the tops of the mountains, killing all the plants and animals, and dumping the mining waste into pure headwater streams that provide millions of people with drinking water along the Ohio and Cumberland Rivers.
The mixed-mesophytic forests on top of the Appalachian Mountains are the most biologically diverse temperate hardwood forests in the world. They provide clean air and clean water and act as a carbon sink, as well as helping cool the planet. Yet over 500,000 acres of forested mountains have now been eliminated by mountaintop removal. And here is what it looks like 15 years after mining: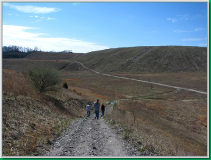 This isn't Afghanistan, it's Appalachia. It's called "reclamation."
Less than 5 percent of former mountaintop removal mine sites have any form of economic development, and the projects that do come in after mining is completed are heavily subsidized by taxpayers, such as the Big Sandy Federal Penitentiary in Martin County KY, or the industrial scrubber sludge disposal sites and ATV playgrounds found on former mine sites. That doesn't stop the coal industry from bragging about the valuable flat land that has been created, and the "pasture" and "wildlife habitat" for cows and horses.
But one only need to look at the infamous "Kinetic Park" development near Huntington, West Virginia to realize that the premise of construction on flattened mountains is a hoax. Starting in 2002, economic development experts in West Virginia flattened a small mountain alongside Interstate 64 in Huntington, to create a site for hotels and gas stations. But frequent landslides and subsidence of the land at the Kinetic Park site have left developers fearful, and today -- 7 years after the land was carefully graded and compacted, the site sits vacant and forlorn, with only one lonely building.
Tourists who drive past Kinetic Park laugh at the project, but the taxpayers aren't laughing.
West Virginia is governed by the helmet-haired, motorcycle-riding Gov. Joe Manchin, a buffoon and coal industry apologist who invited national ridicule after changing the West Virginia state slogan on interstate highway signs from "Wild and Wonderful West Virginia" to the prostitutes' pick-up line "Open for Business."
Gov. Manchin, along with southern West Virginia congressman Nick Joe Rahall, are ardent and strident supporters of the destruction of their state. Most recently, Rep. Rahall pressured President Obama to allow coal companies to blow up even more mountains in West Virginia, under the false pretense of economic development.
Mountaintop removal uses giant machines to move the rock and dirt left over after the top of the mountain is blasted. These giant machines require only a few people to operate, and so underground miners have been laid off as mountaintop removal lays waste to the state. In 1960 over 120,000 miners worked in West Virginia, but today, less than 15,000 are directly employed working for the coal industry.
West Virginians are fighting back - a brazen attempt last week to hang a "Stop Mountaintop Removal" banner from the 300-foot high boom of a giant earth-moving draglineat a Massey Energy mine site in West Virginia, an action that resulted in 14 arrests. See the dramatic 7-minute video here.
It's sad that West Virginia -- a state full of good, hard-working and decent people -- has to suffer such destruction so that the rest of America can have electricity to power their food choppers and video games. The people of West Virginia deserve better, and I hate it when people make fun of West Virginians.
West Virginia is a paradise of winding country roads, incredible mountain peaks, wilderness, forests and whitewater rafting and excellent skiing. If coal had never been discovered there, it would today be full of wealthy people like Boone and Asheville North Carolina (where the Appalachian Mountains don't contain coal). West Virginia could one day be full of tourism-based industry, entrepreneurs and web designers. Instead it's being ravaged by coal companies.
The lessons from the Cuyahoga River disaster are easy to learn: It takes decades to repair your state's reputation. If mountaintop removal were stopped today, it would still take decades or even centuries to repair the damage to the rivers and forests. It might take even longer before West Virginia's reputation recovers.
SUBSCRIBE AND FOLLOW
Get top stories and blog posts emailed to me each day. Newsletters may offer personalized content or advertisements.
Learn more