Kids have their sports fantasies. (These days, sadly, kids also have fantasy sports.) One of my sports-related fantasies has always been to sing the national anthem at a major sporting event.
My dream came true summer 2006, when I sang the national anthem at a Newark Bears game. (Up yours if you think an Atlantic League match-up of Newark Bears vs. Long Island Ducks is not a "major" sporting event.)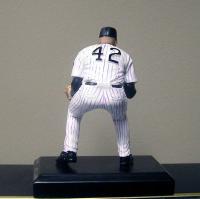 Jim Cerny the then assistant/acting general manger of the Bears had previously helped me get interviews with Rickey Henderson and Bill Madlock, and when my book of interviews came out Jim let me set up a table and do a little promotional which included singing the anthem. What he didn't tell me is that I would also get to throw out the first pitch! (Actually, I shared that honor with a returning Iraq War veteran - an older guy who blazed a fastball right down the pipe. I followed him with an exaggerated high-leg kick wind-up, missing in an embarrassing fashion way high and outside.) I got a signed game ball from Bears manager C.J. Hunter, and they put my picture up on the Diamond Vision. Thirty of my closest friends came out to see me sing what is commonly known as one of the most difficult vocal arrangements to get right. And I nailed it. I freakin' nailed it. My current publicist still doesn't believe that I did it but it's up on YouTube for all to see. I gotta say folks, it was a huge thrill.
There's a lot to remember about that afternoon but one thing I'll always remember is that as a bonus it was Joe Lima figurine night at the ball park. The Bears gave out 1,500 molded statuettes with Lima in a Bears uniform, which was odd because Lima had not been with the Bears since three years prior. (The base of the giveaway even said "2003." ) But Lima was so loved that the promotion was still a draw.
I'm not really a collector of bobbleheads or such similar memorabilia but I keep that Lima figurine on my desk. Not only because it reminds me of my Star-Spangled night in Newark but because I really like it. I like the way he's smiling all big-mouthed. And I like the way he's hunched over after throwing a big pitch with all the competitive joie de everything that Lima was known for. That's really it. That little figurine says "joy" to me. Anytime you saw Lima he seemed to just radiate the fun he was having, whether it was messing around in a ball park, on the mound or in an interview.
In February 2006, Lima arrived at the Mets' spring training clubhouse in Port Lucie, Fla., having signed with them after posting a 5-16 record for a poor Royals team.

He wore a silver three-piece suit, a black fedora and large diamond earrings. He happily posed for photographers and he was hardly about to dwell on his less than stellar statistics of the previous season.

He had another number in mind, announcing that he owned more than 2,000 suits.

"I've never worn the same one twice," he said. "I give the old ones to my brothers. They wear the same size that I do."
It know it will never be Lima time again, and that fact has come to us far, far too early. But the more I read about Jose Lima, his short life, I know that this man probably got through his so-called "bucket list" pretty quickly. I'm just glad he's forever associated with an item checked off on mine. And even though I've interviewed hundreds of professional athletes - but never Jose Lima - that night, that figurine, well, it makes me feel a bit closer to him than some others I know.
SUBSCRIBE AND FOLLOW
Get top stories and blog posts emailed to me each day. Newsletters may offer personalized content or advertisements.
Learn more