It's an interesting time when fans turn on an owner. That's precisely what time it is for Washington Redskins fans and team owner, Dan Snyder.
Snyder year after year took a most beloved local professional sports franchise and transformed/disfigured it into an at once profitable and objectionable local professional sports franchise. Fan anger has mounted into uprising.
While Snyder has long controlled any type of "news" that comes out of the Redskins camp, he has now gone even further, banning anti-Snyder protest signs at FedEx Field, forcing outraged Redskins faithful to travel to away games and buy seats at other stadiums in order to publicly express their outrage.
Stripped of his play-calling duties, Jim Zorn is now like Pu Yi in "The Last Emperor." He can order around the eunuchs and canoodle with Ar Mo, but he has little decision-making power
Snyder is the only emperor in Redskins country, and he will not, if he can help it, let it be said that he has no clothes. Yet even though the fan revolution will not be televised it may be digitized. If you haven't seen it, check out the funeral announcement that's been going around the internet.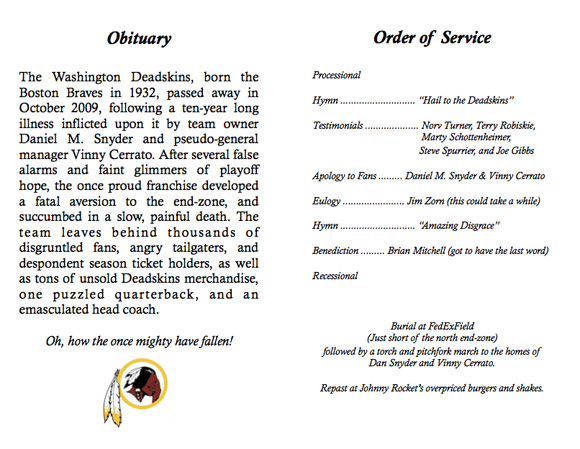 I have a feeling things are going to get worse before they get better. Hey, it can't be much worse than it is now.

FOLLOW HUFFPOST