When I opened my inbox last Thursday morning around eight o'clock on September 25th, I found mail from Dan O'Neil saying there was going to be a protest down in Phoenix: "If you are unhappy with the bailout of Wall Street as proposed by the Administration, please join us at the corner of 7th Street and Camelback at 5 p.m. on Thursday, near the Faith Lutheran Church. Bring your signs." Kind of short notice, and the sign-up page said less than 20 people had registered but my wife-partner, Sueko, and I decided to go.
Traffic was light so we reached the church in plenty of time. There were already three TV satellite trucks in place so maybe it was going to be a bigger event that we thought. As we were getting our gear ready some people in the neighboring gas station asked what was going on: three women and two children. When we said it was a protest against the Bush bailout the older woman began talking about hard it was for her family to make ends meet and told us a long, convoluted tale of woe. It turned out to be just kind of situation that's left out of the bailout plan so I turned on my recorder and asked her to repeat the story:
"My name is Kathy Brittman. My kids are losing their apartment because my daughter got sick. Social Security has stopped over half of my son-in-law's disability payments. I've been using my credit cards to feed my grand children and help them to stay afloat. I've run my Wells Fargo credit card up to $10,000; my payment was $117 a month. I was one day late and it went to $880, which is what they want now, in late fees, overdraft fees, all this other stuff they just tacked on. I was just keeping it less than $10,000 with the $117 a month payment. They want $800 now and I don't have it!
"So I'm sitting here saying, OK, how do I feed my grandchildren now? What am I going to do? We can't help from the churches. The church says they don't have the funds. Their refrigerators are empty. They can't help us . . ."
I asked if we could come to her house and gather material for a story just about her and she agreed. For the moment we had to cover the people who were gathering along Camelback.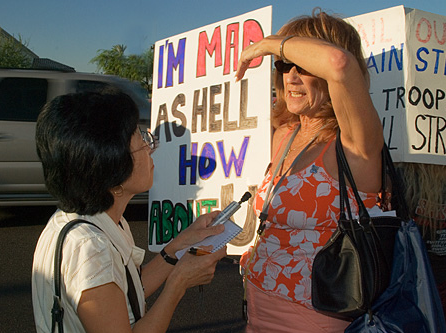 There were only some 30 people holding up their signs chanting, "No more closures, We want jobs," and "No Bush Bailout," "No Bush Bailout." While there really weren't enough people to make the protest a major, news-media event, the TV reporters and cameramen were interviewing people and going live for the 6:00 news.
After Dan O'Neil, the coordinator from PDA (Progressive Democrats of America) in Phoenix who had sent the e-mail, was interviewed for the TV news, Sueko asked him how far advance he had planned the event: "Just a couple of days ago as the Bush administration just sprung this on people. Out of fear, they're trying to force people to react [by] bailing out the Wall Street crooks who got us into this mess in the first place.
"So they're doing essentially what they did in Iraq, spending billions and billions of dollars. In Iraq the billions went to war contractors, it went to the oil companies, and things like that. And what happened? We have hundreds of thousands of Iraqis dead and we have 4,000 dead Americans. So now they want to bail out the Wall Street crooks and criminals."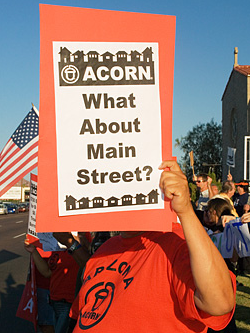 The e-mail Dan sent had the logos of some 16 like-minded organizations and many people had the logo of their group on their signs. There were two guys holding signs with the ACORN logo but we couldn't talk with them as they only spoke Spanish. The best we could do was to look up the ACORN website and see what the About page had to say: "ACORN is the nation's largest grassroots community organization of low- and moderate-income people with over 400,000 member families organized into more than 1,200 neighborhood chapters in 110 cities across the country."
Helen Horter didn't have a logo on her sign but was wearing a small button for 911truth.org whose basic mission is "To expose the official lies and cover-up surrounding the events of September 11th, 2001, in a way that inspires the people to overcome denial and understand the truth; namely, that elements within the US government and covert policy apparatus must have orchestrated or participated in the execution of the attacks for these to have happened in the way that they did."
When asked why she came to this event she said, "I do a lot of street actions, about waking up the people. They don't know what is going on as the media, they come out, take some pictures, and give us two seconds on the news. We're in dire straits in America; we're getting screwed as a society.
"We're going to be taken over. I don't really believe there's going to be an election. Nobody knows about his [Bush's] signing statements. That under catastrophic conditions, he can declare martial law. Nobody knows this."
Do you think the bailout was the October surprise? "Anything could be the October surprise. There's trouble going on in Pakistan, in Russia. Who knows what it is. .... I would like to say Power to the People, but what they have in place, on a whim, it would take everybody going to Washington for a revolution. These people need to be removed from office."
Janet Higgins was wearing a PDF T-shirt and looked, at first, like an organizer but said, "I'm not involved in the organizing of this event. I just learned about it today. I'm a member of PDA, Progressive Democrats of America, and we have a local chapter, but I'm not, officially, an organizer of this group.
What do you think about Bush's bailout? "I think if he's going to bail out corporations, he needs to bail out the American people. He needs to put a stop on foreclosures, we need better healthcare in this country, we need better education, we need affordable college, we need to put the money into the people in this country, we're the investment."
What do you think is the next step? "The next step after the election is to make sure this country moves in a more progressive fashion. We need to be more enlightened, and more open minded in America."
Can Obama do that? "Yes, he can."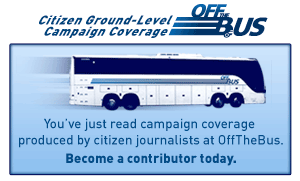 SUBSCRIBE TO & FOLLOW THE MORNING EMAIL
The Morning Email helps you start your workday with everything you need to know: breaking news, entertainment and a dash of fun. Learn more