Consumer trust in business has shifted dramatically in the last two years, dropping from 58% of Americans to just 44%, according to a survey by PR firm Edelman. A transitory, even cynical, marketing campaign and TV media buy is not going to win back consumers.
What can work is a long-term focus on sustainability. Action, rather than words. A blend of social activism and profit rather than a pure push for the bottom line. A long-term commitment to doing what's right.
At Friend of the Farmer, we believe that "sustainable is attainable." Maybe now, Fortune 500 companies do too.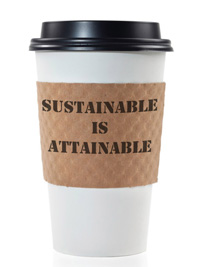 Recently I joined an Advertising Week audience to hear Howard Schultz, the CEO and founder of Starbucks, and Rob Walton of Walmart, talk about sustainability.

Speak Softly and Carry a Big Stick
Whatever your political persuasion, you have to agree that Walmart and Starbucks provide a huge platform for change:
Every day their outlets connect with millions of customers, their own employees and thousands of suppliers.
The people who run Walmart and Starbucks are smart
Competitors track their moves religiously and adopt them.
So if Walmart and Starbucks were to focus on a single movement -- sustainability, for example -- there should be a significant impact on the population worldwide.
Change or Be Left Behind
Schulz and Walton talked about doing right by doing good. Sustainability was not a marketing campaign but a change in the way they want to business. That's good news, because it makes sustainability within a company ... sustainable.
Shultz said, "The issue is sustainability, the environment, climate control. All of the things that I would put under the umbrella of having a social conscience. It can't be marketing and can't be PR. It has to be an integrated strategy that is authentic. Otherwise people will see right through it. First your own people and then the consumer."
Shultz continued, "The rules of engagement are changing. Every company has competitors. The consumer is so well educated and informed that given a choice they will buy from companies that give back to issues they believe in."
First Step: Engage Your Employees
Walton agrees that engaging your own employees comes first. "From a marketing standpoint, we didn't engage in sustainability with [marketing] in mind. It has become part of our communications but is often done by people outside the company. We want to make a difference but in a profitable way. It has resonated with our folks and been very rewarding. We've done good and saved tens if not hundreds of millions of dollars in the process."
For Walmart, Sustainability Started with Salmon
Six years ago Peter Seligmann, of Conservation International, convinced Lee Scott, the CEO of Walmart at the time, that there was an opportunity for retailers to make a difference that would be good for the business, good for the consumers and profitable. It all started with salmon.
He suggested that Walmart, the largest seller of salmon in the world, make changes in its production and procurement. According to Seligmann, Walmart was unaware of the impact their supplier's farm in Chile was having on the environment. Or that the salmon was dyed red.
"Sustainability has become a part of the discussion," Walton said, "with every vendor, whether it's packaging, recycling or energy. We even ended up creating a sustainability index for customers, which rates products in a way that allows customers to evaluate the sustainability of choices they make. Informed customers will make good choices. If we do our job well those choices will be competitive for sustainable products."
According to Walton, Walmart's sustainability initiative has been a significant contributor to the improved perception of Walmart in the last four or five years. Though this was not what the company set out to do, it has had an unintended and very positive consequence.
Starbucks' Schultz Talks Up Our Collective Responsibility
In a pitch that would make CFOs and institutional investors uncomfortable, Shultz said that companies need to "make deposits on the equity of the brand rather than trying to simply sell the consumer something."
Shultz suggests that companies shouldn't "brag about the things they do. Better to have consumers discover it on their own. Have your own people tell their own story."
According to Schulz kids in high school and college have significant knowledge about sustainability. In my own interviews with young farmers for Friend of the Farmer the question of sustainability, and a search for honesty in a cynical world, comes up all the time.
So if kids are the main driver for a host of product purchases and retail visits, then a real commitment to sustainability -- not something invented by the marketing team -- becomes a given.
Please, Sir, a Cow for My Kid's Family
Inspiration comes from the most unlikely places. A private meeting Schultz had with Rwandan coffee growers led to an employee effort to get dairy cows to the population of that country.
Schultz believes that couldn't happen at a business riven by cynicism. "It can only happen at a company where there is a sense of trust, a DNA of doing things that help people, not just about making more money."
Taking Sustainability to the Next Level
Here are four simple suggestions to build sustainability:
Companies that are leaders in sustainability should engage with Capitol Hill. Show lawmakers the impact in profits and job creation.
Walmart should share the methodology of its sustainability index. That would help standardize ways for consumers to evaluate sustainability. (And companies need rules, too, to be able to run their businesses.)
Assume that companies want to do the right thing -- this time.
Print simple suggestions for living a more sustainable life on Starbucks coffee cups. Make it practical.
Shultz summed up the session with this simple statement. "Sustainability is not a fringe idea. It is mainstream." Note to Fortune 500 companies: Can you hear us now?
SUBSCRIBE TO & FOLLOW THE MORNING EMAIL
Start your workday the right way with the news that matters most. Learn more