Ian Thomsen of Sports Illustrated penned a 2,000+ word article on Chris Paul and the New Orleans Hornets for the latest issue of the magazine. In "The Tipping Point" Thomsen details why the Hornets are a contending team in 2010-11. Last season the Hornets only won 37 games and finished out of the playoffs. As of Sunday morning, the Hornets are 12-3 and only one game behind the San Antonio Spurs (the team with the best record in the NBA).
Thomsen's story explains this transformation by focusing on all the changes the Hornets have made. The team has a new head coach and new general manager. And of the fifteen players who have taken the floor for the Hornets in 2010-11, only six players were with the team last year (and one of these just departed). With all these changes, one shouldn't be surprised to see the outcome on the floor has changed.
When we look at the numbers, though, a somewhat different tale emerges. Let's start with the Hornets' offensive and defensive efficiency. Per 100 possessions, the Hornets are scoring 103.9 points while only allowing 98.1. The difference between these two efficiency marks is 5.9. Such a mark is consistent with a team that should have won about 10 games this year. In other words, the team has been a little bit lucky so far. (By the way, a team's efficiency differential is a better predictor of future wins than a team's current won-loss record).
The following table reports two sets of Wins Produced numbers. The first indicates what the Hornets' players have produced in 2010-11. The second set reveals what the Hornets' would have produced had per-minute performance not changed from what we saw in 2009-10.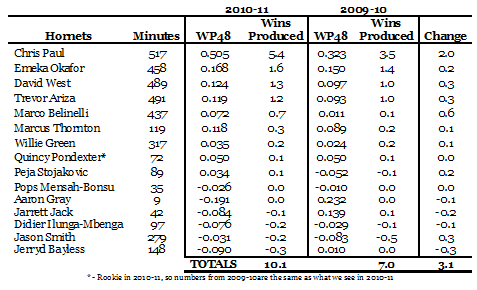 The difference between these two sets of numbers allows us to see clearly how the Hornets have improved. After fifteen games, the Hornets' Wins Produced stands at 10.1, and 5.4 of these wins can be traced to the production of Chris Paul. Had the performance of these players not changed, though, this team would only have produced 7.0 wins (as of Sunday morning). And of these 3.1 additional victories, 2.0 can be traced to the improvement in the play of Paul. Yes, changes in the production offered by the team's star explains much of what has happened to the Hornets.
Now how did Paul "improve"? Much of that story can be seen by looking back at the 2008-09 season. Two years ago Chris Paul was the most productive player in the NBA and the Hornets won 49 games. This season Paul is even better than what we saw in 2008-09. But not much better. Had Paul maintained what we saw two years ago he would currently have produced 4.9 wins (or about ½ win less than what he has produced so far this year).
So last season Paul's performance declined. And the likely explanation for this decline is the fact Paul was hurt last year and missed 37 games. This year Paul appears to be healthy. And not surprisingly, his performance has returned to what we saw two years ago.
All of this suggests that much of what we are seeing in New Orleans in 2010-11 is Chris Paul getting healthy. In other words, the big story in the Big Easy is not that the team made substantial changes to its roster and management team. No, most of what we are seeing can be explained by one star player getting healthy.
The Less Interesting Story
Now to be fair to Thomsen, he does mention Paul's injury in the 15th paragraph of the story (on the third page of the three-page story in the magazine). But Thomsen never mentions the fact Paul -- relative to last year -- is getting more steals, assists, rebounds, scoring more points per shot from the field, getting to the free throw line more frequently, and hitting a higher percentage of his shots from the free throw line (and consequently, he has a higher Wins Produced, as well higher marks in other metrics like Win Shares and Player Efficiency Rating).
All of this is not to say that the changes to the team's roster, management, and ability to play defense (team defense -- as noted -- is part of the Wins Produced calculation) don't matter. But much of what is going on is simply Chris Paul improving upon what he did last year. And this improvement is never mentioned by Thomsen.
So I think Thomsen has missed a big part of this story. I also think this is fairly common. Reporters tend to focus on stories that are dramatic or "interesting". Imagine Thomsen tried to cover this story from the perspective I think the numbers suggest. Here is how it would read.
Two years ago Chris Paul was amazing and the Hornets won 49 games. Last year Chris Paul was hurt and the Hornets missed the playoffs. So why are the Hornets contending this year? Well, Paul is now healthy.
There you have it: A story that consists of 38 words that has no chance of appearing in Sports Illustrated. These words undermine the entire 2,000-word tale Thomsen is telling. Thomsen wants people to focus on all the "interesting" changes the Hornets have made. But if the story is just "Paul got healthy", then readers would see that those "interesting" changes to the roster and management team didn't make much difference. More importantly, Thomsen's editor would have seen those changes didn't make much difference. And if that happened, Thomsen's story wouldn't have been in Sports Illustrated.
Perhaps a different story, though, would be worth telling. Essentially, all the changes Thomsen focuses upon are probably not enough to keep Chris Paul in New Orleans.
To see this point, let's remember that a few years ago Kevin Garnett was the most productive player in the NBA. But his teammates in Minnesota were not that productive, and consequently, KG didn't experience much team success. Currently the same "tragic" story is taking place in New Orleans. As noted, Chris Paul is the most productive player in the game. But his team - as the efficiency differential indicates - suggests the Hornets are not really title contenders. And so Paul's team -- like KG's teams in Minnesota -- may once again disappoint in the playoffs.
For that outcome to be different, the Hornets are going to need even more changes. Specifically, the Hornets need more production from someone else on the roster. Currently the second most productive player on the roster is Emeka Okafor (who Thomsen never mentions in his article). Although Okafor is above average (average WP48 -- or Wins Produced per 48 minutes -- is 0.100), he is not as productive as the top players on the NBA's contenders. And after Okafor, the team doesn't have any players who are able to move far beyond average (yes, David West is only slightly better than average).
Until the Hornets find more productive talent, Chris Paul is probably going to finish each season with a crushing defeat in the playoffs. And since his decision to ultimately leave will be made in a future summer -- after one of these crushing defeats - the Hornets have not really solved the problem the team faced a few months ago. In other words, the big story in the Big Easy probably has yet to be told. Whether that story ends with a title coming to New Orleans or Chris Paul making a "LeBronesque or KGesque" move to greener pastures remains to be seen. What we have seen is that the problem this team faced last summer (i.e. Chris Paul is not happy with his team) is probably going to return if the Hornets do not find Paul some better teammates.
SUBSCRIBE AND FOLLOW
Get top stories and blog posts emailed to me each day. Newsletters may offer personalized content or advertisements.
Learn more