Ben Greenman is an editor in good standing at the New Yorker. You may not know that because they don't publish a masthead--but you see his pithy record reviews in the front of the magazine (he's partial to the highs and lows of the 1970's, incidentally). But Greenman's good deeds don't end at the office door. In fact, much of what he does takes place off the clock. The prolific author's books include Superbad, and Please Step Back, he's also published work in the New York Times and McSweeney's. He writes hilarious musicals for the New Yorker website, has dabbled in conceptual art projects, and even ghostwritten Gene Simmons' autobiography.
Greenman's just published a fine new collection of stories, What He's Poised To Do (Harper Perennial). The irrepressible "Against Samantha" begins with rhetorical flare: 'The year kicked off with an event that I feel confident describing as godly.' The narrator, engaged to the lovely Samantha, is more attracted to her mother. Vain Samantha finally confesses her fear of losing her looks: '"We all become our mothers," she said, by way of apology. I did not tell her that I was banking on it.' That's Greenman at his most wonderfully arch, but he can also be direct and intimate. "Barn" opens with the relevant facts and doesn't flinch: 'She's older. That's the first thing you need to know about her. I'm pregnant. That's the first thing you need to know about me.' The stories in What He's Poised To Do are ambitious and satisfying, riotous and humane. Gene Simmons clearly knows a good writer when he meets one.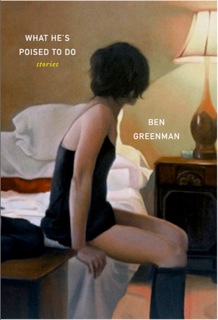 THE STORIES IN YOUR NEW BOOK VARY IN TONE. CAN YOU TALK ABOUT YOUR APPROACH TO SHORT STORIES IN GENERAL, AND THIS BOOK IN PARTICULAR?
To me they are all the same, because they are related in theme. Given that the themes are similar-- romantic disappointment, the way that people fail to connect with one another despite the best intentions-- I feel that it's my creative responsibility to shift the tone and style. It's also a philosophical claim: that sadness is the same as comedy, that the past is the same as the future. That's broad and possibly unhelpful. In terms of practicum, I'd say only that each story comes together around its own idea. Sometimes that means a short story written in telegraphic prose. Sometimes it's more expansive, which requires a story with a nested set of dependent clauses.
YOU WRITE A LOT ABOUT MUSIC FROM THE 1970'S, IS THAT BECAUSE IT'S THE MUSIC YOU GREW UP WITH OR IS THERE SOMETHING PARTICULAR TO THAT ERA THAT APPEALS TO YOU?
Both. It's the music I grew up with but I also think it's the last time that music was really in the center of things -- in the middle of the way the society saw itself, in the middle of the way that we explained politics and youth culture and race to ourselves. The novel I wrote, Please Step Back, is about a Sly Stone-like funk star, because Sly and people like him (Curtis Mayfield, say, or Marvin Gaye) have always obsessed me. The Gene Simmons book comes from a little later in the seventies, and the music is obviously quite different-- apolitical, hedonistic, arena-rock rather than forward-looking soul. But still, I like the tradition Gene grew up in, even if he reacted to it differently. I did a New Yorker event last year with Graham Parker and Ian Hunter, two superb singer-songwriters, and at one point they talked about hearing the Beatles and the Stones, and they instantly became forty-five years younger. It's interesting that kids today have that same eye-opening experience with the same exact music. My kids are six and nine, and their heads were turned by "Jumpin' Jack Flash." Why wouldn't your head be turned?
CAN YOU DESCRIBE YOUR FASCINATION WITH CONCEPTUAL ART?
Well, I have always invented conceptual artists in my work. Initially, I used to joke that it was easier to make up an artist and make up art for him than it was to actually make the art. After a while, I started to see that the relationship was more complicated than that. I'm not sure I can describe it, but I can agree. As long as I can remember, I've been obsessed with trying to find the creative unit -- in other words, what is the minimum action required for something to be considered an artwork. I don't think that there's been any major advance in this regard since Duchamp, but it's still a valid question, and at the very least a fertile ground for comedy. Add to that the fact that sometimes there are projects that, in dead earnest, turn something artless into profound art. It's a magical process and one that I'd like to keep investigating.
WHAT'S THE PROCESS BEHIND THE MUSICALS? DO YOU HAVE A WEAKNESS FOR RHYMING ABOUT CURRENT EVENTS OR ARE YOU ACTUALLY ATTRACTED TO THE MUSICAL ITSELF?
I am unattracted to the form of the musical. I think I find it preposterous, though I would also one day like to find a way to make it unpreposterous. The current events musicals, which I've written for about a decade, more than a hundred in all, happen for a narrow therapeutic reason. When I hear the news, I sometimes hear it rhyming, and to get those rhymes out of my head, I have to write them down, and when I start to write them down, suddenly I have the makings of a musical. The topics treated in the musicals have, over the years, become more predictable -- I used to write about any news event, but now it's mostly scandals: Mel Gibson's drunk driving, Elliott Spitzer's prostitute problem, Madoff, Balloon Boy.
WAS GHOSTWRITING GENE SIMMONS' AUTOBIOGRAPHY MUCH OF A STRETCH?
Well, I didn't do method writing. I think I am allergic to face paints. It was not, in the end, a stretch to assume the voice of a middle-aged Jewish man who has, for decades, stubbornly created the things he wants to create. That part was easy. That was the overlap between me and Gene. Though he is taller than I am and owns more codpieces. Honestly, it was a nice experience. I was prepared to recoil from parts of it, but those parts never happened. He was easy to work with, and as a result I was, too.
SUBSCRIBE AND FOLLOW
Get top stories and blog posts emailed to me each day. Newsletters may offer personalized content or advertisements.
Learn more