I had the pleasure of attending opening night of Sweeney Todd, The Demon Barber of Fleet Street at the Eureka Theater, under the direction of Ben Randle. The Ray of Light Theatre production was absolutely stunning and worth the modest ticket price.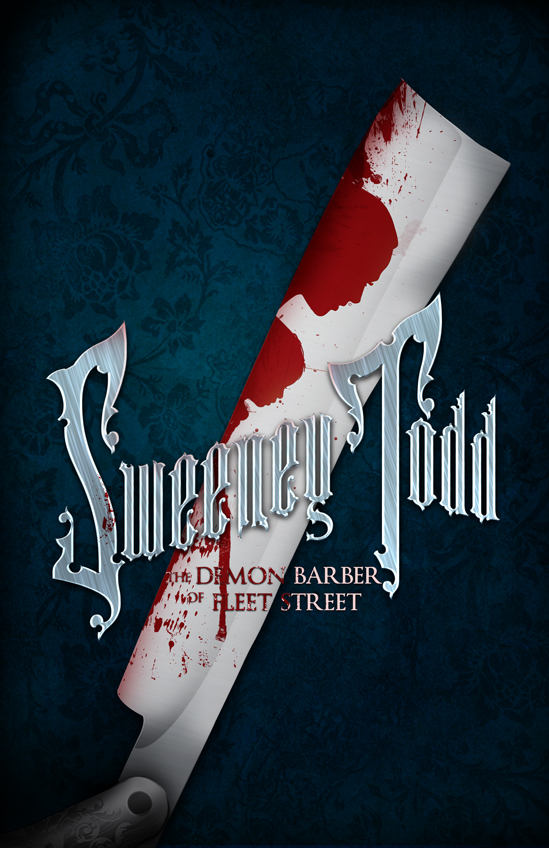 Act 1 was dark, twisted and kept an even flow of character build up. Randle kept the audience curious and the normally long feeling Act 1 was unfelt and at intermission, I was marveled at the length of time that had passed. I was completely engulfed into the storyline.
The intimate space at the Eureka Theater guarantees that every seat in the house is a good seat. At first glance, the set was simplistic but extremely effective, as I quickly understood the placement of all on stage. The high quality of the set by Scene Designer Maya Linke, created a realism that was eerily frightening. The execution of repurposing the set was pure brilliance as it was believable and made complete sense.
Before getting into lead characters, I wanted to take a moment to highlight the extraordinary ensemble. All their voices blended perfectly together and truly complimented the small stage with their huge voices. I was completely blown away by the power vocals coming from the ensemble, who to me, were just as integral as the cast leads, as their facial expressions told a part of the story that is at times lost in other productions of this extremely difficult musical. The standout in the ensemble was Mia F. Gimenez. Her operatic vocals sent chills throughout the audience. Ron Dritz also provided the right amount of creepy with his superb expressions.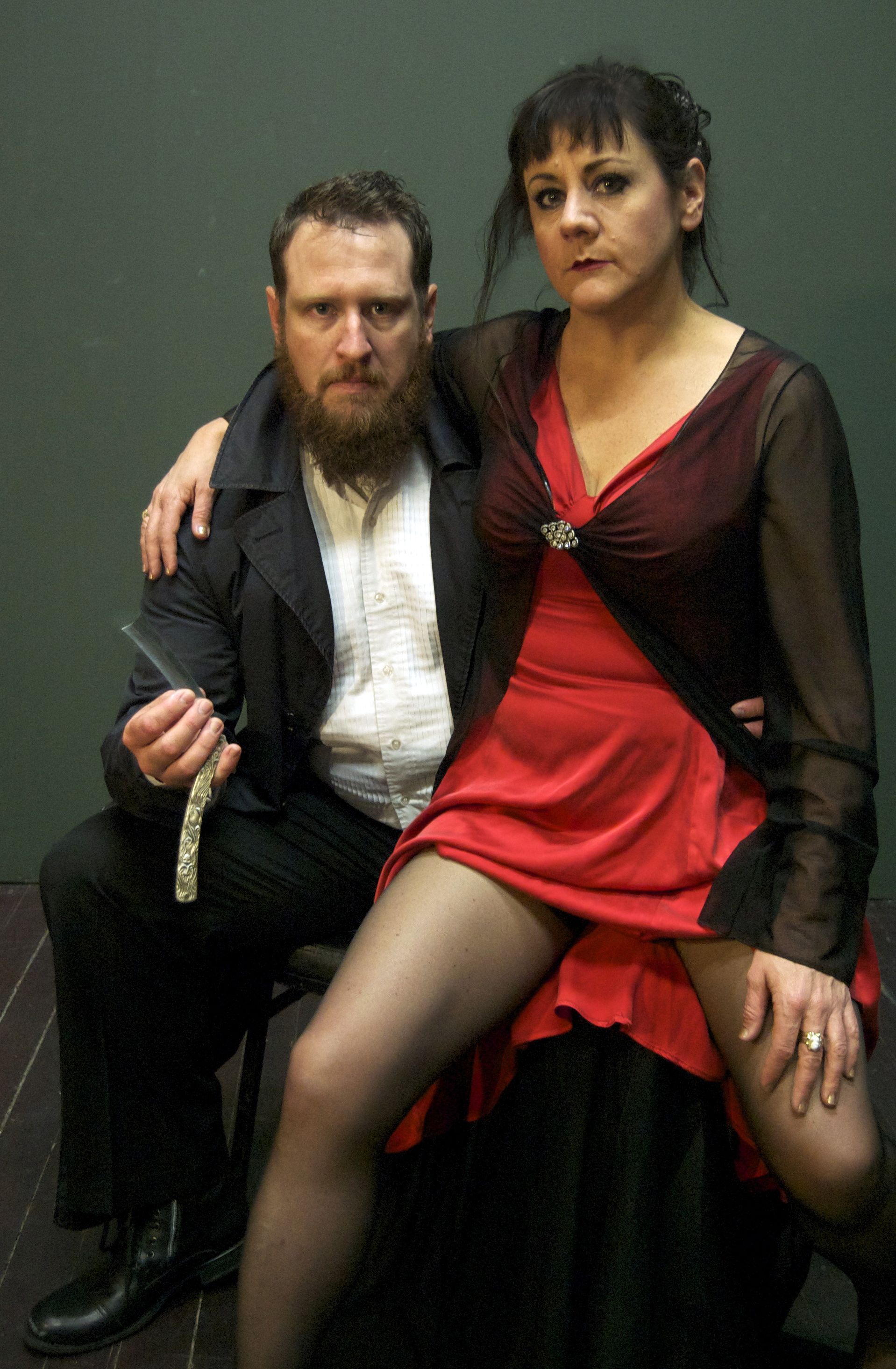 Adam S. Campbell who played Sweeney Todd was just intense to the max. I say that in the best form of a compliment possible. His character portrayal oozed deranged madness. Vocals were spot on and at times so tender that you felt sadness for his character. J. Conrad Frank took the character of Beadle to a whole new level, and had the audience laughing throughout the show. It was the perfect mix of humor to interject in to the dark story. Kevin Singer who played Tobias was also dead on in his performance. The innocence of his character on stage was apparent and welcomed as were his soft, sweet vocals. The entire cast including Matthew Provencal as Anthony and Michelle Jasso as the Beggar Woman were spot on.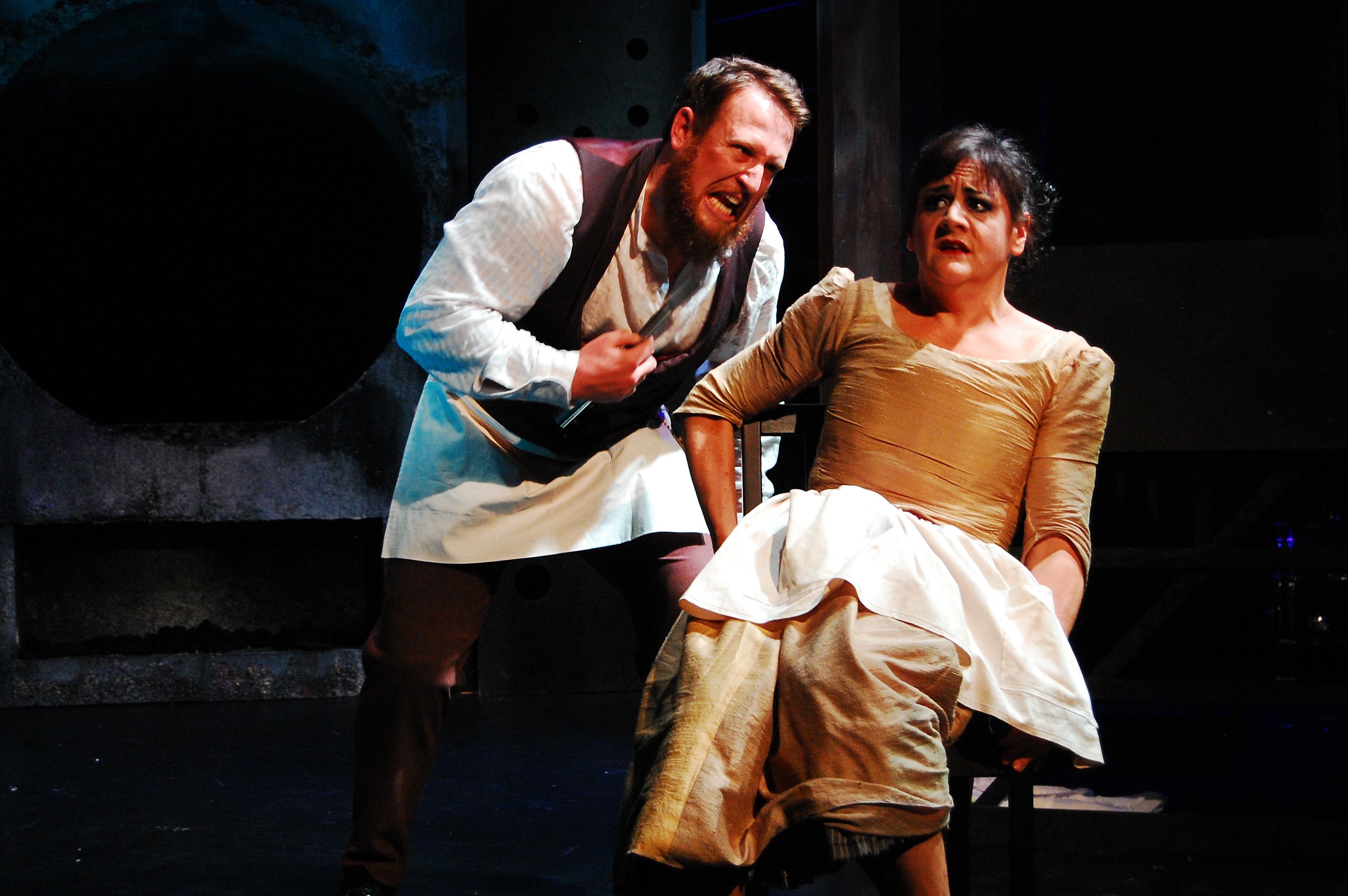 By far, if not the only or best reason to see this production has to be the performance of Miss Sheldra who took on the character of Nellie Lovett. Her performance is best described as unbelievably perfect and insanely convincing. Randle couldn't have chosen a better Nellie for his production.
There was no disappointment in Sweeney Todd. Randle's collaborative efforts with Music Director Robbie Cowan have masterfully paid off. The show will have a five week run at the Eureka Theater. Tickets can be purchased here.