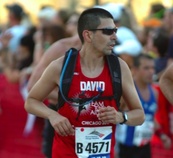 Why run? Anyone who runs regularly gets asked this question -- why do you like to run? And there's never an easy answer.
I'm not a particularly gifted runner. Sure, when I'm in the zone of a training run or race, I imagine myself shoulder to shoulder with the elite pack of marathoners chasing a police escort toward the finish line. But in reality, I'm a moderate runner. I sweat too much and my muscles cramp up too easily.

And running takes time. And then there's the packing and staging to make sure you have the shoes, clothes, water, and other amenities to squeeze a run into the daily routine.
I started running as a freshman in high school on a whim, perhaps because I had no aptitude for team sports. And being 30 pounds overweight meant the other teens snickered behind my back at my athletic aspirations. That first season on the cross-country team, I finished each training dead last and well behind the rest.
But I persevered, lost weight and turned into a moderately successful high school athlete. I even earned a letterman jacket: the ultimate high school status symbol of my day.
More than 20 years later, the allure endures. In adolescence, I ran from the taunting and torment of being a fat, gay kid with little ability to change my circumstances. Running gave me purpose, a mission and a way to shape my world, if only during the brief, adrenaline-filled moments of competition.
Today, I chase transcendence in new ways. Whether it's a leisurely 6-mile jog or 26-mile race, each time I lace up it's a new performance. Unlike so many pursuits, each run has a distinct beginning, middle, and end. Each challenge is mine to strategize and overcome.
The exertion soothes my emotions and calms my thinking. Yes, there's such a thing as runners' high, which showers me with a sense of unending possibilities. But there's also enormous satisfaction in having some degree of mastery over my physical being, a lesson learned in adolescence.
When you live with HIV, you surrender some confidence in your dominion over your own body. Starting antiviral therapy and achieving maximum viral suppression helps, but you never really lose the sense that your survival and destiny is largely beyond control.
Running is my booster therapy. It might not make my meds more potent (hey, who knows?), but in a small way, I gain back some control over my body by putting it through the paces of the training and competition to strive toward my personal best.
SUBSCRIBE TO & FOLLOW THE MORNING EMAIL
The Morning Email helps you start your workday with everything you need to know: breaking news, entertainment and a dash of fun. Learn more