Compared to the chaos that gripped Seoul over the weekend as the cursed Olympic torch came to town, South Korea's neighbor to the north executed its torch ceremonies without a hitch -- no shouting, no fighting and surely no pro-Tibet protest. In North Korea, where political dissent is as rare as an Internet connection, the world got a taste of how China had envisioned the torch procession at all of its stops -- quiet, calm and Communist.
It's important to start in Seoul, where on Sunday a North Korean defector tried to disrupt the torch run by, well, setting himself on fire. While the Tibet freedom movement has inspired torch run opponents in Paris, London and France, in Seoul the Tibet issue took a back seat to protest over the plight of North Korean refugees in China. Signs and banners lining the torch relay in Seoul depicted the horrific treatment of North Korean defectors in China, who are routinely hunted down, arrested and returned to North Korea by Chinese authorities. According to an Associated Press story Monday, Son Jong Hoon, the North Korean who attempted to immolate himself, had spearheaded a failed public campaign to save his brother, one of the North Korean defectors, from execution when he was found and returned to North Korea.
Distinct from those perpetrating violence on the other legs of the torch relay, in Seoul, it was pro-China, pro-Olympics protesters who triggered the majority of the demonstrations. According to the South Korean newspaper Chosun Ilbo, over 6,500 Chinese residents in Seoul, mostly students, swarmed Seoul's Olympic park determined to drown out the anti-China sentiment that has marred the torch run thus far. Chinese loyalists wrapped in China's flag threw objects at anti-Olympics demonstrators, inadvertently striking a journalist in the head with a rock. And interestingly, the pro-China soldiers in Seoul were armed by none other than the Chinese government. From a Chosun report Monday:
Chinese students studying here seemed well organized in their efforts to guard the Olympic torch. Messages calling for concerted action began to appear in an online club of Chinese students in Korea two weeks ago. A 22-year-old Chinese student who said he studies at Korea University of Technology and Education said 30,000 Beijing Olympic T-shirts and 30,000 Chinese flags were sent to the demonstrators from China the day before the relay. Kim Seong-yong, 71, from Seoul, who witnessed the event, said he had "never seen so many Chinese flags waving in central Seoul, not even during the Korean War."
It seems China is now not merely keeping its torch runners safe, it's now actively supporting pro-China mobs during the relay.
For those visual learners, this is what the torch relay looked like in Seoul this weekend: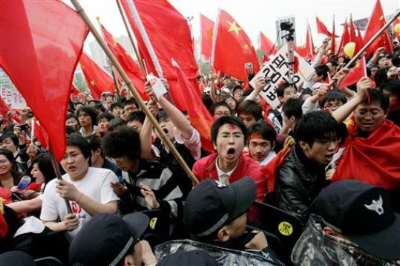 And here is what it looked liked in Pyongyang, North Korea. The only word that comes to mind is "swell."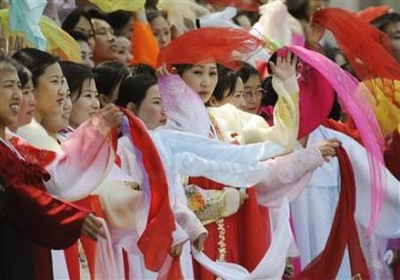 When the Chinese government was dreaming up the 2008 torch relay, it was Monday's stop in North Korea they saw in their mind's eye: Beautiful women in traditional hanboks, waving flags, smiling, singing, extolling China, North Korea and their Communist camaraderie. Olympic organizers were saying on Monday, "Why couldn't the Parisians, Londoners and San Franciscans be more like the North Koreans?"
A headline on a story praising the torch festivities in Xinhua, China's state-run news agency, read "'Lucky Cloud' floats over Pyongyang." The only "lucky cloud" floating over Pyongyang would be one carrying a wireless Internet signal.
China's ambassador to North Korea exclaimed Monday, "It's a bright and colorful day for everybody in the city. The flame brings friendship, best wishes and passion to Pyongyang." Anything can bring friendship, best wishes and passion to Pyongyang if Kim Jong Il says it does.
The polar experiences of the torch relay in Seoul and Pyongyang symbolize the utter disparity between North and South Korea and how they each relate to China. The South remains torn between the democracy, freedoms and value system of the West and its geography, nestled between North Korea and Communist China. Meanwhile, North Korea is as beholden as ever to China, it's Communist big brother, a nation to whom it looks for economic, political and moral leadership.
While the Pyongyang leg of the torch relay may represent a visual paradigm for the Chinese, for the rest of the world, it should serve to remind us of the oppression that still prevails in North Korea.

Read more HuffPost coverage of China and the 2008 Beijing Olympic Games