Vast numbers of tourists have been delighted by the work of Jean-Michel Othoniel, without knowing it is his work or even who he is. Every year, thousands of visitors to Paris stop to photograph the whimsical and colorful entrance to the Palais Royal metro station in the Place Colette, made of arching chains of large metal balls and colored glass globes. Installed in 2000, the magical metro entrance has been such a popular success that this year it was commemorated by a postage stamp.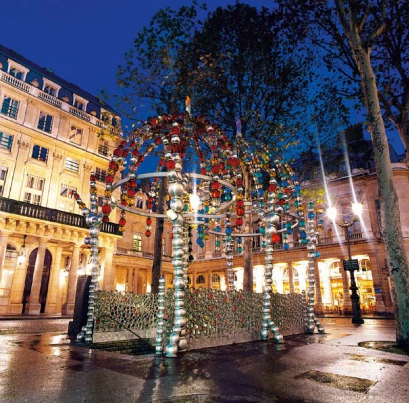 Othoniel (1964- ) is currently being honored with his first retrospective exhibition at Paris' Centre Pompidou, through May 23. What has become his trademark work began in the late 1990s, when he began to sculpt with glass. With the elegant spherical forms and subtle colors of Murano glass, he has created a highly personal and engaging body of conceptual art. The interest of his work lies not only in its lyrical overall forms, but also in the detail of the individual metal and glass elements. Othoniel has explained that he purposely avoids the perfection and regularity that expert glassblowers typically seek: whereas glassblowers routinely reject examples of their work that bear traces of their creation, he "chose to work with such accidents, asking the glassmakers to wound the glass before working on it, leading to irregular, marked forms, bearing scars. And I saw true beauty in these scars."
Othoniel's work is most impressive on a large scale, and he likes to make public projects like the Palais Royal metro entrance, which he titled Le Kiosque des Noctambules (Kiosk of the Night-Walkers.) The star of the Pompidou exhibition is Le Bateau des larmes (Boat of Tears), an abandoned wooden rowboat Othoniel found on a beach in Miami for which he created a fantastic glass crown. The boat, which would be a fitting conveyance for a fairy-tale princess, appropriately is placed in a room overlooking the equally enchanting sculptures by Niki de Saint Phalle in the fountain that sits beside the Centre Pompidou.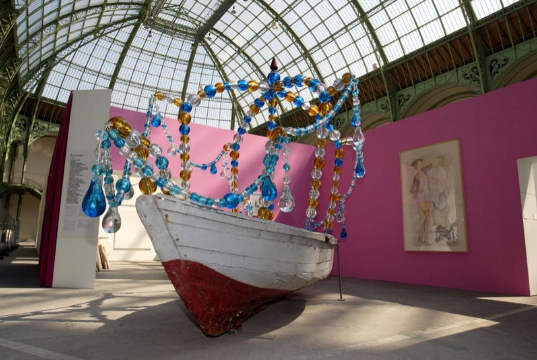 SUBSCRIBE TO & FOLLOW CULTURE SHIFT
Every Friday, HuffPost's Culture Shift newsletter helps you figure out which books you should read, art you should check out, movies you should watch and music should listen to. Learn more