Don't think of it as a large painting of a soup can. Think of it as a piece of one of the most important innovations in the history of modern art.
On Wednesday evening at Christie's, Big Campbell's Soup Can with Can Opener (Vegetable) sold at auction for $24 million. This capped a remarkable run of three days for sales of Andy Warhol's work. On Monday, Men in Her Life sold for $63 million at Phillips, de Pury and Company, and on Tuesday, Coca-Cola [4] [Large Coca-Cola] sold for $35 million at Sotheby's. All three were made by Warhol in 1962. To many casual observers, these prices are at least baffling, if not outrageous or offensive. What many of these observers don't understand is that these paintings are major landmarks in the history of modern art.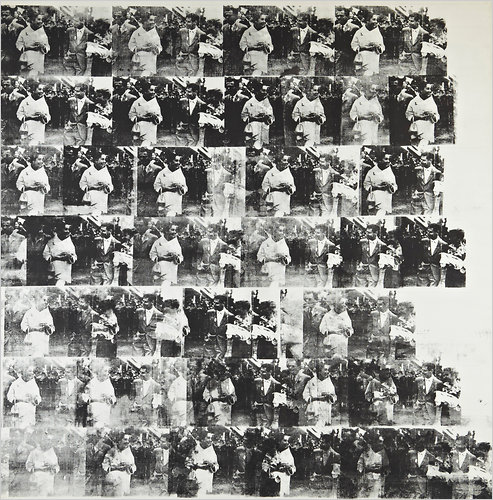 Men in Her Life, Andy Warhol, 1962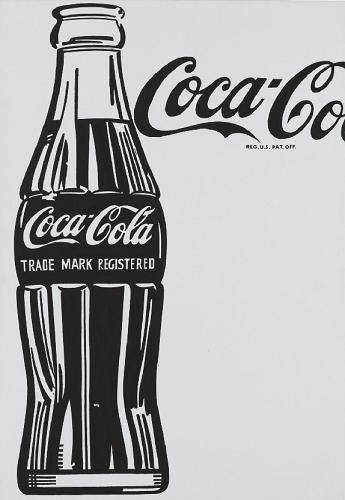 Coca-Cola [4] [Large Coca-Cola], Andy Warhol, 1962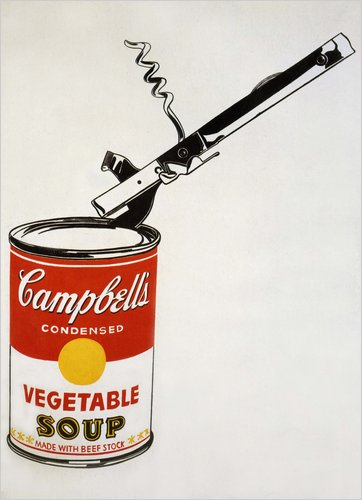 Big Campbell's Soup Can with Can Opener (Vegetable)
Important artists are innovators, whose work changes the practices of their successors. Important works of art are those that embody and announce major innovations.
By a specific metric -- the total number of illustrations included in textbooks of art history published in the past two decades -- Andy Warhol's work of 1962 was the greatest breakthrough of a single year made by any American artist in the twentieth century. By the same measure, Warhol's work of 1962 ranks second only to Picasso's of 1907 -- the year he painted Les Demoiselles d'Avignon, and initiated the Cubist revolution -- as the greatest breakthrough of a single year by any artist during the century.
In 1962, Warhol made three far-reaching formal innovations, that have all had a vast impact on visual art. He used serial imagery -- multiple paintings of a single image, and multiples of a single image within individual works. He used mechanical techniques -- stencils, then silkscreens -- to make his paintings. And he made paintings from photographs.
Whether they make paintings from photographs, like Gerhard Richter, or make photographs, like Cindy Sherman, or do both of these, like Richard Prince, a remarkably high proportion of the most important visual artists active today work in ways that were made possible by Andy Warhol's innovations of 1962. As the eminent critic David Sylvester observed in 1994, "Warhol's mature work is as if inspired by a revelation that a modern painter could and should exploit the photograph as Renaissance painters exploited classical antiquities."
Contrary to the misguided claims of many art critics and scholars, the art market exhibits a high degree of rationality, placing the highest prices on the most innovative works by the most important artists. The $24 million dollar soup can is simply the latest example of the great value our society places on important visual art.
(Confession: the title of this post is indebted to the excellent title of Don Thompson's entertaining book about the market for contemporary art, The $12 Million Stuffed Shark.)
SUBSCRIBE AND FOLLOW
Get top stories and blog posts emailed to me each day. Newsletters may offer personalized content or advertisements.
Learn more