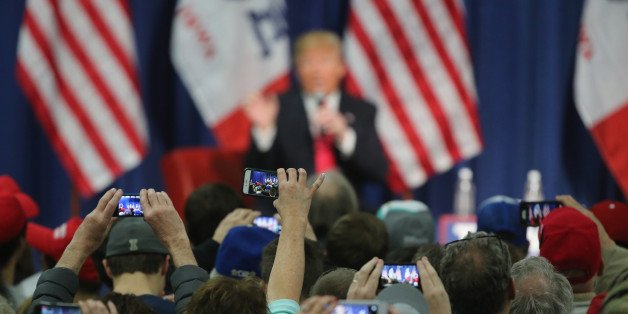 Christopher Furlong via Getty Images
Living in the Boston area gives me an incredible window into the marketing aspects of the U.S. Presidential election because the candidates with deep pockets advertise on television here and being a political geek, I enjoy attending primary events that are just an hour's drive away. I also poke around the candidates' websites and social media feeds. While each is focused both online and offline, there is a missing element of packaging the physical and the virtual together to generate even more attention.
What I've found interesting this cycle is that Donald Trump has done an amazing job with real-time communications. In my analysis back in August, 2015, Donald Trump Winning the Social Networking Primaries in a Landslide, I showed how Trump has a better command of social networking than any other candidate. At that time, he had four times as many followers at @realdonaldtrump on Twitter as any other candidate and he tweeted much more often. He is much more likely to comment in real-time on what was happening in his world.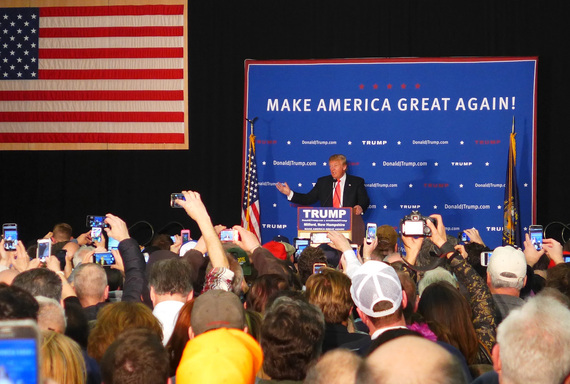 Yes, every candidate has a decent website and basic social networking including Facebook and Twitter. But most aren't serious about their social presence. They merely do it as a checkbox because they have to. While the other candidates tweet well-researched positions designed to appeal to as many people as possible, Trump doesn't mind offending while he says what he thinks. In a world where big brands control messages, authenticity wins, and that's part of the reason Trump has been so far out in front in the polls.
Meantime, candidates like Hillary Clinton, John Kasich, and Chris Christie are playing a slow and methodical ground game. Kasich, for example, just passed his 100th town hall event in New Hampshire. Their strategy is to meet as many New Hampshire voters as possible. In contrast, Trump has staged a few large rallies and relies on mainstream media to get the word out.
Engage with Supporters at Events on Social Networks
At every campaign event I've signed up for -- Clinton, Sanders, Kasich, Rubio, and Trump -- I've been asked for my name, phone number, email address, and home address. Once I actually entered the event venue, I was often asked for the same information a second time. Yet, no candidate wanted to know my Twitter ID, @dmscott, where I have more than 120,000 followers. That seems like a missed opportunity.
While every candidate urged the audience to "talk to your friends and neighbors" and "help get out the vote" nobody encouraged us to share our thoughts on social media. At a Clinton event, just before the candidate walked onto the stage, there was a message on the big screen saying "Text RALLY to 47246". I was psyched for this because I thought they might be pointing me to a place where I could interact while she was speaking so I texted. Alas, it seemed to just be a way to collect phone numbers. Sure enough, I got an annoying call a few days later.
Better yet, candidates could have had a social sharing plan unique to each event. This could be a dedicated page on Facebook where a bunch of photos shot by a campaign staffer would be available immediately after the event. Many who are at the event would likely share these "social media ready" photos of the candidate with voters.
Or what about a hashtag for each event where people could share what they were seeing live on Twitter? A staffer could live tweet what the candidate was saying and post photos ready for a re-tweet. The cost of this staffer for the entire campaign would be less than one of the dozens of television commercials that the mainstream candidates have been running. Seems like a good investment to me.
The closest thing to this kind of link from an offline event to online social networking was an email thank you note from the Trump campaign sent me after I attended a rally. It contained a photo of the event, which was a nice touch. But it was conspicuous in not including social share buttons like "I was here" that could post the photo to social networks. Another missed opportunity.
In 2004, the Howard Dean campaign pioneered blogging as a Presidential campaign tool and he rose from nowhere in the early primary states. In 2008 and again in 2012 as social media exploded in popularity in the U.S., Barack Obama was by far the most engaged candidate on social networks and it won him both elections. In this cycle, Donald Trump has extended Obama's focus on social media to become the most engaged in real-time media like Twitter.
But nobody has managed to figure out how to take the massive investment in traditional campaign methods like town hall events and television advertising and integrate them with a focus on social networking. For that we've got to wait until the 2020 cycle.
FOLLOW HUFFPOST