THE BLOG
Ross Matthews and the Screaming Hairy Armadillo
I recently made my debut appearance on Chelsea Lately on E!, so this week's Animal Oddity is about fun television segments. As a Naturalist with the National Wildlife Federation and Animal Planet blogger, part of my job is to bring "animal ambassadors" on TV to let people know about all of the cool critters that share this planet with us. Last night I brought a baby wallaby, a cane toad, a juvenile cassowary, a screaming hairy armadillo and a 400 lbs Russian wild boar.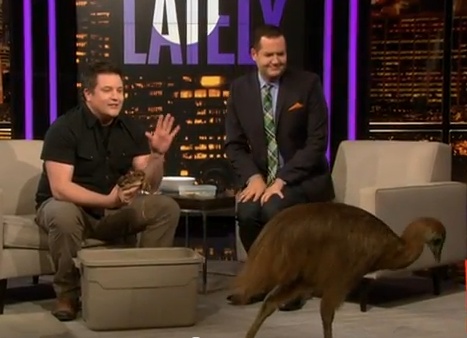 Sadly, Chelsea was off accepting a Glamour magazine award in New York (and looking fabulous with Jennifer Aniston). Happily, the delightful Ross Matthews was filling in for Chelsea.
Here's the clip. I don't have much to add to it other than the fact that this was by far the hardest segment for me to do without totally laughing hysterically. Watch to hear what Ross thinks of the screaming hairy armadillo and be prepared to pee your pants. He really does deserve his own show.
Get the latest odd animal news, stories, videos and behaviors on my Animal Planet blog, Animal Oddities.
MORE:
Jennifer Aniston
,
Chelsea Handler
,
Chelsea Lately
,
Animal Planet
,
National Wildlife Federation
,
Wild Boar
,
Cane Toads
,
Ross Matthews
,
Armadillo
,
Cassowary
,
Wallaby
,
David Mizejewski
This Blogger's Books and Other Items from...