?4U -- The other day, having narrowly dodged a texting driver on my way to work, I found myself ruminating in general about swift, effective communication through limited means (above and beyond certain rude gestures used in heavy traffic). Do you suppose that those who text have ever given any thought to parallels among coded abbreviations -- typed acronyms or spoken "abreevs" -- and other minimized forms of verbal or visual short hand? Elision is a powerful tool in making art, such as the selective language of a poem as opposed to the lengthier discourse of a novel. Making works of art in any medium is largely a process of choosing, of distilling what is wanted out of all that there is.
TMI -- "too much information" might wreck a text (and by extension, your car). It can also compromise aesthetic success. Layers of meaning lie beneath any visible surface -- encrypted by the artist into the work. Yet meaning may not be apparent to all, and some artists like to keep their works as runic as two teenagers texting (CD9 -- "Code 9: parents are around"). Much depends on context. AAK can signal "alive and kicking" or "asleep at keyboard." I don't text myself, so I had to look it up. AAW ("asleep at wheel") is not in general use.
There is, however, CICO -- "coffee in, coffee out." What about tea? What would inspire James Hadley, a talented modeler at Royal Worcester, to create a double-sided porcelain teapot, parodying a venerable 18th-century apple-shaped silver teapot? And why did the factory stamp "Fearful consequences through the Laws of Natural Selection and Evolution of living up to one's teapot" on the bottom of this piece? In blue on a white background, by the way.
Hadley's diminutive, delicately modeled, exquisitely painted porcelain pot sets anthropomorphic satire firmly on the tea table, still a bastion of ritualized social propriety in the Victorian era. He must have been to the theater shortly before pairing his male and female aesthetes. Their fey postures derive directly from the awkward attitudes struck by actors on stage in Patience (1881) an operetta by Gilbert and Sullivan. The satirical comedy of manners was staged at London's Savoy Theatre by theater entrepreneur D'Oyly Carte. It was the first ever to be lit entirely by electric lights.
Further light on Hadley's design: back in the 1870s, Oscar Wilde -- who did not achieve acclaim as a playwright himself until the 1890s -- studied at Magdalen College, Oxford. Never one to miss a trend, he furnished his rooms with the blue and white china already made fashionable by avant-garde artists such as James McNeill Whistler and Dante Gabriel Rossetti. Fond of entertaining, Wilde once told guests that he found it ever harder to "live up to his blue china," a bon mot that eventually became a cliché as the Aesthetic Movement of the 1870s and '80s was increasingly ridiculed for valuing aesthetic choices over easily discerned moral or social themes.
RUMOF -- "are you male or female?" Hadley's aesthetes are as affected as the poseurs in George du Maurier's cartoons satirizing the Aesthetic Movement for the readers of Punch magazine. Like the cartoons, Hadley's design blurs acceptable gender roles -- the woman not only has an unflatteringly flat-chested physique, but also wears a calla lily, long established as a signal of sexual decadence. The long-haired man, sporting a large sunflower as his boutonniere, is pointedly effete. And the inscription on the bottom isn't about collecting blue and white china any more. Rather, it underscores how a stylized comedy of aesthetic manners and mannerisms could be lumped together with more troublesome issues that profoundly vexed Victorian society, issues such as evolution and gender relations.
I love this teapot. I first saw one at the Victoria and Albert Museum in London years ago. I later acquired an example for the Virginia Museum of Fine Arts. When I moved to Baltimore, I had to find another. You can also see examples at the Morgan Library in New York, the Carnegie Art Museum in Pittsburgh, the Art Institute of Chicago, and San Francisco's Palace of the Legion of Honor. Or, if you really get around, at the Powerhouse Museum in Sydney, where their snappy post card reproduction has, alas, sold out.
During his American lecture tour sponsored by D'Oyly Carte in 1882 to help pack theater seats for the New York production of Patience, Oscar Wilde spoke in Baltimore and was entertained by the socially prominent Mrs. Charles Carroll of Carrollton (one of Maryland's most august founding families). If they had tea, I wonder who poured?

It's all in the wrist. OMG.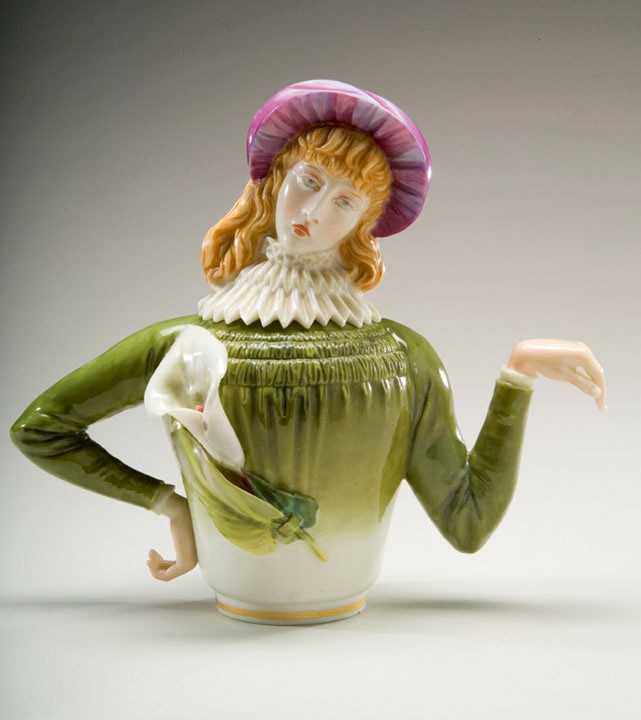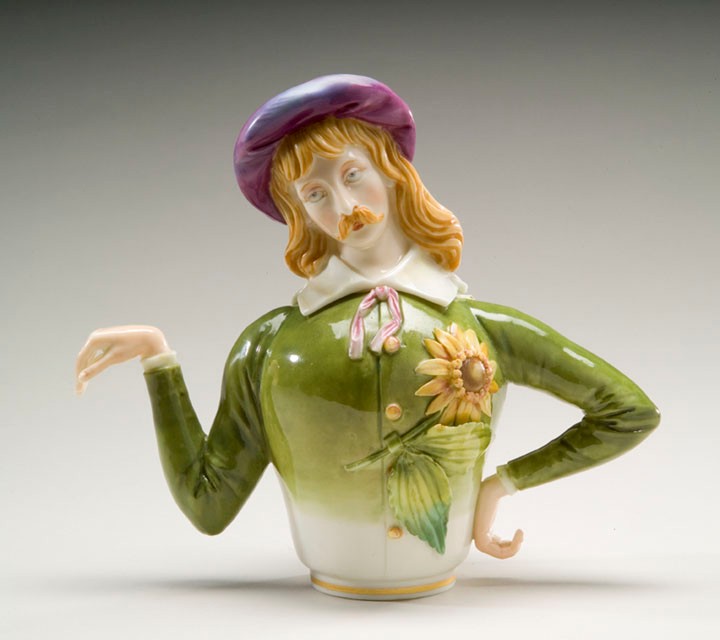 DOUBLE-SIDED TEAPOT, 1882
Designer: James Hadley (English, 1837-1903)
Manufacturer: Worcester Royal Porcelain Company, Worcester, England
Enameled porcelain
Height: 6 ¼ inches
The Baltimore Museum of Art: Decorative Arts Acquisitions Endowment established by the Friends of the American Wing. BMA 2006.38a-b